Java plane crash shatters Delhi family
Pilot Bhavye Suneja, who grew up in Mayur Vihar, had been based in Jakarta since 2011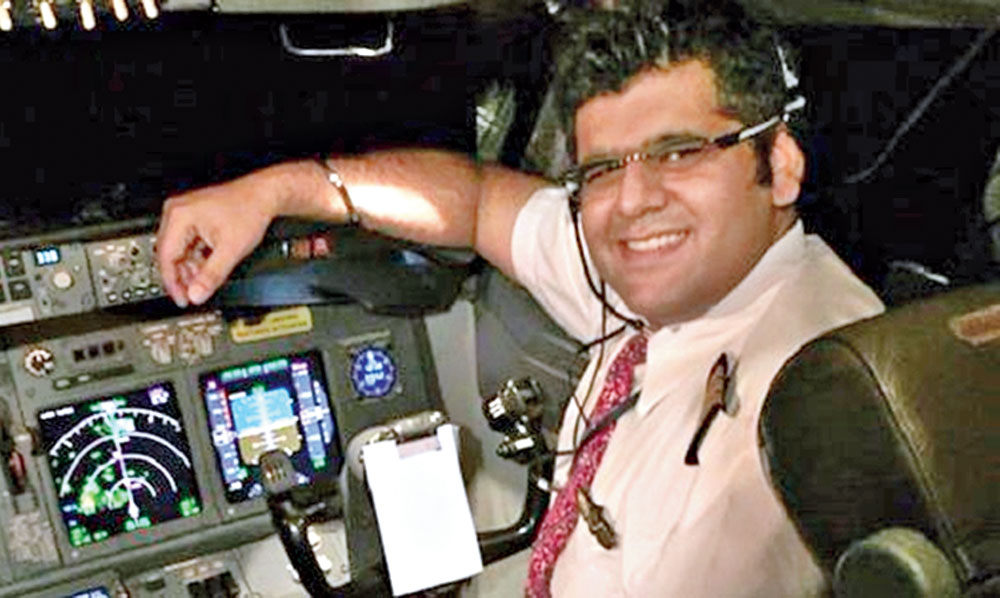 Indonesia-based pilot Bhavye Suneja, 31, was flying a Lion Air Boeing 737 that crashed into the sea minutes after take-off from Jakarta
Facebook
---
New Delhi
|
Published 29.10.18, 10:19 PM
|
---
Sangeeta Suneja, a 54-year-old poet, blogger and Air India executive, learnt that her son's flight had crashed just as she was about to leave for work.
Indonesia-based pilot Bhavye Suneja, 31, who was to visit home next week for Diwali, was flying a Lion Air Boeing 737 that crashed into the sea minutes after take-off from Jakarta on Monday morning, with all 189 on board feared dead. 
Bhavye had grown up in Pocket 4, a middle-income apartment complex built by the Delhi Development Authority in Mayur Vihar Phase I, but had shifted to Jakarta in 2011.
Friends of the family, who stayed indoors until they left at 5.30pm to catch a flight to Jakarta, said Sangeeta was initially shell-shocked but hoped that Bhavye, the elder of her two children, had survived.
Bhavye's wife of one-and-a-half years, Garima Sethi, was a manager at an English newspaper office in Delhi before she joined her husband in Jakarta.
Before news of the Indian embassy's confirmation of Bhavye's death could reach the Sunejas, a TV reporter barged into the house and asked how they felt after the death of their son.
Shocked and agitated, the family and most of their neighbours refused to speak to the media. The only word came from Sangeeta before she climbed into a car to leave for the airport with husband Gulshan, a 59-year-old chartered accountant, and daughter Ruhani, a 24-year-old student. "Please pray for us; pray for this family," she said.
Kalicharan, who irons clothes in his shop under a tree behind the Suneja home, said: "Kuchh log achchhe hote hain, yeh bahut achchhe hain (Some people are good, the Sunejas are very good)."
As a member of the dhobi caste, which lies at the bottom of the caste hierarchy, Kalicharan's transactions with most customers take place at his shop or at their doorsteps. Rarely does he or his wife enter a home.
"But this family is different. They have been here from the beginning, when this colony was built in the late 1980s. I have been their dhobi for at least 25 years. Whenever I have gone there, they offer me a seat beside them. They have often served me food on the same table they eat at," he said.
"The son used to come every Diwali and sometimes in between. Every time he would come and ask me how my children were doing in their studies. He was due to come home on November 5. The family understands what financial difficulties the poor like us go through and would always offer help."
Bhavye passed out of Ahlcon Public School in 2005 before learning to fly at Bel-Air International in San Carlos, California.
According to his LinkedIn profile, he trained with Emirates for a few months in 2010 after getting his licence in 2009. He then joined the low-cost carrier Lion Air, which was banned from European airspace until 2016 because of safety issues. Media reports said he was trying to relocate to Delhi.
Bhavye's sister Ruhani aspired to be a pilot too, a PTI report, said quoting the Sunejas' neighbours. "The Sunejas had gone to visit Bhavye for Raksha Bandhan and were very happy. He would always acknowledge elders," neighbour Renu Nagpal was quoted by the news agency as saying.
"He was to come for Diwali on November 5. Ruhani and my daughter are school friends and she was here till late on Sunday night discussing about her brother and Diwali plans."
PTI quoted another neighbour, P.K. Sinha, as saying: "Bhavye's father has been putting up a brave front and has not cried, but we know what he is going through."
A Lion Air flight had successfully crash-landed into the sea off Bali in 2013, and all the passengers had survived. Bhavye and his passengers were not so lucky.
"They were a happy family. The children played here on this street. Bhavye is married and settled. This is all so shocking," neighbour and friend Anil Gupta, who saw the family off on their way to the airport, said.