George Clooney's mansion in UK hit by floods
Threat to £10m estate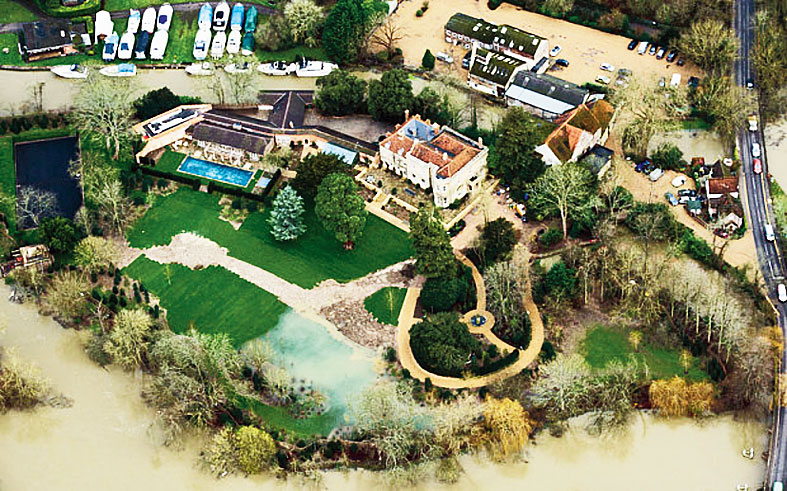 George Clooney's home in Sonning-on-Thames, England, after the Thames river burst its banks
Source by the correspondent
---
London
|
Published 21.02.20, 09:22 PM
|
---
The Thames has burst its banks outside George Clooney's home in the Berkshire village of Sonning, flooding much of the garden and the tennis court and threatening the £10 million property.
In a sense, the Hollywood star and his barrister wife, Amal, who live in the 17th century Grade II listed mansion with their twins Ella and Alexander when they are in the UK, are lucky because the waters have not inundated the property itself — so far.
Following two storms in a week, Ciara and Dennis, which have brought repeated deluges of heavy rain, large parts of England and Wales resemble lakes. In towns and villages, were residents would normally walk to their homes and shops, movement is now only by boat. One distressed farmer took drone footage to show acres of farmland under six feet of water. Environment agencies are warning people that because of climate change, this is the new normal.
There are currently five severe flood warnings which pose a danger to life and less serious 81 flood warnings in place. The more extreme warnings remained near the English-Welsh border, around the rivers Severn, Wye, and Lugg, where many people have already experienced flooding.
The Met Office has issued weather warnings for rain for central and southwestern Scotland all day Friday, and parts of Yorkshire for Friday morning.
The Clooneys have erected extra CCTV cameras and security to deter curious intruders but what they hadn't reckoned with is the raw power of mother nature.
The Clooneys bought their property in October 2014 and have since carried out extensive renovation works, adding everything from a swimming pool and pool house to a private cinema.
Some of their neighbours have objected because of the noisy construction work.
In 2018, Amal allowed in the photographer Annie Leibovitz, herself a celebrity (only Sonia Gandhi was immune to her powers of persuasion), to take pictures for a piece in Vogue about how she and her husband were settling in.
Hello! magazine reported: "The barrister opened the doors to the lavish property for her interview in the new issue of Vogue, showing her lounge, office, pool house and 'George's zone – the screening room – among others. The Clooneys are said to have a number of family photos on display in their sitting room, along with their cherished pieces of artwork – a painting of George's late cocker spaniel Einstein, and another of the head of a giraffe – both of which she says failed to impress insurers who visited the property.
" 'They were like, 'It's barely worth getting a policy,' Amal told Vogue. 'They were very judgmental.' "
Hello! added: "The property is set in four acres of land and is surrounded by trees and expansive gardens, which allow the couple plenty of privacy, while still being easily accessible to London. Other famous faces to live nearby include the (then) Prime Minister Theresa May and Led Zeppelin guitarist Jimmy Page."
One must assume that the Clooneys managed to get insurance cover, though they must have paid a very high premium to guard against flood risk.
That was then. This is now. George and Amal wouldn't be too happy with today's dramatic ariel photographs which show the Thames has spilled over its banks and left the tennis court, the veranda of the summer house and much of the lawn completely underwater. The insurers were right to be hesitant because the garden had previously been hit by flooding in 2016. And the present danger is not yet over because more heavy rain is expected over the weekend.