At G20 summit, PM stresses on global growth
G20 summit: PM Modi speaks out against price cap on Russian oil
Prime Minister says 'we must not promote any restrictions on the supply of energy, and stability in the energy market should be ensured'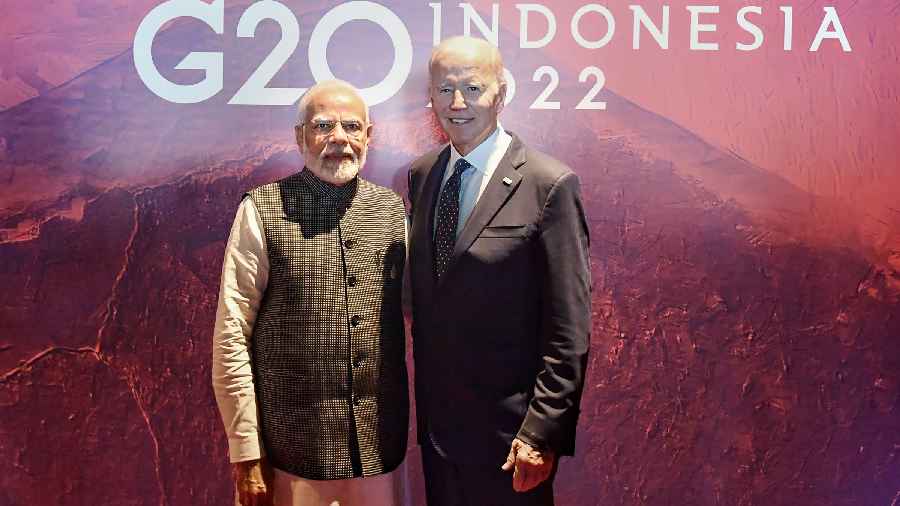 Narendra Modi with US President Joe Biden
File Photo
---
New Delhi
|
Published 16.11.22, 03:05 AM
|
---
Prime Minister Narendra Modi on Tuesday spoke out against the price cap that the advanced economies plan to impose on Russian oil from December 5, stating at the G20 summit in Bali that "we must not promote any restrictions on the supply of energy".
All G7 countries are part of the G20 and were in attendance when Modi made out a case against the price cap without referring to it by name. Stating that India's energy security was important for global growth as it was "the world's fastest-growing economy", Modi added: "We must not promote any restrictions on the supply of energy, and stability in the energy market should be ensured."
In early September, the G7 countries had agreed to impose a price cap on Russian oil in December as part of an effort to strike at Vladimir Putin's ability to finance the war against Ukraine. Countries that agree to this policy will only be allowed to purchase Russian oil and petroleum products at or below the price cap. Russia has said that it will not sell oil to the countries that subscribe to the price cap.
Last week, during her India visit, US treasury secretary Janet Yellen told Reuters that India — now one of the biggest consumers of Russian oil — could continue buying as much oil from Russia as it wanted, including at prices above a G7-imposed cap, if it steered clear of western insurance, finance and maritime services bound by the cap.
Modi spoke against restrictions on energy supplies while addressing the G20 session on food and energy security, seeking to pick up the cudgels for the global south which has faced the brunt of the disruption in the supply of fuel, food and fertilisers, primarily because of the Russia-Ukraine conflict.
"Global supply chains are in ruins. There is a crisis of essential goods all over the world. The challenge for the poor citizens of every country is more severe. Everyday life was already a struggle for them. They do not have the financial capacity to deal with the double whammy. Due to the double whammy, they lack the financial capacity to handle it,'' Modi said, underscoring that multilateral institutions such as the UN had been unsuccessful on these issues. "And we have all failed to make suitable reforms in them," he added for good measure, bringing up what's a pet grievance with India, which has been seeking permanent membership of the UN Security Council.
On food and fertiliser shortages, Modi said: "The current shortage of fertilisers in terms of food security is also a huge crisis. Today's fertiliser shortage is tomorrow's food crisis, for which the world will not have a solution. We should build mutual agreement to maintain the supply chain of manure and food grains stable and assured."