Freddie stamp to honour 'rock royalty'
The band's legacy continues to inspire, says the UK's Royal Mail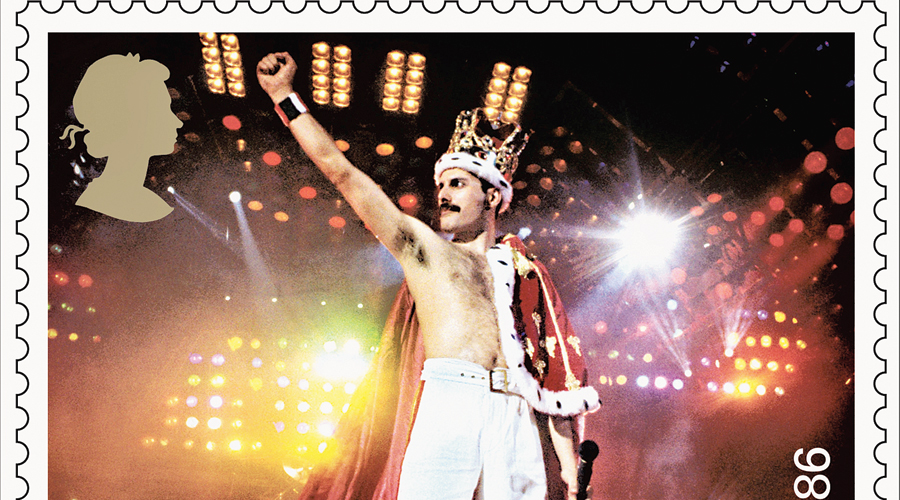 ---
|
London
|
Published 06.07.20, 12:59 AM
---
Farrokh Bulsara, the Parsi boy who found world fame as Freddie Mercury, lead singer of the Queen, may be gone but he has certainly not been forgotten.
Not only does his music live on but now Royal Mail in the UK has brought out a set of 13 new stamps, including one featuring Mercury live in concert in 1986, to honour "rock royalty".
According to Royal Mail, "the band's list of musical achievements is rivalled by few… the band's legacy continues to inspire.
"Celebrating their 50th anniversary in 2021, Queen becomes only the third music group to have a dedicated stamp issue — following on from the Beatles in 2007 and Pink Floyd in 2016."
Philip Parker of Royal Mail said: "With their truly original, theatrical sound and effortless ability to mix musical styles, Queen are rock royalty. We pay tribute to one of the most loved bands of all time with these stunning stamps."
Mercury's former bandmate, Roger Taylor, 70, said of the stamps: "Wow! What an honour. We must be really part of the furniture now!"
And Brian May, 72, added: "It's particularly poignant to look at this collection of images — now that we are all in a world dominated by a coronavirus, in which none of this could have happened. Somehow it will be a way of persuading myself that it really did all happen!"
The musical genius who made it all possible was Farrokh Bulsara, who was born to Parsi parents, Bomi and Jer Bulsara, in Zanzibar on September 5, 1946, and spent much of his childhood at schools in Bombay — at St Peter's School, a British-style boarding school for boys, in Panchgani, and at St Mary's School. He showed an early interest in western pop music and also started calling himself "Freddie".
After a brief return to Zanzibar in 1963, the family settled in London in 1964. Today, there is a blue plaque at 22 Gladstone Avenue, Feltham, the family first home, put up by English Heritage, which says: "Freddie Mercury (Fred Bulsara) 1946-1991 Singer and Songwriter lived here."
He changed his name to "Freddie Mercury", formed the Queen in 1970 with guitarist Brian May and drummer Roger Taylor, and came to be hailed as one of the most flamboyant and greatest lead singers in the history of rock music. He wrote numerous hits, including Killer Queen, Bohemian Rhapsody, Somebody to Love, We Are the Champions, Don't Stop Me Now, and Crazy Little Thing Called Love.
In the Freddie Mercury biopic, Bohemian Rhapsody, there is a scene in which a family member scolds Mercury.
"So now the family name is not good enough for you?"
"I changed it legally," Mercury responds. "No looking back."
However, his sister Kashmira Bulsara explained in 2014: "I think what his Zoroastrian faith gave him was to work hard, to persevere, and to follow your dreams."