Don't mess with us, Pakistan tells India
You will never surprise us but we will surprise you, says military official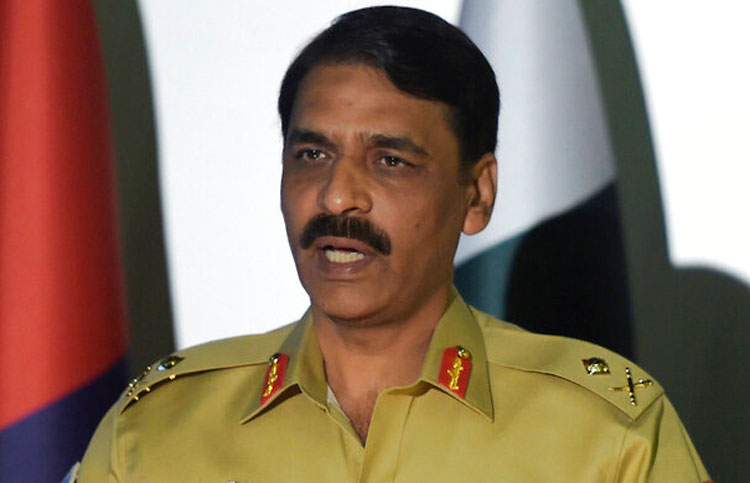 Maj. Gen. Asif Ghafoor
AP
---
Islamabad
|
Published 22.02.19, 07:38 PM
|
---
Pakistan's military on Friday asked India not to mess with it but talk peace instead.
Director-general Inter-Services Public Relations (ISPR) Maj. Gen. Asif Ghafoor, made the statement at a news briefing in the garrison town of Rawalpindi, a day after Pakistan Prime Minister Imran Khan authorised the armed forces to respond "decively and comprehensively" to any aggression or misadventure by India.
"We have fought a long war against terrorism and our army is now a fully battle-hardened army. We don't want to go into war with our eastern neighbour … should you initiate any aggression against us, you will never be able to surprise us but we will surprise you."
Ghafoor said: "We can respond to a full spectrum threat from India... we hope you will not mess with us."
He added that Pakistan does not want a war and wants to talk peace in its quest for fast-paced development of the region. "We hope India will not become an impediment in achieving this goal." "Pakistan has already clarified that it has nothing to do with the Pulwama attack as the attacker, explosive devices, and planning were indigenous".
Ghafoor said Prime Minister Khan has already asked India to provide concrete evidence, if any, on the attack and Pakistan will take decisive action, not due to any external pressure, but in its own interest.
Prime Minister Khan also offered to hold talks with India on terrorism, which he said is a scourge for the whole region and detrimental to peace.
He hoped that India will respond to the offer in a positive way.
Ghafoor questioned how Pakistan could be linked to terrorism when there were eight significant events for Pakistan both at home and abroad.
Elaborating, he said when the Saudi crown prince was visiting, there was a discussion coming up on terrorism in the UN Security Council, Afghan peace talks were ongoing and there were developments in EU and the UN on human rights violations in Kashmir.
Ghafoor said a hearing was pending in the International Court of Justice on Kulbhushan Jadhav and a meeting was coming up on the Kartarpur border. Some Pakistan Super League matches were also on schedule, he added.
Ghafoor said if India is serious in peace, stability and prosperity of the region, it should stop sending the likes of Jadhav to Pakistan.
Ghafoor also said that India had blamed Pakistan for the Pulwama attack "without due investigation" and New Delhi has not yet accepted the "reality of Partition".
"We have a 72-year history. ThePartition happened in 1947 and Pakistan was liberated. India still hasn't been able to accept that," the army spokesman said.
"We are not preparing for war, you (India) are issuing threats... we have right to respond to the threats. We are not preparing to initiate but planning to defend and retaliate which is our right," Ghafoor said.
He alleged that the Pulwama attack shows the "failure" of Indian security forces.
"From the Line of Control onwards, Indian security forces have layered defences... So the Pulwama attack shows failure of Indian forces," he said. Stressing that India needs "introspection" on Kashmir, Ghafoor said, "The Pulwama attack happened miles away from the LoC. The explosives that were used were local, the vehicle used was local and the youth who did it was also local."