UK: World's first clinical trial on coronavirus booster jabs launched
Third vaccine is being seen as a possible way of beating any new Covid-19 variant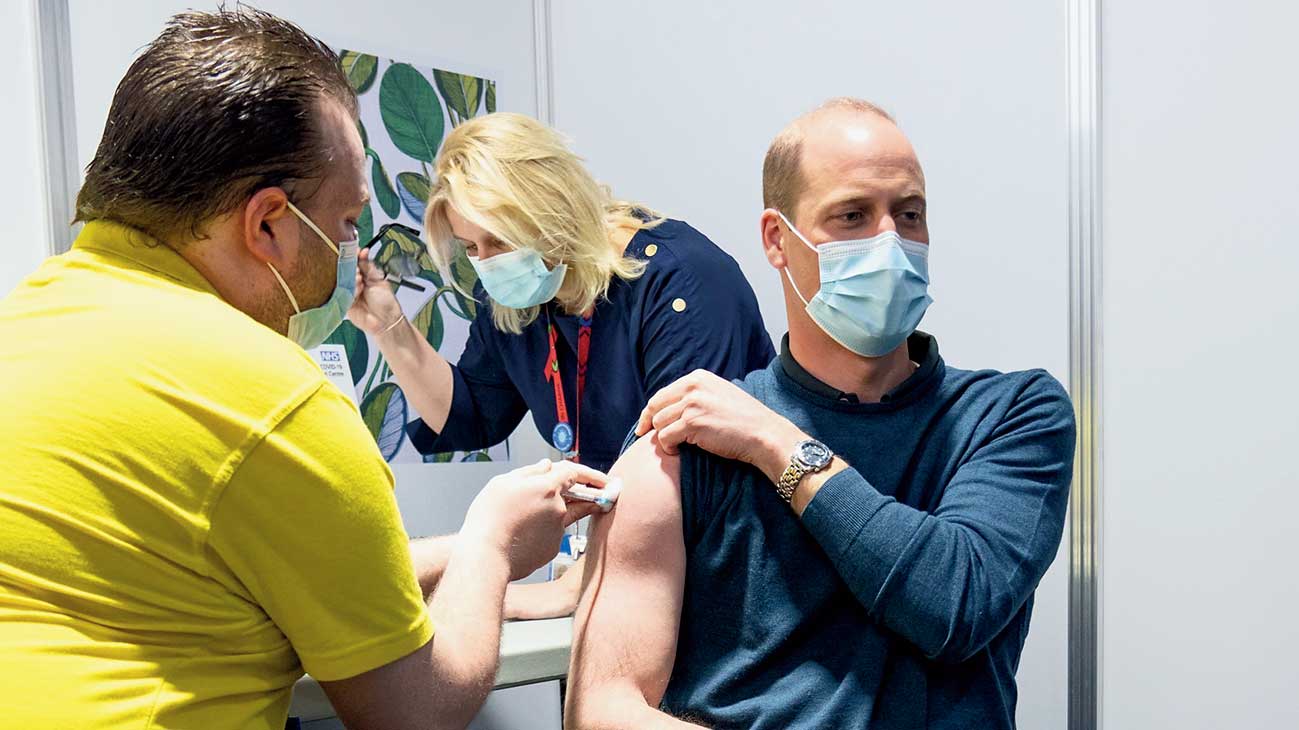 A picture tweeted by the Duke of Cambridge shows Prince William being vaccinated in London on Tuesday.
Twitter/@KensingtonRoyal
---
London
|
Published 21.05.21, 12:40 AM
|
---
The UK has announced "a world first" by starting trials with a booster jab to be given as a possible way of beating any new variants of the Covid-19 virus.
The third jab could be given before the winter sets in but only after people have had their first two doses.
The greatest concern currently is with the Indian variant which may derail the final planned easing of lockdown on June 21.
On Thursday, Prince William, who suffered after catching Covid last year, announced he had received his vaccination — but it was only his first dose.
The 38-year-old prince, who wants to encourage "refusniks" to follow his example, tweeted: "'On Tuesday I received my first dose of the Covid-19 vaccine. To all those working on the vaccine rollout — thank you for everything you've done and continue to do."
Royal biographer Angela Levin, author of the 2015 book Diana's Babies: Kate, William and the Repair of a Broken Family, tweeted: "Very impressive that senior royals didn't jump the queue."
William, who is left-handed, was pictured receiving his jab in his right arm.
He is the latest Royal Family member to make public their decision to have the vaccine and he follows in the footsteps of the Queen and Prince Charles. William received his jab from NHS medical staff at the Science Museum vaccination centre in London.
Kensington Palace did not say which vaccine was given to the second in line to the throne, but he will have been entitled to the choice of either Pfizer-BioNTech or Oxford-AstraZeneca — this is because of blood clot fears with the latter — as he is aged under 40.
Meanwhile, the health secretary, Matt Hancock, who is urging people to sign up to "the world's first clinical trial into Covid booster jabs", said: "This International Clinical Trials Day, we're backing a new clinical trial with £19 million of taxpayers' money. This trial will look at the use of current Covid vaccines as booster vaccines and what part they can play in keeping us safe."
Hancock added: "The UK vaccination programme has been a phenomenal national effort, with seven in 10 UK adults now having had their first Covid-19 jab.
"We will do everything we can to future-proof this country from pandemics and other threats to our health security, and the data from this world-first clinical trial will help shape the plans for our booster programme later this year."
Initially, the trial will involve some 3,000 volunteers at sites across the UK. Some of them will be given a vaccine different to the one they have had before to see the possible beneficial effects of "mix and match".
Overall, the UK has secured access to over 500 million doses of 8 of the most promising Covid-19 vaccines, even though some are waiting authorisation for use.
These are: Pfizer/BioNTech (100 million); Oxford/AstraZeneca (100 million); Moderna (17 million); Janssen (30 million); Novavax (60 million); Valneva (100 million);  GlaxoSmithKline and Sanofi Pasteur (60 million); and CureVac (50 million).
Two doses of the AstraZeneca vaccine may be around 85 per cent to 90 per cent effective against symptomatic disease, Public Health England said on Thursday.