US colleges issue stay-at-home advice to students
In order to achieve social distancing, many institutions will allow only 40 to 60 per cent of their students to return to campus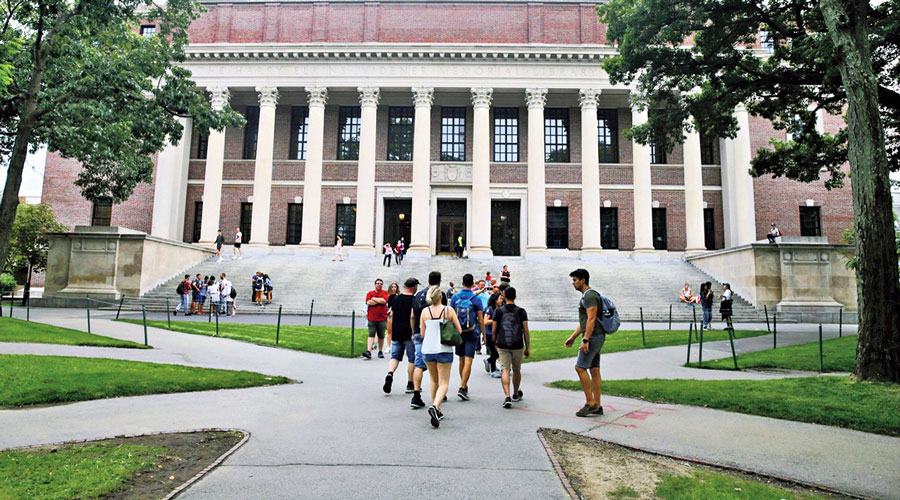 A file picture shows students near the Widener Library at Harvard University in Cambridge, Massachusetts.
AP
---
New York
|
Published 08.07.20, 03:38 AM
|
---
With the coronavirus still raging and the autumn semester approaching, colleges and universities in the US are telling large segments of their student populations to stay home.
Those who are allowed on campus, they say, will be living in a world where parties are banned, where everyone is frequently tested for the coronavirus and — perhaps most draconian of all — where students attend many if not all their courses remotely, from their dorm rooms.
In order to achieve social distancing, many colleges are saying they will allow only 40 to 60 per cent of their students to return to campus and live in the college residence halls at any one time, often divided by class year.
Stanford has said freshmen and sophomores will be on campus when classes start in the fall, while juniors and seniors study remotely from home. Harvard announced on Monday that it will mainly be first-year students and some students in special circumstances who will be there in autumn; in the spring, freshmen will leave and it will be seniors' turn.
At the same time, very few colleges are offering tuition discounts, even for those students being forced to take classes from home.
Professors, students and parents all seem to be conflicted over how these plans will work out.
Pascale Bradley, a senior studying English and French literature at Yale, is just looking forward to seeing some classmates again. Yale is allowing first-year students, juniors and seniors on campus in autumn, but nearly all classes will be taught remotely.
"It won't be the same social life," she said. "Not that students are upset there might not be big parties. People are just looking forward to daily small interactions, being able to sit and study with someone and have a meal with someone."
Her father, Kirby Bradley, is less forgiving. "This just seems to be the worst of all worlds," said Bradley, who owns a video production company.
"They are exposing the kids to increased virus risk, something that is arguably justifiable in exchange for in-person learning, which everyone agrees is better than online. But no, the kids will do remote learning, from campus! At full tuition!"
College administrators say they are in a bind and doing the best they can to bring students back to campus to get at least some of the social and academic benefits of being surrounded by their peers.
"This pandemic is among the worst crises ever to hit Princeton, or college education more broadly," Christopher L. Eisgruber, president of Princeton, said in his reopening announcement. "Princeton's preferred model of education emphasises in-person engagement, but in-person engagement is what spreads this terrible virus."
Princeton is one of the few universities that has said it would offer a tuition discount this autumn because of the limitations.
Students, whether on campus or learning remotely, will be charged 10 per cent less — $48,501 for the coming year, instead of $53,890, according to a spokesman, Ben Chang. It was unclear how students receiving financial aid — who account for more than 60 per cent of undergraduates — would be affected.
Princeton said it was instituting the policy because most undergraduates would be on campus only half the year — freshmen and juniors in the autumn, sophomores and seniors in the spring.
Harvard University announced on Monday that no more than 40 per cent of its undergraduates would be allowed on campus at a time during the next academic year, but that tuition would remain the same.
All first-year students would be allowed in autumn semester, along with some students in other years whose home environments are not conducive to learning; the freshmen would leave in the spring to make space for seniors to finish and graduate on campus.
At Harvard, all classes will be held online, even for students living on campus. While it is not discounting its tuition and fees — about $54,000 for the year — the university said it would offer a summer term next year of two tuition-free courses for all students who had to study away from campus for the full academic year.
Cutting down the number of students on campus will allow many colleges to offer everyone a single or double dormitory bedroom. Students are being told they will have to eat takeout meals from dining halls in their rooms, or perhaps make a reservation to eat.
Many universities are requiring behavioural contracts in which students agree to wear face masks in public, to be tested regularly for the coronavirus, and to limit travel and socialising. If they break the rules, they can be disciplined. Universities say they are keeping a tight rein on students.
New York Times News Service