Donald Trump's top aide Robert O'Brien tests positive for Covid-19
Announcing the infection on Monday, the White House said in a statement that there was no risk of exposure to the President or Vice-President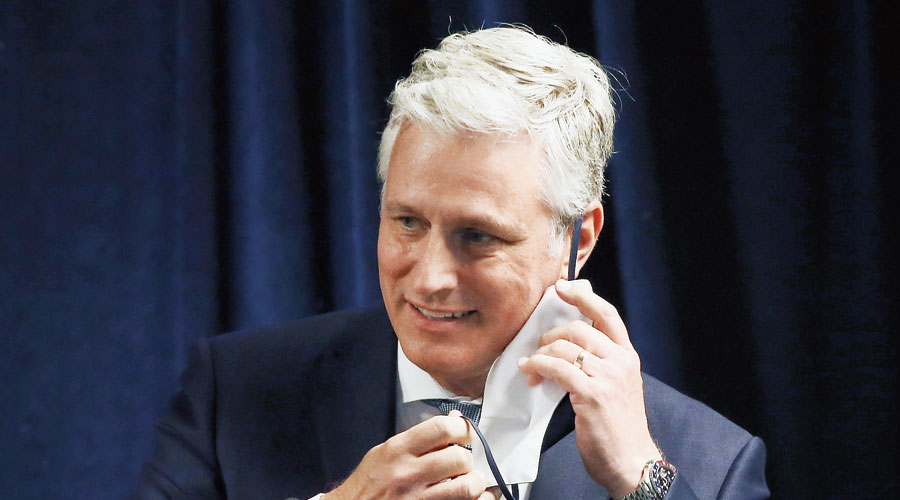 ---
---
US national security adviser, Robert O'Brien, has become the highest ranking official in President Donald Trump's inner circle to test positive for the coronavirus.
Announcing the infection on Monday, the White House said in a statement there was no risk of exposure to Trump or Vice-President Mike Pence.
The announcement caught some White House staff off guard, as there had not been an internal memo about it, one source said. Because of the regular testing regimen, White House officials do not reliably wear masks while working in the West Wing.
An administration official said O'Brien had not had contact with the President in several days. The NSC did not immediately respond to questions about O'Brien.
The White House statement said: "He (O'Brien) has mild symptoms and has been self-isolating and working from a secure location off site. There is no risk of exposure to the president or the vice president. The work of the National Security Council continues uninterrupted."
O'Brien, who took over as national security adviser from John Bolton last September, had travelled to Paris in mid-July to represent the US at Bastille Day ceremonies. He met French President Emmanuel Macron while there.
The virus has been disruptive for Trump, who last week was forced to cancel plans for the Republican convention in Jacksonville, Florida.
A US military member who works at the White House as a valet tested positive for coronavirus in May as did Pence's press secretary.
HK shuts restaurants
Hong Kong banned gatherings of more than two people on Monday, closed down restaurant dining and introduced mandatory face masks in public places, including outdoors, as it tries to rein in a new coronavirus outbreak.
The measures, which take effect from Wednesday, are the first time the densely populated city has completely banned dining in restaurants. Since late January, more than 2,700 people have been infected in Hong Kong, 20 of whom have died.
"The situation is very worrying," said chief secretary Matthew Cheung, adding that the current outbreak is the most severe the city has experienced.
The measures will be in place for seven days, he said.
Vietnam evacuation
The airport in the central Vietnamese tourism hotspot of Danang was packed on Monday after three residents tested positive for the coronavirus and the evacuation of 80,000 people began.
Vietnam is back on high alert after authorities on Saturday confirmed the first community infections since April, and another three cases on Sunday.
A further 11 cases linked to a Danang hospital were reported late on Monday. The evacuations of mostly local tourists will take at least four days with domestic airlines operating approximately 100 flights daily from Danang to 11 Vietnamese cities.