China sends ships, jets near Taiwan
Beijing halts US talks, calls Europe emissaries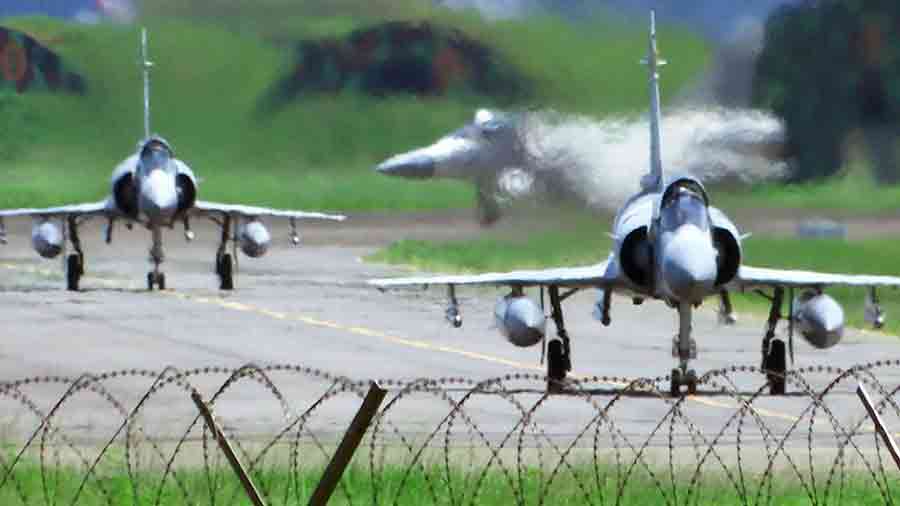 Taiwan Air Force Mirage fighter jets taxi on a runway at an airbase in Hsinchu, Taiwan, on Friday.
AP/PTI
---
New York
|
Published 06.08.22, 01:38 AM
|
---
China sent more warships and aircraft into waters and airspace near Taiwan on Friday, defying international criticism of its military exercises and demonstrating the country's confidence, as well as its growing appetite for confrontation. In addition to its muscle flexing, China also threw several diplomatic punches aimed at laying out the global cost of what it considers brazen challenges to its claims of sovereignty over Taiwan, a democratically-ruled island.
Beijing pulled the plug on planned meetings with the US and summoned European diplomats to the Chinese capital. A day earlier, China's foreign minister walked out of a dinner at a regional forum in protest. The moves signalled Beijing's willingness to push back at the US and its allies militarily, diplomatically and economically to signal its fury over Speaker Nancy Pelosi's visit to Taiwan this week. Relations between China and the US, already at a low before the visit, are now in a fierce downward spiral.
The two global powers are staking out hard, ideologically driven stances that make compromise challenging, heading into a deep chill in relations that could reshape the regional geopolitical landscape and have ramifications farther afield.
China claims Taiwan, a self-governing democracy off its southern coast, as its own territory. It regards any visit by an American politician as an affront, let alone one by Pelosi, the highest-ranking US official to go there since 1997. During her visit to Taiwan this week, Pelosi met Taiwan's President, lawmakers and human rights activists, hailing the island's commitment to democracy. She kept up her criticism of Beijing on Friday, saying in Tokyo that China "may try to keep Taiwan from visiting or participating in other places but they will not isolate Taiwan".
After the visit, Beijing said it cancelled or suspended several exchanges between the countries aimed at improving communication between the militaries and building cooperation on issues such as international crime, climate change and drug control. In doing so, it struck directly at the Biden administration's strategy of confronting China on points of dispute, such as Beijing's crackdown on Hong Kong, while trying to collaborate with it to tackle threats like climate change. 
(New York Times News Service)
Pelosi sanctions