CEOs to ask administration to acknowledge Biden as winner
Among the business leaders who plan to sign the letter are George H. Walker, the chief executive of the money manager Neuberger Berman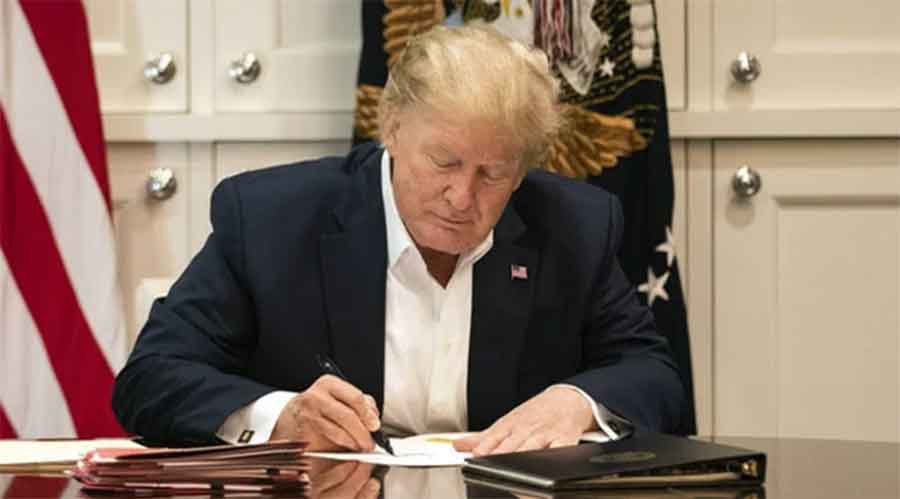 Donald Trump.
File picture
---
New York
|
Published 24.11.20, 02:02 AM
|
---
Concerned that President Trump's refusal to accept the election results is hurting the country, more than 100 chief executives plan to ask the administration on Monday to immediately acknowledge Joseph R. Biden Jr as the winner and begin the transition to a new administration.
As a way of gaining leverage over the Republican party, some of the executives have also discussed withholding campaign donations from the two Republican Senate candidates in Georgia unless party leaders agree to push for a presidential transition, according to four people who participated in a conference call on Friday.
The two run-off elections in Georgia, which will take place in early January, will determine the balance of power in the US Senate.
In a letter they plan to send Monday, business leaders will demand that Emily W. Murphy, head of the general services administration, issue a letter of ascertainment affirming that Biden and Vice-President-elect Kamala Harris have won the election. Murphy has so far resisted calls to begin the normal transition planning, which includes providing resources and money to an incoming administration as it prepares to take control.
"Every day that an orderly presidential transition process is delayed, our democracy grows weaker in the eyes of our own citizens and the nation's stature on the global stage is diminished," the executives write in the letter, a draft of which was reviewed by The New York Times.
"Withholding resources and vital information from an incoming administration puts the public and economic health and security of America at risk."
Among the business leaders who plan to sign the letter are George H. Walker, the chief executive of the money manager Neuberger Berman and a second cousin to President George W. Bush, and Jon Gray, president of the private-equity firm Blackstone.
New York Times News Service