Captain Tom Moore gets his 'marvellous' cricket captain
Promotion, flypast and message from boris greet veteran on 100th birthday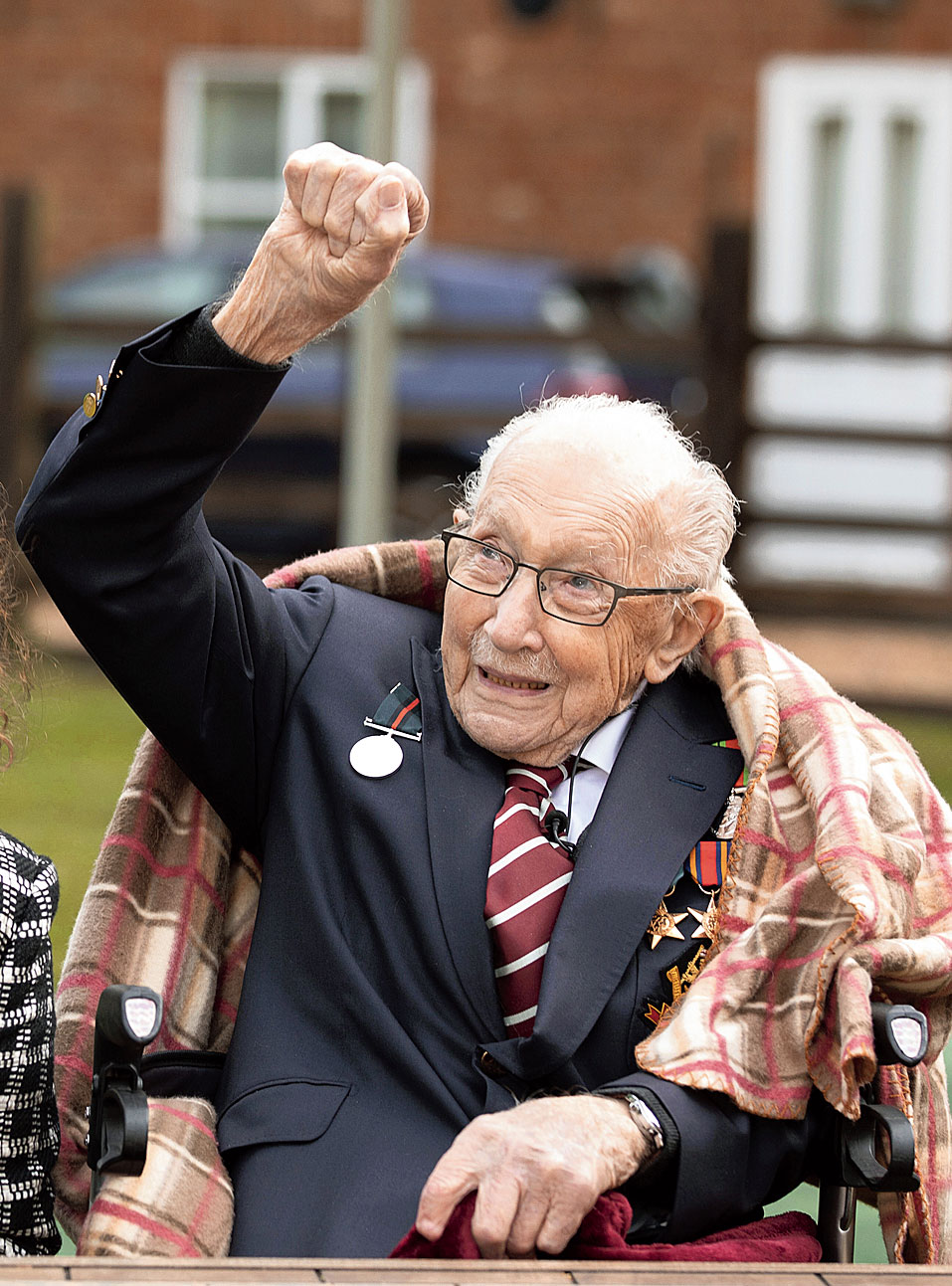 A picture released by Capture the Light Photography shows war veteran Captain Tom Moore raising his fist to the Battle of Britain Memorial flypast of a Spitfire and a Hurricane over his home in Marston Moretaine, Britain.
(Emma Sohl/Capture the Light Photography via AP)
---
London
|
Published 01.05.20, 12:35 AM
|
---
Forget the personalised birthday card that Captain Thomas Moore received from the Queen on reaching his 100th birthday on Thursday or his promotion to Honorary Colonel or even the flypast over his Bedfordshire garden by a Spitfire and a Hurricane.
Perhaps the greatest honour for the young man who did his war service in Calcutta came from former England cricket captain Michael Vaughan who gave him his England cap.
Moore, who has caught the imagination of the nation by circling round and round his garden on his on his walking frame, thereby raising not £1,000 for the NHS as was his original intention but a staggering £30 million, was handed his England cap on Vaughan's behalf by his grandson Benji.
Vaughan is not always so generous — he has called for the English counties to save money in the next two years by dropping their overseas players like Ravichandran Ashwin.
He sent a video greeting to Moore: "Capt Tom, the nation's heartbeat, now I can call you an honorary member of the England cricket team."
"Marvellous, isn't it," responded Moore, as he proudly pulled on his blue cap with the three lions.
There was a polite ripple of applause. It could have Lord's on the first day of the first Test of an English summer greeting the first boundary of the season. England batting first, of course.
From the current England skipper, Joe Root, there was an invitation to Moore to give the England team a pep talk when cricket resumes.
Someone has calculated that Moore has walked 1.6 miles in the last three weeks —not bad for a man who received treatment for skin cancer of the head and a broken hip after a fall in 2018.
There were two poignant flypasts to mark his big day today — by Army Air Corps helicopters as well as a Spitfire and Hurricane in the Battle of Britain Memorial Flight. Moore brushed away a tear as the aircraft, reminders of the World War II, roared past: "I am one of the few people here who has seen a Hurricane fly past in anger, but today, they're flying past in peace."
The letter of promotion to the rank of Hon Colonel was brought by a ranking officer, Lt Col Thomas Miller, whereupon Moore was modest in the best British tradition: "I'm still Captain Tom, that's who I really am."
The post box nearest his home has been painted blue — the colour representing the NHS. He has been given the Freedom of the City of London. The track he has recorded, You'll Never Walk Alone, might lack musical merit but has still got to No 1 in the charts. And in Piccadilly Circus in London, a big screen lit up with a happy birthday greeting. For a moment, coronavirus receded into the background.
Bedford School, which is the nearest public school, has given over its entire hall to displaying the estimated 140,000 greetings cards he has received. The one from the Queen was delivered in style by the Lord Lieutenant of Bedfordshire, Helen Nellis, the Queen's representative in the county, who was dressed in all her finery.
A tweet on the Royal Family's official account read: "Today we join people across the UK and around the world in wishing Captain Tom Moore a very happy 100th birthday."
Prime Minister Boris Johnson, fresh from witnessing the birth of his baby son and preparing to address the daily Downing Street press conference on Thursday after a long gap, applauded Moore in a video message: "Your heroic efforts have lifted the spirits of the entire nation.
"You've created a channel to enable millions to say a heartfelt thank you to the remarkable men and women in our NHS who are doing the most astounding job.
"By recognising them as a point of light. Captain Tom, that is exactly what you are — a point of light in all our lives."
"I was most interested to hear of your recent fundraising efforts for NHS Charities Together at this difficult time," said the 93-year-old Queen Elizabeth, who traditionally writes to centenarians on their birthday.
"I send my congratulations and best wishes to you on such a special occasion."