Britain urges its citizens to leave Myanmar over mounting violence
South Korea to ban arms exports and to reconsider development aid due to rising protests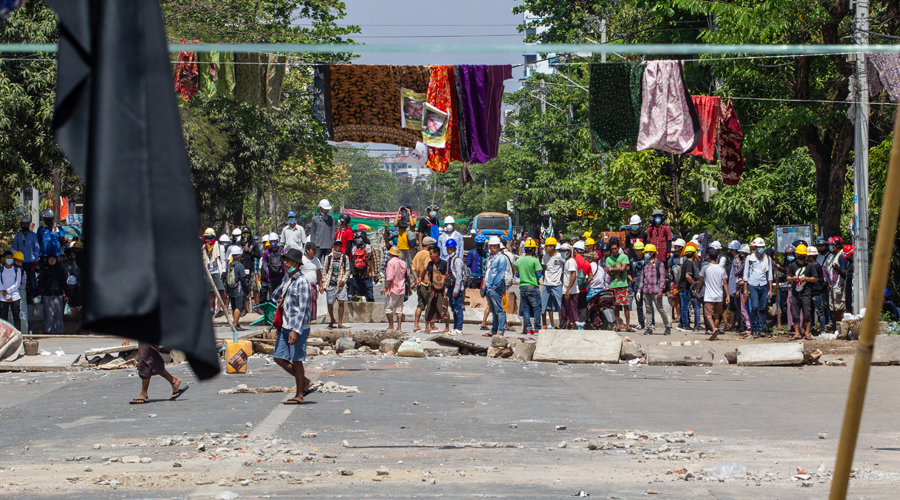 More than 70 protesters have now been killed in the southeast Asian nation since the military seized power.
Shutterstock
---
Published 13.03.21, 01:41 AM
|
---
Britain urged its citizens to leave Myanmar on Friday as security forces cracked down on more protests against the junta, forcing patients out of a hospital in the west of the country and arresting a Polish journalist.
 After 12 people were killed on Thursday in one of the bloodiest days since the February 1 coup, the British foreign office warned that "political tension and unrest are widespread since the military takeover and levels of violence are rising".
 Friday's protests came as South Korea said it would suspend defence exchanges and reconsider development aid to Myanmar because of the violence. More than 70 protesters have now been killed in the southeast Asian nation since the military seized power, the Assistance Association for Political Prisoners (AAPP) advocacy group said.
 Memorials were held for some of them on Friday, including one man whose family said his body had been taken by the security forces and not returned.
 A spokesman for the junta did not answer phone calls from Reuters seeking comment.
 "Despite repeated demands of the international community, including South Korea, there are an increasing number of victims in Myanmar due to violent acts of the military and police authorities," South Korea's foreign ministry said in a statement.
 It said Seoul would suspend defence exchanges, ban arms exports, limit exports of other strategic items, reconsider development aid and grant humanitarian exemptions allowing Myanmar nationals to stay in South Korea until the situation improved.
 Protests were held in Yangon, Myanmar's biggest city, and several other towns on Friday, photographs posted on social media by witnesses and news organisations showed. Many were dispersed by security forces.
 Poland's foreign ministry said a Polish journalist was arrested, the second foreign reporter to be detained. A Japanese journalist was briefly held while covering a protest.
 Riot police and armed soldiers entered the general hospital in Hakha, in the western Chin state, forcing all 30 patients to leave and evicting staff from on-site housing, said local activist Salai Lian.
Soldiers have been occupying hospitals and universities across Myanmar as they try to quash a civil disobedience movement that started with government employees like doctors and teachers but has expanded into a general striky.
 The country has been in crisis since the army ousted Aung San Suu Kyi's elected government last month, detained her and officials of her National League for Democracy party.
Junta spokesman Brigadier General Zaw Min Tun said on Thursday Suu Kyi had accepted gold and illegal payments worth $600,000 while in government.
He said Phyo Min Thein, a former chief minister of Yangon, had admitted making the payments. Adding corruption charges to the accusations facing Suu Kyi, 75, could bring her a harsher penalty.