Boris Johnson's mother Charlotte passes away in London
I'm very sorry to learn of the Prime Minister's loss. My condolences to him and his family: Labour leader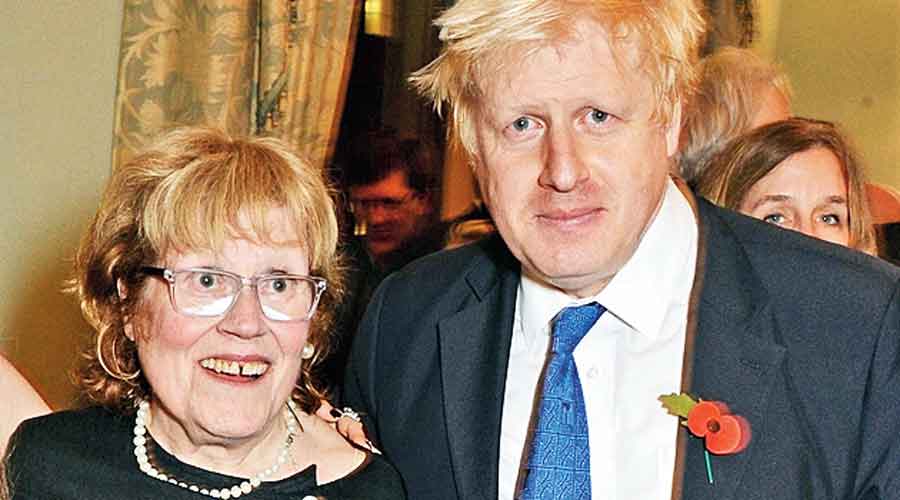 ---
London
|
Published 15.09.21, 02:06 AM
|
---
Even as Boris Johnson was announcing ambitious Covid plans for winter — a third booster jab of the Pfizer vaccine for over 50s and one dose only for children aged 12 to 15 even if their parents withhold permission — the British Prime Minister was mourning the loss of his mother, Charlotte, who died "suddenly and peacefully" aged 79 at St Mary's Hospital in London on Monday.
These are times when normal politics is suspended. Among the condolence messages for Boris was one from the Labour leader Keith Starmer: "I'm very sorry to learn of the Prime Minister's loss. My condolences to him and his family."
Charlotte Maria Offlow Fawcett, the daughter of  James Fawcett, who was president of the European Commission for Human Rights in the 1970s, met Stanley Johnson at Oxford and recounted the encounter in an interview with Tatler in 1970: "'I was engaged to somebody called Wynford Hicks, who was extraordinarily beautiful to look at but actually quite boring.
"Anyway, (after dinner) Stanley sent me a note asking if he could come to tea and go for a walk. So a few days later we went for a walk and he suddenly said, 'Love is sweet. Revenge is sweeter far. To the Piazza. Ah ha ha har!' which made me laugh so much I fell in love with him."
They married in 1963 and she returned to complete her degree as the first married female undergraduate at her college, Lady Margaret Hall. The couple had four children — Boris, journalist Rachel, former cabinet minister and Financial Times correspondent in India Jo and environmentalist Leo — before they divorced in 1979. The Prime Minister's son Wilfred was her 13th grandchild. Her marriage to Stanley was not a happy one. She said: "My husband and I were not making each other happy, to put it mildly. It was ghastly, terrible."
During the marriage she suffered a mental breakdown and was admitted to the Maudsley psychiatric hospital where she stayed for nine months, later describing how she "lost it completely", but used her time there to paint 78 pictures which catalogued her state of mind.
She married the American professor Nicholas Wahl in 1988, moved to New York and began painting cityscapes but was widowed in 1996 and moved back to London.
At the age of 40, she had been diagnosed with Parkinson's disease but she never allowed it to stop her painting, steadying herself with a walking frame as she did so.
She told the Daily Telegraph in 2008: "I try to paint every day if I possibly can, though I have to go to the hospital a lot. I still manage to paint, though my arm will suddenly do a movement which is completely unintentional and that almost brings me to tears."
An unflattering biography last year of the Prime Minister – The Gambler, by Tom Bower – claimed Charlotte's marriage became "irredeemably fractured" due to her husband's "neglect and philandering".
The book alleged that doctors spoke to Stanley "about his abuse" while the couple's children were told a car door had hit their mother's face.
The most shocking claim was that in the 1970s Stanley hit Charlotte in a domestic incident that broke her nose and left her requiring hospital treatment.
Bower quoted Charlotte as saying: "He broke my nose. He made me feel like I deserved it."