Boris Johnson looks set to become Prime Minister
Boris, 54, has yet to secure a divorce from his Sikh-origin wife, Marina Wheeler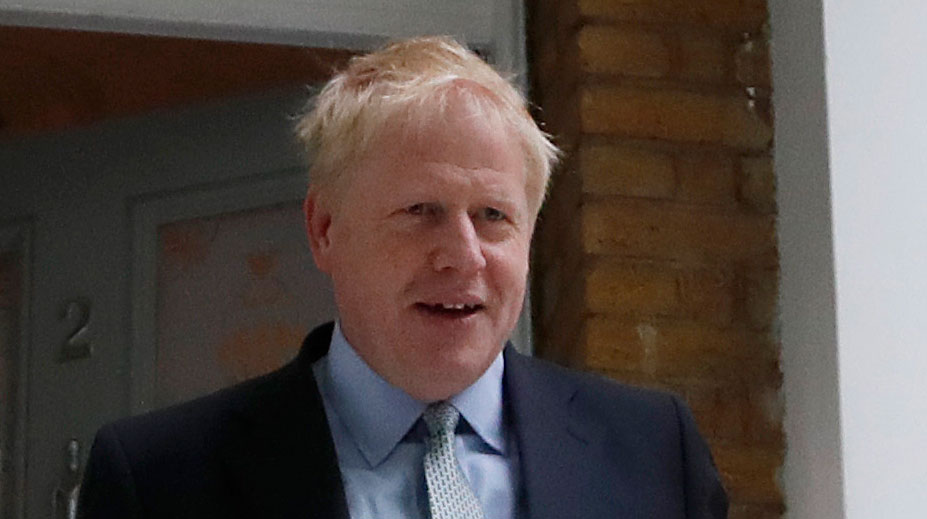 Boris Johnson outside his home in London, Thursday, June 13, 2019.
(AP)
---
London
|
Published 13.06.19, 08:11 PM
|
---
Boris Johnson's chances of becoming Britain's next Prime Minister in succession to Theresa May looked very bright on Thursday when he secured 114 votes in the first round of voting in the Tory election contest, with the foreign secretary Jeremy Hunt coming second but a long way behind with 43 votes.
Boris tried not to appear overconfident when he declared: "Thank you to my friends and colleagues in the Conservative & Unionist Party for your support. I am delighted to win the first ballot, but we have a long way to go."
Some papers such as the Daily Mail are already speculating whether he is going to move 30-year-old PR practitioner Carrie Symonds into 10, Downing Street as "First Girlfriend". She has apparently spruced up his image by persuading him to have a smart haircut, lose weight and go easy on wine and champagne.
Boris, 54, has yet to secure a divorce from his Sikh-origin wife, Marina Wheeler.
All 313 Tory MPs cast their votes on Thursday. The result of the first round of voting was declared by the backbench 1922 Committee's joint acting chairman, Dame Cheryl Gillan.
The environment secretary, Michael Gove, who has admitted taking cocaine some 20 years ago, came third with 37 votes.
The former Brexit secretary Dominic Raab came fourth with 27, followed by the home secretary Sajid Javid with a disappointing 23.
The health secretary, Matt Hancock, was next with 20. The international development secretary Rory Stewart got 19 votes.
The lowest three — the former leader of the Commons Andrea Leadsom (11), the chief whip Mark Harper (10) and the former work and pensions secretary Esther McVey (9) — are now eliminated from further rounds of voting.
As in a beauty contest, the next round will take place on June 18, with contenders needing 33 votes to stay in the race.
Work and pensions secretary Amber Rudd, who backs Hunt, said she was "not at all" disappointed by his 43 votes.
"The plan is to make sure that I get as many voters as I can behind Jeremy Hunt," she said. "It looks highly likely that Boris will be in the final two."
But she said that this did not guarantee that he will win with 160,000 Conservative Party members.
"Jeremy does have Leavers and Remainers on side," she pointed out, adding "all votes are up for persuasion".
She insisted Hunt has been "absolutely honest" about the challenges he would face if he won the contest.
Schools minister Nick Gibb remarked that Gove was now "best placed as a Brexiteer to challenge the front runner" Boris in the final.
Speaking on BBC Radio 4's World at One, Gibb argued that Gove had a "strong plan for delivering Brexit, has the intellect to do so... and had a very strong campaign launch".
He said that Gove was "in this to win" and had "a clear plan, a credible plan how he would deliver Brexit".
Meanwhile, bottom placed McVey said she would "speak to the remaining candidates to see who is best placed to deliver" on the policies she believed in. "I wish the remaining candidates well and I hope that all Conservative MPs will unite behind whoever wins this contest which is essential to prevent the disaster of a Marxist government. Whoever becomes the new leader will certainly receive my support."
The conventional wisdom in the Conservative Party is that the favourite almost never wins. But at this stage the Boris juggernaut seems unstoppable.
However, Rory Stewart backer, David Gauke, a cabinet minister, said his man was the candidate who was "doing a lot better than people thought" and he was "connecting with the British public".
"Rory is demonstrating that he is the most forceful, the most courageous, the most articulate" contender, he stated.
He said Stewart would be "levelling with the British people, straight talking", when it came to the realities of Brexit. "There is a bit of an X-factor about Rory. He's a very, very exciting figure... He could pull off a surprise."