Boris Johnson leaves behind a fraught economy
Inflation in the country has reached an annual rate of 9.1 per cent, the highest in four decades, driven by supply chain disruptions from pandemic lockdowns and the war in Ukraine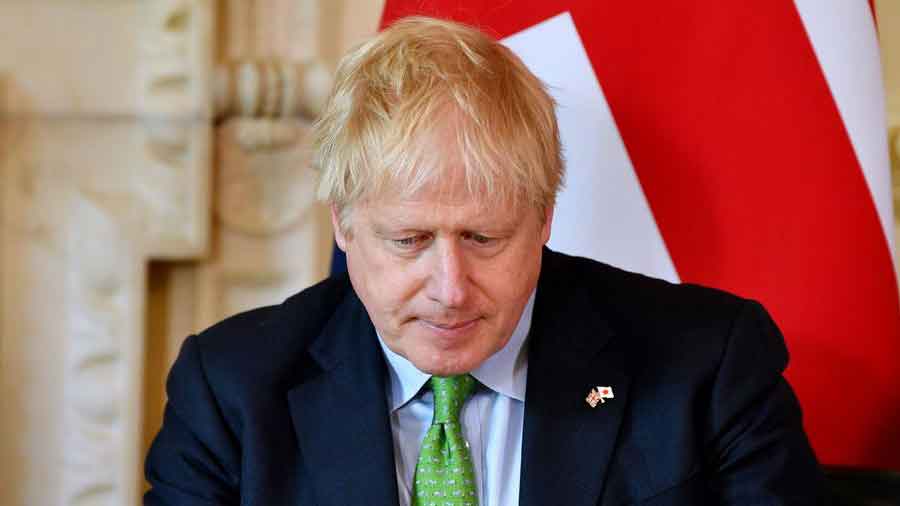 ---
Published 08.07.22, 03:03 AM
|
---
Boris Johnson has been pushed into giving up leadership of the country during a perilous economic moment, leaving behind a grim outlook and an uncertain Brexit legacy.
On Thursday afternoon, Boris described his resistance to stepping down "when the economic scene is so difficult".
It has become a period that is frequently compared to the 1970s in Britain, an era of stagflation when the economy shrank and inflation soared and vital services were halted by widespread strikes. Britain isn't repeating this stagflationary era yet, but the threat is there.
Inflation in the country has reached an annual rate of 9.1 per cent, the highest in four decades, driven by supply chain disruptions from pandemic lockdowns and the war in Ukraine. And price pressures keep building as companies begin to pass on the increase in costs to their customers and workers demand higher wages to cope with the rising cost of living.
Households are facing the worst squeeze on their living standards in generations because wage growth is not keeping up with inflation, which isn't expected to peak until at least autumn when the price cap on household energy bills is reset higher. Disposable household income, once adjusted for inflation, is expected to fall by more than 2 per cent this year. That's the worst since 1945, according to Oxford Economics.
"It is a really tough time for a lot of people," said Andrew Goodwin, the chief UK economist at Oxford Economics. For lower-income households, "it's going to be worse because the sorts of things that you spend more on — food, petrol, energy — are the things that are going up in price the most rapidly. So their inflation rates are going to be even higher".
As pay falls far behind inflation, workers have called for strikes. Recently, train workers and criminal defence lawyers walked off the job, and health care workers, schoolteachers and postal employees are among those threatening to strike in the coming months. 
New York Times News Service