Body parts found in jet that left Kabul: US
'We are all contending with a human cost to these developments,' Jake Sullivan, the national security adviser, said at a briefing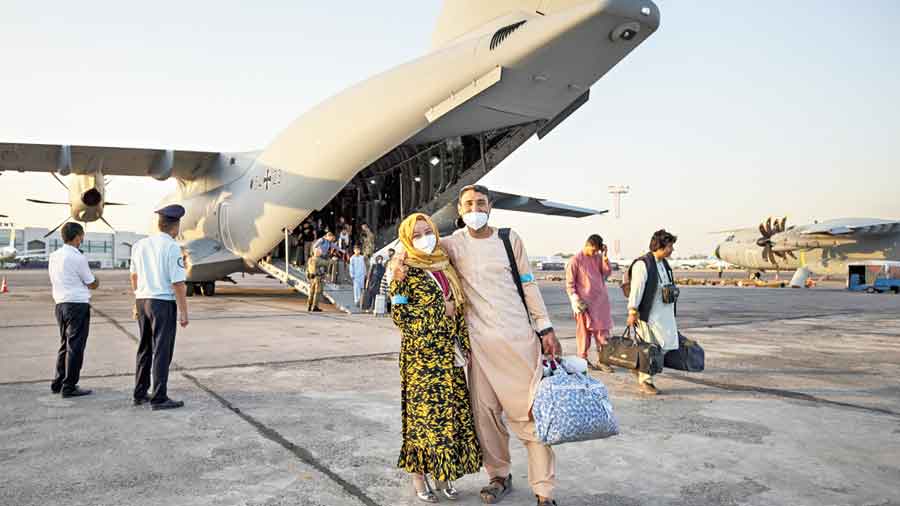 A couple evacuated from Afghanistan pose in front of a German plane after arriving in Tashkent, Uzbekistan.
AP/PTI
---
New York
|
Published 19.08.21, 12:53 AM
|
---
As the US military steps up air evacuations from Kabul, the air force has acknowledged that human body parts were found in the wheel well of an American military cargo plane that took flight amid chaos at Hamid Karzai International Airport this week.
Air Force officials have not said how many people died in the episode, which occurred on Monday, but said on Tuesday that the service was investigating "the loss of civilian lives" as a crowd of Afghans, desperate to escape the country after their government fell to the Taliban, climbed onto the plane's wings and fell from the sky after it took off.
Harrowing video of the episode, recorded by the Afghan news media, has circulated around the world, instantly making the horrific scene — of American military might flying away as Afghans hung on against all hope — a symbol of the US departure from Afghanistan.
"We are all contending with a human cost to these developments," Jake Sullivan, the national security adviser, said at a briefing on Tuesday.
American pilots and troops had to make on-the-spot decisions during panic at the airport on Sunday and Monday. Another C-17 transport plane left Kabul late on Sunday with 640 people crowded onboard, more than double the planned number, military officials said. The pilots determined that the immense aircraft could handle the load, officials said. That plane landed safely at its destination.
But the people who tried the next day on a different C-17 were not so fortunate. Early on Monday, the air force plane — call sign REACH885 — descended onto the runway. Minutes after the plane touched down, rolled to a stop and lowered its rear ramp, hundreds, perhaps thousands of Afghans, rushed forward as the small crew watched in alarm.
The crew members feared for their safety, jumped back up into the plane and pulled up the loading ramp, officials said. Some Afghans had climbed aboard the plane's wings and, unknown to the crew, officials said, into the wheel well into which the landing gear would fold after takeoff.
The crew contacted air traffic control, operated by US military personnel, and the plane was cleared for takeoff after spending only minutes on the ground. Then, the pilot and co-pilot realised that the landing gear would not fully retract. They sent a crew member down to peer through a small porthole that allows them to view the wheel well while aloft.
It was then that they saw the remains of an undetermined number of Afghans who had stowed away in the wheel well —  crushed by the landing gear.
New York Times News Service