Biden administration to reimpose sanctions on Belarus
Move is latest western response after Lukashenko forced down a European commercial jet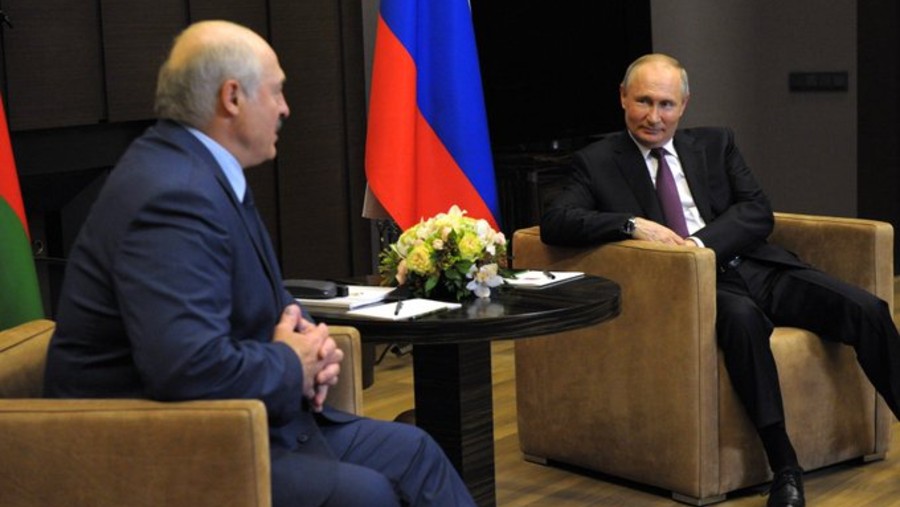 Belarus President Alexander Lukashenko (left) with his Russian counterpart Vladimir Putin in Sochi, Russia.
Twitter/ @mfa_russia
---
New York
|
Published 30.05.21, 01:23 AM
|
---
The Biden administration said late on Friday that it would reimpose economic sanctions on certain state-owned companies in Belarus, the latest diplomatic pushback from a western government after the country's authoritarian leader forced down a European passenger jet last weekend.
The plane, a Ryanair Boeing 737 headed from Greece to Lithuania, was travelling through Belarusian airspace on Sunday when it was diverted and forced to land in Minsk, the capital, with an escort from a fighter jet.
Roman Protasevich, a Belarusian Opposition journalist who had been living in exile abroad, was detained along with his girlfriend after the plane landed. Belarus's President, Aleksandr G. Lukashenko, a brutal and eccentric strongman, has claimed that he rerouted the plane because of an emailed bomb threat, not to seize Protasevich.
But a Swiss email provider has said that the email cited by the Belarusian authorities was sent after the plane had already been diverted.
Leaders of EU countries, outraged by what some called a state hijacking, have pledged to impose new economic sanctions against Lukashenko's government and have begun severing direct air links to Belarus.
President Biden this week directed his team "to develop appropriate options to hold accountable those responsible" for the forced landing, in coordination with the EU and other partners.
Jen Psaki, the White House press secretary, said in a statement on Friday night that sanctions on nine state-owned Belarusian enterprises that had been lifted by the treasury department would be reimposed on June 3.
The US, along with the EU and other allies, is also developing a list of sanctions to be imposed on members of Lukashenko's government associated with "ongoing abuses of human rights and corruption, the falsification of the 2020 election and the events of May 23", she added.
The claim of election fraud was a reference to last summer, when Lukashenko, who has been in power since 1994, claimed to have won 80 percent of the vote in what many Western governments said was a sham election.
His claim prompted mass demonstrations that were met with a police crackdown.
Spokespeople for Lukashenko's government could not immediately be reached for comment on Saturday.
Protasevich, the detained journalist, co-founded a Telegram channel that is a popular Opposition outlet in Belarus and was used to help mobilise the protests last year.
Biden has called for the release of the 26-year-old, saying that his arrest and a video that he made recently while in state custody — apparently under duress — were "shameful assaults on both political dissent and the freedom of the press".
On top of the sanctions announced on Friday, the US will also suspend its application of a 2019 air services agreement with Belarus, and it recently advised American citizens not to travel to the country, Psaki said in the statement.
"We take these measures, together with our partners and allies, to hold the regime accountable for its actions and to demonstrate our commitment to the aspirations of the people of Belarus," she said.
Flight routes
Air France and Lufthansa have received approval from Russia for flight routes to the country that avoid Belarusian airspace, the airlines said on Saturday.
Air France said its new flight path to Moscow started on Saturday and had been authorised for this weekend.
"We ... are awaiting a green light from Russian authorities for our flights after this weekend," a spokesman said.  Air France operates one or two flights a day between Paris and Moscow. A spokeswoman for Lufthansa said it had been given approval for the new routes on its flights from Frankfurt to Moscow.
New York Times News Service and Reuters