Bank warns protests can hurt Hong Kong economy
'Unrest to hit tourism'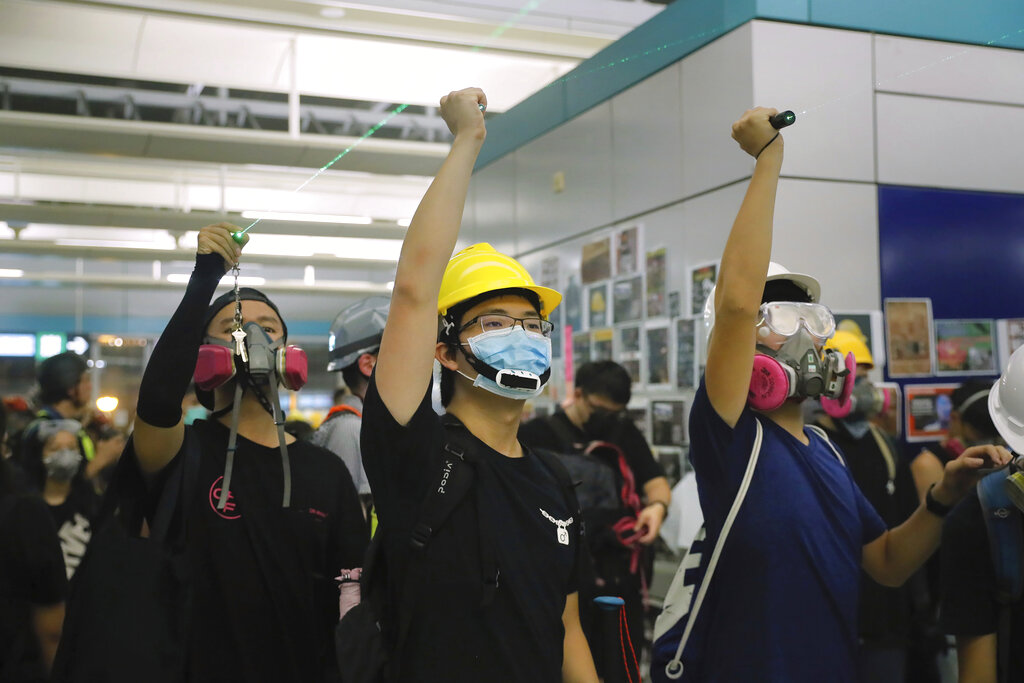 Demonstrators shine laser pointers during a protest at the Yuen Long MTR station in Hong Kong, on Wednesday, Aug. 21, 2019.
AP
---
Hong Kong
|
Published 21.08.19, 08:25 PM
|
---
A major bank warned on Wednesday that weeks of t5s in Hong Kong could hit the economies of the Chinese-ruled city and mainland China itself as hundreds of demonstrators held a sit-in at the subway site of a midsummer mob attack.
Hong Kong-based Bank of East Asia Ltd (BEA) posted a 75 per cent slump in first-half net profit after it wrote down loans in China because of a downturn in commercial property markets outside China's top cities.
It also warned that social unrest in Hong Kong and a trade dispute between China and the US could affect the economies of China and the former British colony.
"The tense atmosphere (in Hong Kong) is likely to weigh on consumer and business confidence, and on inbound tourism, if there is no resolution soon," it said in a statement.
Some Hong Kong companies have been dragged into controversy after 11 weeks of sometimes violent clashes between police and pro-democracy protesters, angered by a perceived erosion of freedoms.
Pilots and cabin crew at Cathay Pacific Airways described a "white terror" of political denunciations, sackings and phone searches by Chinese aviation officials.
BEA and its rivals have closed branches in the vicinity of protests which are already exacting a toll on Hong Kong's economy and tourism — the Asian financial hub is on the verge of its first recession in a decade.
Hundreds of protesters, many masked, some with helmets, gathered peacefully at the suburban Yuen Long rail station, one of a series of running demonstrations over 11 weeks that have sometimes turned violent, including the storming of the legislature and havoc at the airport.
On the night of July 21, about 100 white-shirted men stormed the station hours after protesters marched through central Hong Kong and defaced China's Liaison Office - the main symbol of Beijing's authority over the city.
The men attacked black-clad protesters returning from Hong Kong island, passers-by, journalists and lawmakers with pipes and clubs, wounding 45 people.
Sean, 25, dressed in a black t-shirt and mask, held up a sign saying it had been one month since the attack, but there had been no prosecutions.
"I'm most angry at how the police are biased in their prosecutions," he said.
A small crowd of masked young men gathered on a station balcony, swearing and cursing at police vans down a side street.
Peter, a 17-year-old student handing out free drinks and masks, said he wanted the night to be peaceful.
"We need to give the frontline fighters a rest from fighting the police, so they can fight again later if we need," he said.
Anger erupted in June over a now-suspended bill that would allow criminal suspects in Hong Kong to be extradited to mainland China for trial. Hong Kong leader Carrie Lam said again on Tuesday the legislation was dead.
But the unrest has been fuelled by broader worries about the erosion of freedoms.