Baffling ailment affects kids
Doctors are calling it 'pediatric multisystem inflammatory syndrome'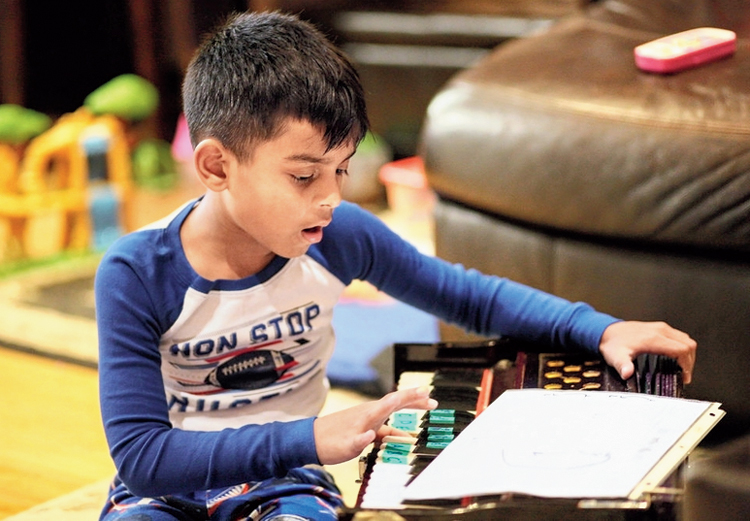 Jayden Hardowar, 8, from Queens, New York, initially had only a mild fever but eventually had to be placed in an ICU after suffering from a mysterious illness.
(Picture credit: Roup Hardowar)
---
New York
|
Published 06.05.20, 09:23 PM
|
---
One child, 8 years old, arrived at a Long Island hospital near death last week. His brother, a boy scout, had begun performing chest compressions before the ambulance crew reached their home.
In the past two days alone, the hospital, Cohen Children's Medical Center, has admitted five critically ill patients — ages 4 to 12 — with an unusual sickness that appears to be somehow linked to Covid-19, the disease caused by coronavirus. In total, about 25 similarly ill children have been admitted there in recent weeks with symptoms ranging from reddened tongues to enlarged coronary arteries.
Since the coronavirus pandemic began, most infected children have not developed serious respiratory failure of the kind that has afflicted adults. But in recent weeks, a mysterious new syndrome has cropped up among children in Long Island, New York City and other hot spots around the country, in an indication that the risk to children may be greater than anticipated.
The number of children in the US showing signs of this new syndrome — which first was detected in Europe last month — is still small. None is known to have died, and many have responded well to treatment.
No solid data yet exists about how many children in the United States have fallen ill with what doctors are calling "pediatric multisystem inflammatory syndrome".
"This is really only a disease that has been clear for two weeks now, so there is so much we're trying to learn about this," the chief of pediatric critical care at Cohen Children's, Dr James Schneider, said in an interview on Tuesday.
Doctors say this condition does not seem to be driven by the virus attacking the lungs, a hallmark of coronavirus infection in adults.
While some of the children with this condition do end up with respiratory problems and a few have needed to be on ventilators, "it seems to be less a lung-specific disease", said Dr Steven Kernie, chief of pediatric critical care medicine at Columbia University and NewYork-Presbyterian Morgan Stanley Children's Hospital, which has treated between 10 and 20 children with the condition, ranging from infants to older teenagers.
He said many of their symptoms — from rashes to redness of eyes to blood circulation problems — appear to be rooted in an "overall inflammatory response."
In some patients the syndrome seems similar to a rare childhood illness called Kawasaki disease, which can lead to inflammation of the blood vessels, especially the coronary arteries.
The symptoms of Kawasaki disease often start with a fever and a rash, but when undiagnosed and untreated, the illness can lead to serious heart conditions, such as coronary aneurysms.
But Dr Kernie said it was important to distinguish between this coronavirus-related condition and Kawasaki disease. While some of the symptoms are similar, Dr Kernie said, including fever, abdominal pain and sometimes a raised rash, there appear to be differences in how the coronavirus-related condition affects the heart.
While shock is a rare complication of Kawasaki disease, in the recent wave of coronavirus-related cases, he said, many of the children are in toxic shock with very low blood pressure and an inability of the blood to effectively circulate oxygen.