Arabs and Jews face off in Israeli cities
We need to solve our problems without causing a civil war that can be a danger to our existence: Reuven Rivlin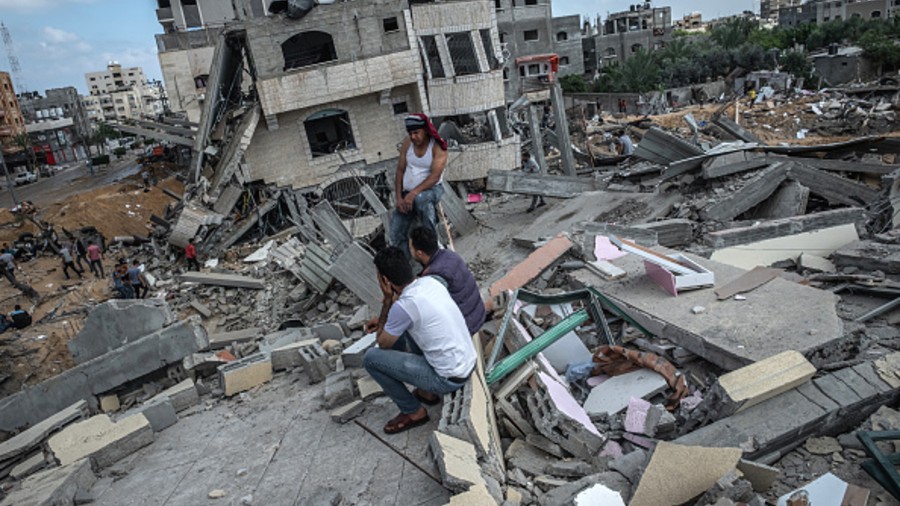 Some men sit on the rubble of a residential building in Gaza City, Gaza Strip, that was destroyed by an Israeli airstrike.
Getty Images
---
New York
|
Published 14.05.21, 02:17 AM
|
---
After days of people peering skyward for danger, whether rockets barrelling towards cities or jets streaking out over the border into Gaza, a new and equally ominous type of battle is unfolding on a different front: the streets of Israeli cities.
Alongside now-familiar scenes of Israeli airstrikes on Gaza and Palestinian militants firing rockets into Israel, the worst violence in decades has erupted inside Israel. Jewish and Arab citizens are clashing violently in chaotic scenes — stoning cars, burning offices and places of worship, and forming mobs that have dragged people from their vehicles and beat them to within an inch of their lives.
That is all giving way to fears that Israel is careening towards a civil war.
"We need to solve our problems without causing a civil war that can be a danger to our existence, more than all the dangers we have from the outside," said Reuven Rivlin, the country's President. "The silent majority is not saying a thing, because it is utterly stunned."
Palestinian leaders, however, said the talk of civil war was a distraction from what they see as the true cause of the unrest — police brutality against Palestinian protesters and provocative actions by Right-wing Israeli settler groups.
"The police shot an Arab demonstrators in Lod," said Ahmed Tibi, the leader of the Ta'al party and a member of Israel's parliament, referring to the mixed Arab-Jewish city in Israel where some of the worst clashes occurred. "We don't want bloodshed. We want to protest."
Gaza militants and Israeli forces have been trading attacks for days now, ever since a police raid at a Jerusalem mosque atop a site revered by both Muslims and Jews.
The toll from Israeli strikes on Gaza rose on Thursday to 83 Palestinians, the Hamas-controlled health ministry of Gaza said. Israeli officials say that Hamas rockets have killed seven Israelis.
The Israeli airstrikes and Palestinian rocket attacks, however deadly, are a familiar element of the conflict. What is unusual this time are the scenes playing out on the streets of Israel.
Prime Minister Benjamin Netanyahu appealed for calm as the spiralling unrest reached deep into the country. "What is happening in Israel's cities over the past few days is unacceptable," Netanyahu said. "It is anarchy."
"Nothing justifies the lynching of Jews by Arabs, and nothing justifies the lynching of Arabs by Jews," he added.
In one seaside suburb south of Tel Aviv, dozens of Jewish extremists took turns beating and kicking a man presumed to be Arab, even as he lay motionless on the ground. To the north, in another coastal town, an Arab mob beat a man they thought was Jewish with sticks and rocks, leaving him in a critical condition. Nearby, an Arab mob nearly stabbed to death a man believed to be Jewish.
One mixed Jewish-Arab city, Lod, was declared "locked down". Tamer Nafar, a Palestinian, mourned the terrible rupture in the city. "Maybe we look at the word coexistence differently," he said. "But so far there is only one side, the Jewish side."
Punishing campaign
On Thursday, Palestinian militants fired more rockets into Israel's commercial heartland as Israel kept up a punishing bombing campaign in Gaza and massed tanks and troops on the enclave's border.
New York Times News Service and Reuters