A contrasting tale of two PMs
One of UK PM May's last acts could be to send her congratulations to Modi, whom she met in Delhi in November 2015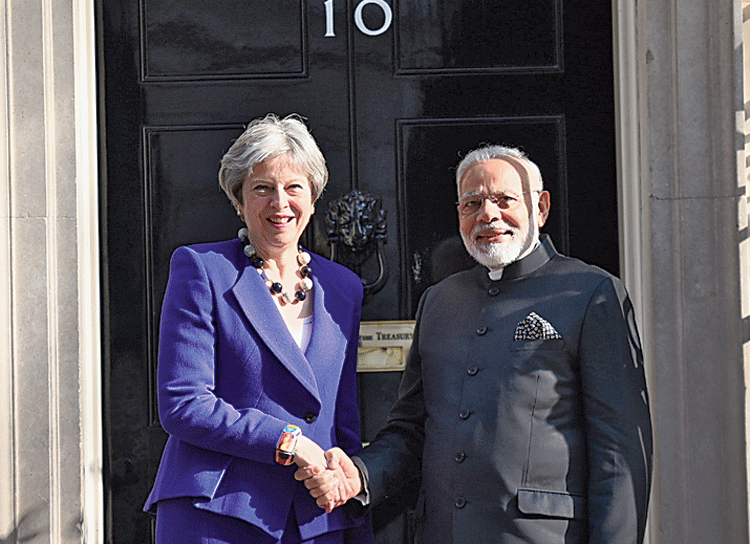 ---
|
London
|
Published 23.05.19, 09:46 PM
---
This is a contrasting tale of two Prime Ministers — Narendra Modi, whose star is rising in Delhi, and that of Theresa May in London, where her time in Downing Street is drawing inexorably to an inglorious end.
Politics could not be more ruthless, especially as practised by the Conservative party in Britain. Her one time supporters are by her bedside, so to speak, willing her to breathe her last.
Pressure for her to step down immediately has grown since the resignation on Wednesday of a senior member of her cabinet, Andrea Leadson, leader of the Commons, who said she felt unable to introduce May's Brexit withdrawal agreement containing "new elements that I fundamentally oppose".
"I fully respect the integrity, resolution and determination that you have shown during your time as Prime Minister," she wrote in her letter to the Prime Minister.
"No one has wanted you to succeed more than I have, but I do now urge you to make the right decisions in the interests of the country, this government and our party."
Leadsom's resignation came ahead of the elections to the European Parliament, in which the Conservative party is expected to perform poorly, especially compared with Nigel Farage's newly set up Brexit Party.
Some analysts predicted that May might be forced to announce her resignation on Friday.
One of her last acts could be to send her congratulations to Modi, whom she met in Delhi in November 2015 on her first overseas trip as Prime Minister undertaken to underline the importance of the UK-India relationship.
May will remain caretaker Prime Minister until her successor — possibly Boris Johnson but with many other candidates, including Leadsom, also in the ring — is chosen. May will also be in office during President Donald Trump's controversial state visit to the UK from June 3-5 for which huge demonstrations have been planned.
There appears to be about Britain and particularly hardline Brexiteers almost a death wish to take the UK out of the EU, even without a deal, although this might have disastrous consequences for the economy.
British Steel, for example, has just announced it is going in administration because of Brexit-related issues with a loss of 25,000 jobs.
Rahul Gandhi might have some sympathy for May who is facing calls to quit from her own party and from newspapers.
Ahead of the Prime Minister's showdown meeting with the chairman of the 1922 Committee, Sir Graham Brady, on Friday, the committee's treasurer, Sir Geoffrey Clifton-Brown, said: "I want her to give a timetable for when she will go. I think this blank denial from Number 10 today may be a smokescreen because she does not want to influence the outcome of the European elections. Maybe she will still quit tomorrow."
Brady told reporters: "I will be meeting with the Prime Minister on Friday following her campaigning in the European elections... and following that meeting I will be consulting with the 1922 executive."
Another Tory MP, Sir David Evennett, previously viewed as a loyalist, tweeted: "Theresa May must now resign. We need a new PM a new cabinet and a new approach to Brexit."
The papers also made grim reading for May.
The Daily Mail said it could not be clearer that May's tenure as Prime Minister and leader of the Conservative Party "is at an end".
"Despite her valiant efforts to deliver an honourable Brexit, she has finally run out of road. This is a woman who has always been driven by duty, and whose honest search for compromise was thwarted on all sides. It's essential now that she be allowed to leave No 10 with the dignity she deserves — probably either during or just after the coming weekend."
In an editorial, the Daily Telegraph said the longer May stayed as leader the "greater the contamination" of the Tory party brand.
It warned that unless the Conservatives "drop Mrs May fast and distance themselves as far from her policies as possible, it increasingly seems possible that the centre-Right coalition in Britain will be fractured for years to come".