£23m for a Splash
This is one of those paintings that people put up on their walls — as a poster selling in museum shops for £6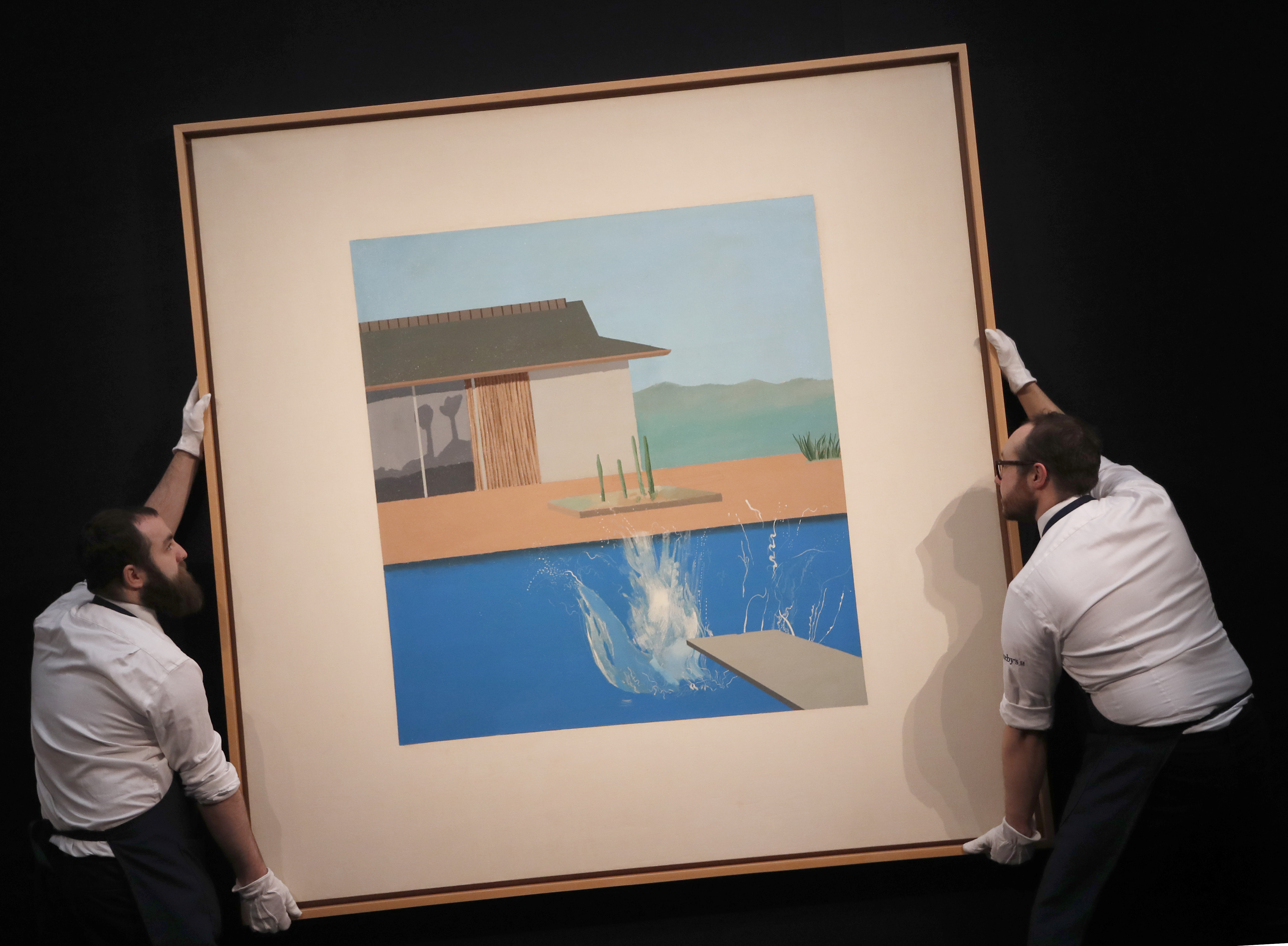 Two Sotheby's employees adjust David Hockney's painting 'The Splash' at Sotheby's contemporary Art sale preview in London on Friday
(AP photo)
---
London
|
Published 12.02.20, 07:04 PM
|
---
One of Pop Art's most iconic paintings, David Hockney's The Splash, has sold at Sotheby's in London for £23.1 million — eight times the sum the work fetched at the same auction house in 2006.
This is one of those paintings that people put up on their walls — as a poster, of course, selling in museum shops for £6.
The 1966 piece by the 82-year-old Yorkshire-born artist captures the spray from a dive into a swimming pool on a perfect blue California day.
The 6 foot by 6 foot acrylic on canvas painting last sold at Sotheby's in 2006 for £2.9 million and returned to the same auction house on Tuesday evening as the star piece in its contemporary evening art auction.
Hockney, who left his native Yorkshire to live in California, said of his painting: "I love the idea, first of all, of painting like Leonardo, all his studies of water, swirling things. And I loved the idea of painting this thing that lasts for two seconds; it takes me two weeks to paint this event that lasts for two seconds.
"Everyone knows a splash can't be frozen in time, so when you see it like that in a painting it's even more striking than in a photograph."
Before the auction, the painting was shown off to potential buyers in Hong Kong, Taipei, New York and London.
Emma Baker, head of Sotheby's contemporary art evening sale, commented: "Not only is this a landmark work within David Hockney's oeuvre, it's an icon of Pop that defined an era and also gave a visual identity to LA."
"Even looking beyond the twentieth century, few artworks have attained as mythic a status as this painting. Equally as recognisable as Munch's series of screams, Monet's water lilies or Van Gogh's flowers, Hockney's splash is ingrained within our cultural imagination."
Long essays have been written about The Splash.
According to Sotheby's, "The Splash immortalises a fleeting moment just seconds after a diver has broken the calm surface of a swimming pool. The painting's protagonist is present, yet absent, masked by a torrent of displaced water. The work is a quintessential example of Hockney's lifelong fascination with the texture, appearance and depth of water – a fascination which culminated in one of the most celebrated and instantly recognisable bodies of work in 20th century art."
It adds: "The work is the second in a series of three 'splashes', the largest and final of which, A Bigger Splash (95 by 96 inches), is a jewel in the Tate collection in London. With only a slight variation in composition, the version to be offered in February (72 by 72 inches) is a close sister to that in the Tate. The other splash in the series, A Little Splash (1966), remains in a private collection, having never been offered publicly.
"LA was everything the Yorkshire-born artist had hoped it would be: a land of possibility, sun drenched houses, mid-century modern architecture, deep-blue pools, palm trees and beautiful bodies. The city opened the doors onto an idyllic world of leisure, bright lights and sexual openness, completely removed from the Britain he had left behind."