WOW! Momo chief's start-up tips
Daryani now has 269 stores across the country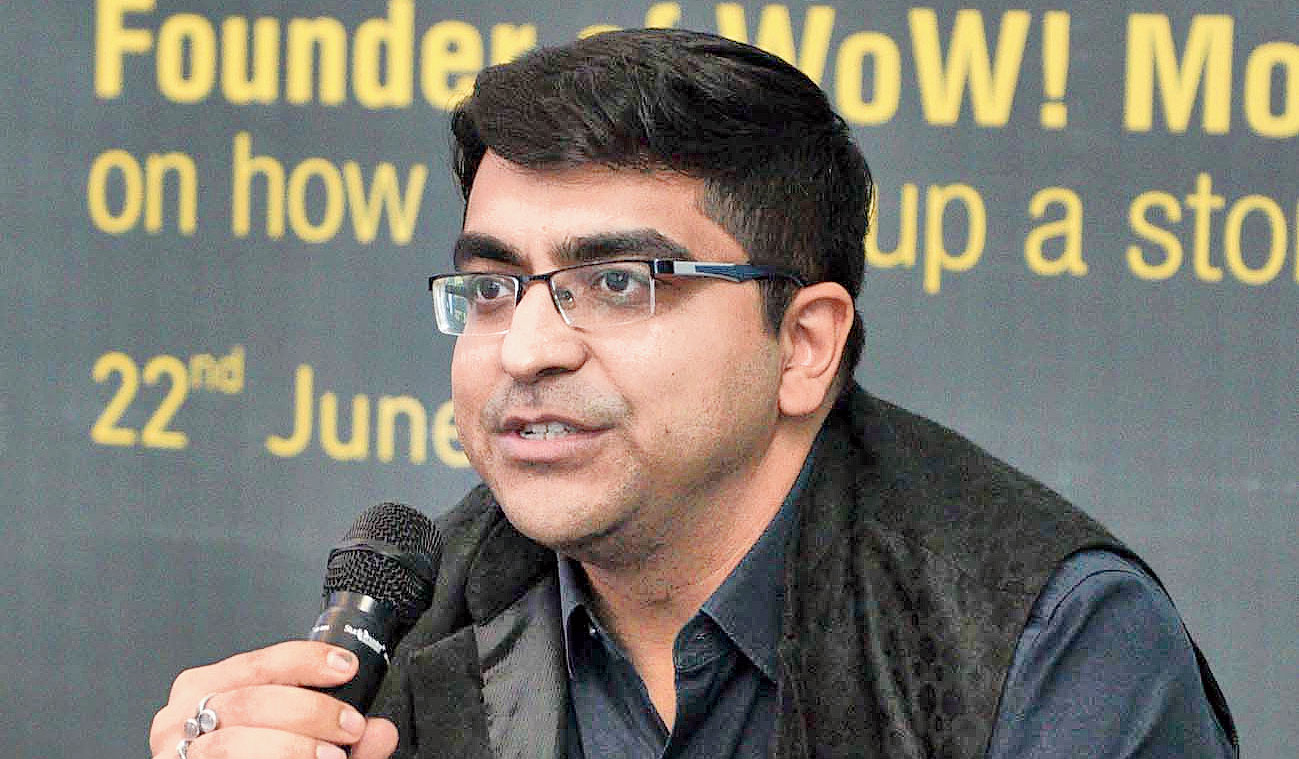 Sagar Daryani, co-founder and CEO, WOW! Momo at a city hotel on Saturday.
Picture by Gautam Bose
---
Calcutta
|
Published 22.06.19, 07:45 PM
|
---
A start-up that began from a Calcutta garage with Rs 30,000 is now a company spread across the country with a monthly revenue of more than Rs 10 crore.
The company's product: momos.
Sagar Daryani, the co-founder of Wow! Momo, spoke of his entrepreneurial journey to budding entrepreneurs at a south Calcutta hotel on Saturday evening.
Daryani, whose quick- service restaurant chain started with a 36sq ft kiosk in Tollygunge, now has 269 stores across the country. The latest came up two days ago at Infinity Mall in Mumbai's Andheri.
He was speaking at Chai Pe Charcha, organised by the Bharat Chamber Young Business Forum.
Daryani and Binod Kumar Homagai, commerce graduates and friends from St Xavier's College, had launched Wow! Momo in 2008.
"My first brush with momos was in school. There was this momo uncle who would sell a plate of five momos. I remember everybody — from students to parents and teachers — gorging on the momos," Daryani said.
He said he was obsessed with brands from an early age and remembered spending hours with logos of iconic multinational brands in his room. "I always dreamt of having my own brand."
His father was into the retail business but he did not want to enter it. He had initially thought of starting a bakery in Mumbai. He remembered his Mumbai-based friends and relatives taking cakes from Calcutta when they returned.
But a bakery business would have meant a big investment, which Daryani could not afford at that time. He borrowed Rs 30,000 from his father and launched Wow! Momo, the first branded momo chain in Calcutta.
There were a lot of momo joints but it was an unorganised market when Daryani and Homagai started.
Their first outlet was at a Spencers outlet in Tollygunge.
Daryani and Homagai hired a part-time chef and would buy vegetables and chicken from the market every morning. "We would carry them in insulated containers to Spencers. While returning, the crates would be empty and we would walk to save money. Now, we have a fleet of vehicles. I have always believed that a rupee saved is five rupees earned."
The success of the first store got the duo a bigger space at Spencers in South City Mall. "The mall was the talk of the town then and our store got plenty of positive word of mouth. It was a game changer," he said.
Daryani's advice to budding entrepreneurs: concentrate on developing a core product and building a brand around it. "If your basic product is good, consumers trust you."