Women plant mangrove saplings to ward off big cat trespass
Their effort has been to try and create a 'green shield' coming in the wake of a spate of tiger sightings in the area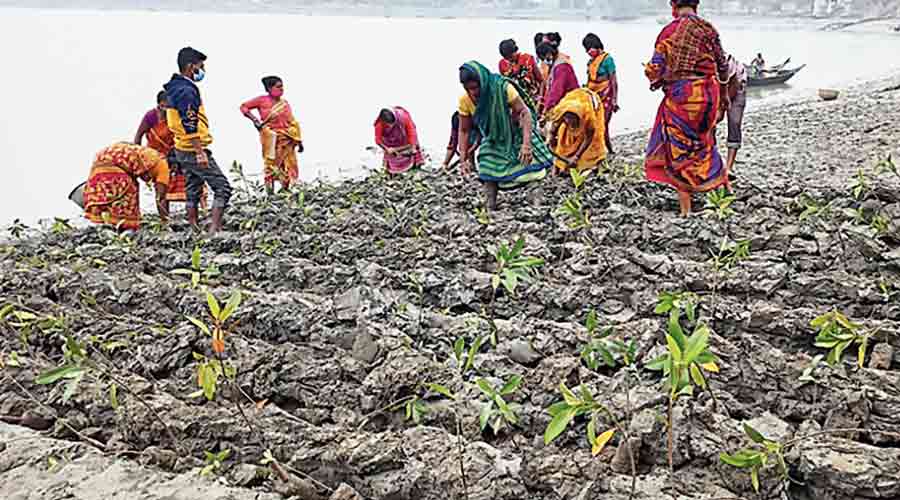 Women plant mangrove saplings on Kumirmari island of Gosaba
Telegraph photo
---
Bolpur(Birbhum)
|
Published 25.01.22, 02:58 AM
|
---
A community initiative led by 200-odd residents, mostly women, of Sunderbans' Kumirmari island, have since January 12 planted more than 10,000 mangrove saplings along their riverbank habitation.
Their effort has been to try and create a "green shield" coming in the wake of a spate of tiger sightings in the area.
This wisdom has been hard-earned. On the evening of January 1, a royal Bengal tiger had been sighted in Kumirmari, triggering panic in the area. A forest team had to tranquillise the big cat and then wait for a day before releasing the animal back into the core forest area.
Similar incidents have occurred in at least five other places nearby over the past month, prompting the forest department to commission a study on why the human-animal conflict was facing a resurgence.
Other tiger sightings in the Sunderbans this month occurred at Gosaba's Bali, in Satjelia Island, and at Kultali, but in all these cases the big cats reportedly stayed at a distance by the riverside.
"The tigers' repeated entries into our island have really opened our eyes. One tiger directly entered the area adjacent to Korankhali river owing to the absence of a physical barrier of any kind. But at some other places, the animal could not enter human habitation as there happened to be a shield of mangroves right outside the village," said Mangal Mandal, a resident of Kumarimari.
Several wildlife experts and former foresters also admitted to the need for a mangrove shield to naturally reduce the entry of tigers into human habitations. 
"Its presence can make all the difference between life and death in these areas where man-animal conflict is very likely," said a former forester.
Added Pranabesh Sanyal, former chief wildlife warden and ex-chief environment officer of Bengal: "Royal Bengal tigers naturally roam from one island to another by crossing rivers and often come to islands that have human habitation. If there is a shield of mangroves, then naturally the tiger hides inside the bushes. In many cases, it returns to the core forest area. If there is no shield of mangroves, then the tiger will directly enter the village."
"It is good of Kumirmari residents to put up a shield of mangroves. We too had planted thousands of mangroves earlier on the embankments of islands that have a human population," Sanyal added.
Villagers in Kumirmari early this month had approached local social-worker, Umashankar Mandal, who is involved with mangrove plantation, and had sought his help in procuring sapling varieties such as Bain, Garan, Garjan and Kakra.
Then, as they received some 10,500 saplings of various mangrove plants, the residents, spearheaded by women, began planting them from January 12, on the occasion of Swami Vivekananda's birth anniversary, and completed the task on Sunday to mark the birth anniversary of Netaji Subhas Chandra Bose.
"Our outfit helped villagers to procure saplings and they planted them over the past 11 days. We are happy that common people understand the need for plantation of mangroves. That was the first phase and the effort will continue,"said Umashankar, who is fondly reputed in the area as the "mangrove-man".
Villagers also said they had earmarked around 1,000 acres where mangrove saplings can be planted over the "next five years".