Sunderbans Tiger Reserve authorities set free GPS-tagged turtles for observation
This GPS tagging and tracking endeavour is the first ever in the country made for any species of freshwater turtle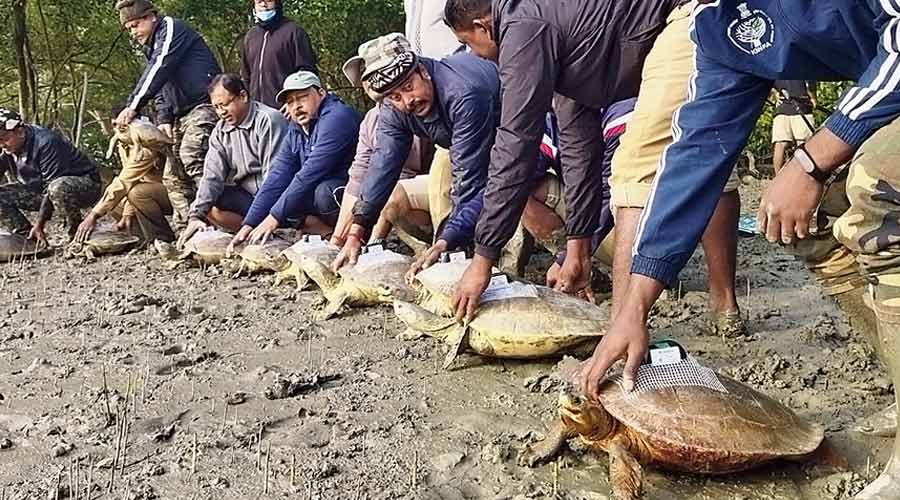 Turtles tagged with GPS transmitters being released in the Sunderbans.
Telegraph Picture
---
Calcutta
|
Published 20.01.22, 02:06 AM
|
---
Sunderbans Tiger Reserve authorities on Tuesday tagged GPS transmitters to a batch of 12 "highly threatened" northern river Terrapin turtles, also known as the "Batagur Baska", and set them free in a quiet location with an objective to understand its survival and dispersal patterns.
This GPS tagging and tracking endeavour is the first ever in the country made for any species of freshwater turtle, and is slated to pave the way for large-scale release of the breed in the near future, STR sources explained.
STR Deputy Field Director Jones Justin said, "This will help us to generate the basic ecological data on conservation requirements of the turtles in the Sunderbans".
The Sunderbans has a significant population of tigers and saltwater crocodiles. Being the largest contiguous mangrove forest in the world, it has elaborate networks of rivers, channels, islands, and forest swamps forming the lower Ganges-Brahmaputra delta along the Indo-Bangladesh border, posing considerable challenges for the manual tracking of the released animals.
"The GPS tracking will allow field researchers to track these highly threatened turtles across the vast expense of mangrove swamps and generate hitherto lacking data to better inform future releases", field director Jones Justin said.
The Northern River Terrapin is widely regarded as one of the most endangered freshwater turtles in the world. Only a handful of animals are extant in the mangrove swamps and tidal rivers of the Sunderbans spanning southeast India and southwest Bangladesh.
STR officials claimed the Baska turtle population declined precipitously owing to unsustainable harvesting. With few wild adults, the species now reportedly teeters on the brink of functional extinction.
 In 2008, the STR in a joint exploration with Turtle Survival Alliance India Program, located a cohort of eight males, three females, and one juvenile Buska turtles in a pond at the Sajnekhali Interpretation Centre.
An official of STR said that with so few wild survivors, immediate actions to preserve the species before its possible extinction were decided upon. "Recognising the urgency of the situation, we at STR and TSA India Program initiated a modest and sustainable conservation breeding program", Jones Justin said.
"We set a goal for breeding and to re-wild the species within strictly regulated protected areas of STR. The breeding initiative commenced with the use of the 12 adult terrapins from the Sajnekhali as founders.
This successful sustained breeding program holds 12 adults and close to 370juveniles of the species", he added.
"We are poised towards achieving a larger goal of successfully reintroducing an ecologically viable population of the Northern River Terrapin back into the wild. Today's release of the GPS tagged Baska turtles are a step toward this goal", another senior STR official said.