Gift of hair to make a cancer patient smile
Women donate tresses for wigs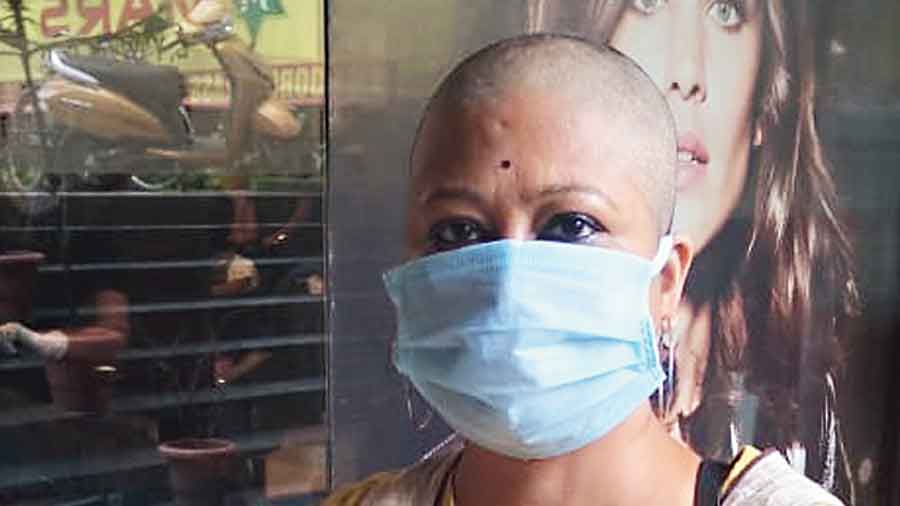 ---
|
Siliguri
|
Published 06.08.20, 03:03 AM
---
A few women in and around Siliguri are donating their hair to be made into wigs for balding cancer patients and survivors, and encouraging others to do so.
For many cancer patients, hair loss is common during chemotherapy.
Two women and a schoolgirl associated with a city NGO named Unique Foundation recently donated their hair to a Delhi outfit named Ladies Circle India that makes wigs for cancer patients.
Homemaker Munmun Singha Roy, 46, who shaved off her head, said she was glad to make "a small but significant contribution".
For Oliva Das, 9, who donated her 16-inch-long hair, her father Prabir Das was the moving force.
Soma Nandi, 23, who donated her 18-inch-long hair, said she wanted to help someone look and feel better.
Shakti Paul, founder of Unique Foundation, said they started this drive after coming to know about Ladies Circle India. "The Delhi outfit collects hair donated by people from across India and uses it to make wigs. It even distributes wigs free of cost among cancer patients, particularly thosewho can't afford to buy a wig," said Paul.
Munmun said she was now encouraging other women to donate their hair. "Your hair will grow back, but your gift will make someone smile," she said. "Often, a person who has become bald after chemotherapy fears being judged by others for their appearance."
Soma agreed. "I had seen a cancer patient who lost all her hair during treatment and it did not grow back. I could feel her pain, it stayed with me."
Prabir, Olivia's father, said he had been deeply impressed by "Titir Chakraborty, a seven-year-old girl of Raiganj, who had donated her hair for cancer patients".
"I thought, my little girl can also make a similar gift. Her own hair will grow again, but the hair she donates will make someone ill really happy. We waited for a year for her hair to grow, and when it turned 16 inches long, we got her head tonsured," the father said.
Paul said there were some more people in Siliguri who made similar hair donations. "We want more people, particularly women, to come forward and join us."