Who is your Trinamul candidate in Bengal?
Mamata focused on bread-and-butter issues, seeking to shift focus from the chest-thumping nationalistic narrative of Modi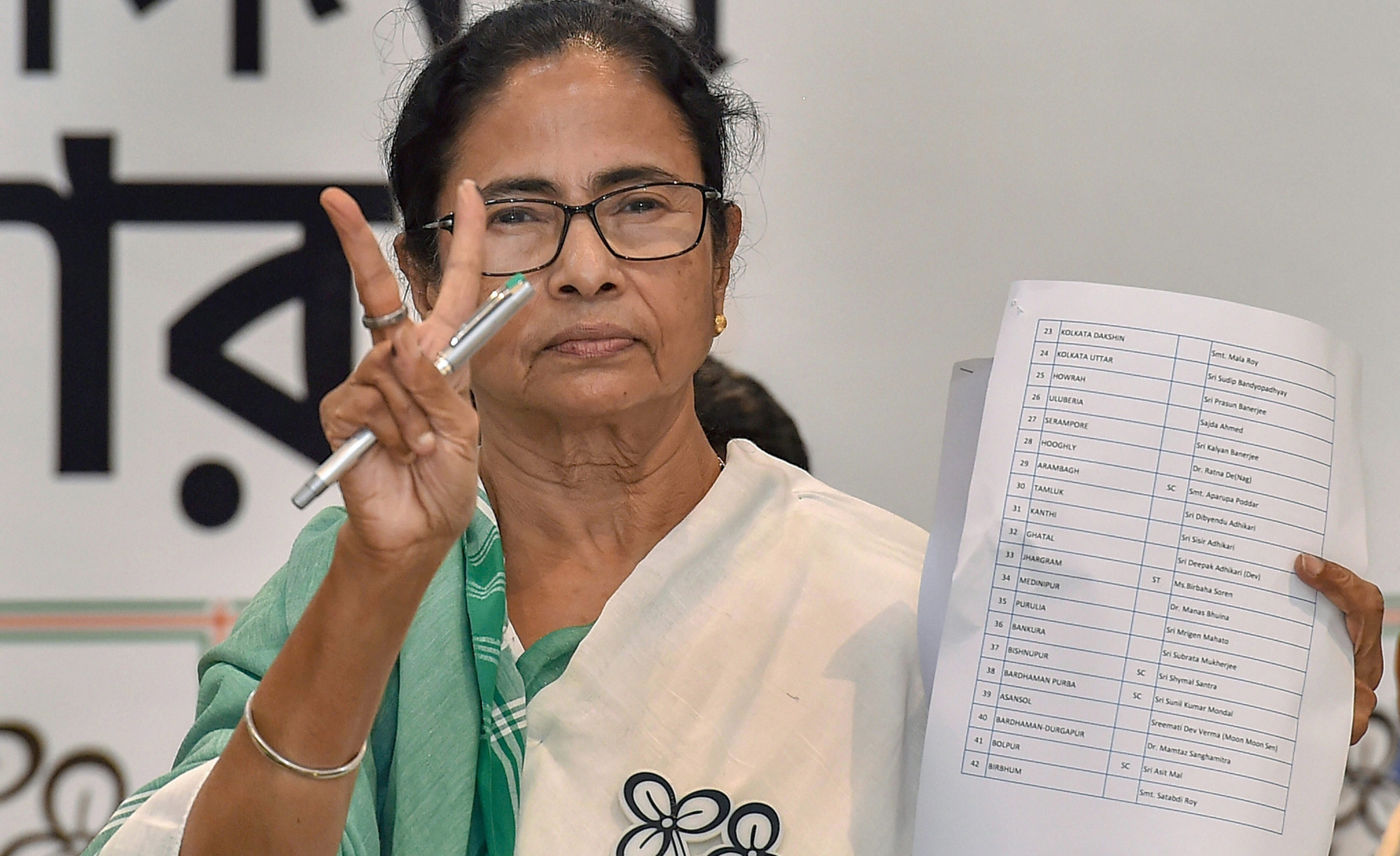 Bengal chief minister Mamata Banerjee shows the candidate list for the Lok Sabha elections in Calcutta on Tuesday.
PTI
---
Calcutta
|
Published 12.03.19, 08:02 PM
|
---
Mamata Banerjee on Tuesday unwrapped a list of surprises with multiple messages and a couple of star faces that she showcased with a clincher: "Je randhe se chul-o bandhe (a person can be adept at multiple tasks)."
The chief minister was responding to a question on what would happen to Tollywood after she included two popular actresses, Nusrat Jahan and Mimi Chakraborty, in the Trinamul list of 42 candidates in Bengal.
Mimi will contest from the Jadavpur Lok Sabha seat, from where Mamata had launched her spectacular run in electoral politics by defeating CPM veteran Somnath Chatterjee in 1984. Nusrat will be fielded in Basirhat.
Attention was focused on the two because of their career that has made them household names in Bengal. But several political messages were sent by Mamata.
Narrative has to change: Mamata focused on bread-and-butter issues, seeking to shift the focus from the chest-thumping nationalistic narrative of Narendra Modi to an area where she thinks the BJP-led government is on a slippery slope.
"I have been told that there would be more strikes before the polls," Mamata said, suggesting that Modi is left with the solitary jingoistic card.
She reeled off a long litany of lapses against the Modi government: unemployment, farmer suicides, demonetisation that made matters worse, attacks on minorities and Dalits, erosion of institutions, attempts at rewriting history and persecution of dissenters.
"We have never had a situation like this in the country…. The election this time is really challenging," she said.
She made it clear that she was on the same page as Rahul Gandhi on his allegations against the Rafale deal.
A source pointed out: "In the post-Pulwama developments, these questions got drowned. She raised the questions to reorient the narrative."
Support to the armed forces: Releasing the list from her 30B Harish Chatterjee Street home, Mamata set the tone by paying homage to the jawans who had laid down their lives for the country in the past five years.
"Everyone has respect for the jawans…. But please, do not use them for political gains," Mamata said. "I request the Election Commission to stop the BJP from using photographs of soldiers in posters."
Mamata not only sought to address innuendoes by the BJP that the Opposition is anti-national but also conveyed that she was against the politicisation of the defence forces and their achievements.
Ready to take on Modi: "I know a lot of people in Varanasi and Kashi…. If Akhilesh and Mayawati want me in Varanasi, I will surely consider," Mamata said, breaking into a chuckle.
Sources in the party said she was open to the idea of campaigning beyond Bengal.
As Modi is scheduled to hold several rallies in Bengal during the seven-phase polls, Mamata is keen on taking the battle to his turf. "He will come and attack Didi in Bengal… Didi also wants to go and launch an offensive in his backyard," said a source.
Mamata will field candidates in 14-odd seats in Assam, Bihar, Odisha, Jharkhand and the Andaman and Nicobar Islands. "We are also a national party…. If others can contest here, why can't we?" Mamata asked.
Last word in party: When Mamata announced the names of several new faces, she was flanked by those dropped from the list.
The unspoken message: some disgruntled members of the party may consider the BJP as an option but that would not affect her decision on whom to nominate for the Lok Sabha seats.
At least 17 new faces figured in the Trinamul list. In private, some Trinamul politicians expressed disenchantment at the inclusion of film stars and defectors.
The surprise quotient in the list was high, a source said, because the chief minister wanted to "tell party workers that she can make anyone a party candidate. People vote for Trinamul because of her."
Besides getting Tollywood actresses, she also changed sitting MP Moon Moon Sen's turf and sent veteran minister Subrata Mukherjee to fight from the Bankura Lok Sabha seat.
After announcing the list, Mamata said she tried her best to accommodate all sections. "We have 41 per cent women candidates…. We have representation from all sections," she said, stressing her commitment to plurality.
While the names may be a surprise, the decision to dip into the Tollywood pool is not. Mamata prefers apolitical but popular candidates in constituencies with multiple ticket aspirants. "This strategy has always worked for her. If the candidate wins, it's because of Didi and if the seat is lost, one can always say that the candidate was an apolitical person," said a source.
Here's the list of Trinamul candidates for the 42 Lok Sabha seats in Bengal:
Cooch Behar: Paresh Adhikary
Alipurduar: Dasrath Tirkey
Jalpaiguri: Bijoy Barman
Darjeeling: Amar Singh Rai
Raiganj: Kanaia Lal Agarwal
Balurghat: Arpita Ghosh
Malda North: Mausam Noor
Malda South: Moazzem Hossain
Jangipur: Khalilur Rehman
Behrampore: Apurba Sarkar
Murshidabad: Abu Taher
Krishnagar: Mahua Moitra
Ranaghat: Rupali Biswas
Burdwan East: Sunil Mondal
Burdwan-Durgapur: Mumtaz Sanghamita
Asansol: Moon Moon Sen
Bolpur: Asit Mal
Birbhum: Satabdi Roy
Bongaon: Mamatabala Thakur
Barrackpore: Dinesh Trivedi
Howrah: Prasun Banerjee
Uluberia: Sajda Ahmed
Serampore: Kalyan Banerjee
Hooghly: Ratna De Nag
Arambag: Aparupa Poddar
Tamluk: Dibyendu Adhikari
Contai: Sisir Adhikari
Ghatal: Deepak Adhikari (Dev)
Jhargram: Birbaha Soren
Midnapore: Manas Bhuniya
Purulia: Mriganka Mahato
Bankura: Subrata Mukherjee
Bishnupur: Shyamal Santra
Dum Dum: Saugata Roy
Barasat: Kakali Ghosh Dastidar
Basirhat: Nusrat Jahan
Joynagar: Pratima Mondal
Mathurapur: Choudhury Mohan Jatua
Diamond Harbour: Abhishek Banerjee
Jadavpur: Mimi Chakraborty
Calcutta North: Sudip Bandyopadhyay
Calcutta South: Mala Roy