West Burdwan: Cop injured in gun battle with criminals
Police have arrested three criminals, but four others fled in the town's crowded Rambagan area by firing indiscriminately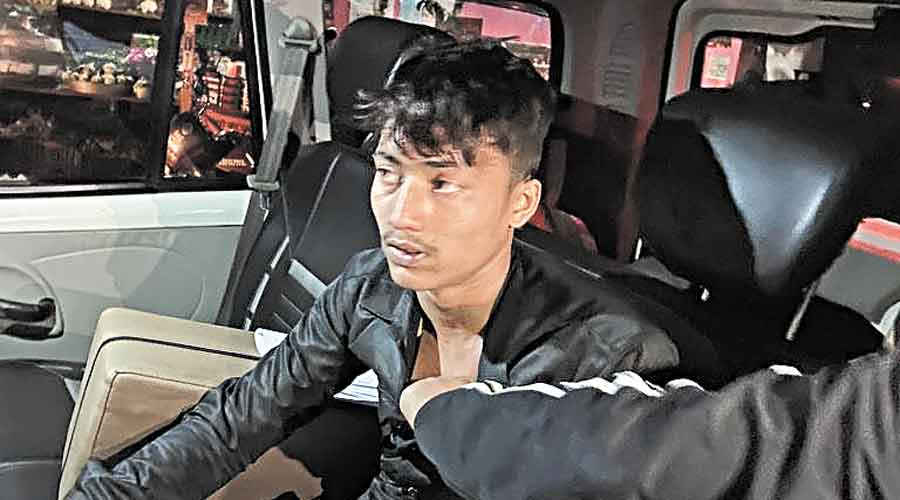 One of the goons arrested at Raniganj in West Burdwan on Sunday night.
Santosh Kumar Mandal
---
Raniganj
|
Published 22.02.22, 01:45 AM
|
---
Three persons, including a policeman, suffered bullet injuries during an hour-long crossfire between law enforcers and armed goons in West Burdwan's Raniganj town on Sunday night.
Police have arrested three criminals, but four others fled in the town's crowded Rambagan area by firing indiscriminately.
The police said the goons raided Bhalotia House, owned by a family having multiple businesses including coal trading, at Raniganj's Rambagan around 8.30pm on Sunday.
"The goons entered the house posing as Enforcement Directorate (ED) officers when most of the male members of the family were away on work," said a police officer.
"The criminals, mostly youths, identified themselves as ED officers to security guards and told them that they had come for investigation. We doubted their claim as they looked very young," said Mahender Kumar Bhalotia, a family member.
As one of the family members refused to allow them inside, one of the goons took out a revolver. "They herded him and the female members of our family present into a room and snatched their mobile phones before locking them inside. My daughter, hiding in another room, dialled 100 from her phone and informed some neighbours," said another family member, Rajender Kumar Bhalotia.
The police arrived and cordoned off the house. "We asked the goons to  surrender but they suddenly opened fire," said Tathagata Pandey, assistant commissioner of police (central division II) of the Durgapur-Asansol police commissionerate.
Cornered, the criminals came out and started to flee while firing at the police. Sub-inspector Debabrata Supkar held on to a goon, who shot his captor on the knee. Another criminal, Akash Jha, and businessman Vivek Chaudhury suffered bullet injuries during the exchange of fire. All the injured have been hospitalised.
The three arrested — Jha, Manoj Kumar and Chandan Kumar Sahani — are all aged between 30 and 35 years.
The police also recovered two improvised revolvers, ammunition and one crude bomb from them. The goons who fled also left behind one motorbike.
The police have alerted all neighbouring police stations, including their counterpart in nearby Jharkhand.
The interstate gang had also targeted a branded jewellery shop owned by the Bhalotias, said Sudheer Kumar Neelakantam, the commissioner of police Asansol-Durgapur police commissionerate.
Asked if the incident was an attempt at robbery or the fallout of some business rivalry, a police officer said they were probing all angles.