Mamata claims Centre forced individuals to help prevent stock market crash
'It is using the LIC and bank stocks to support the party and a few rich individuals... the future of insurance savings are uncertain'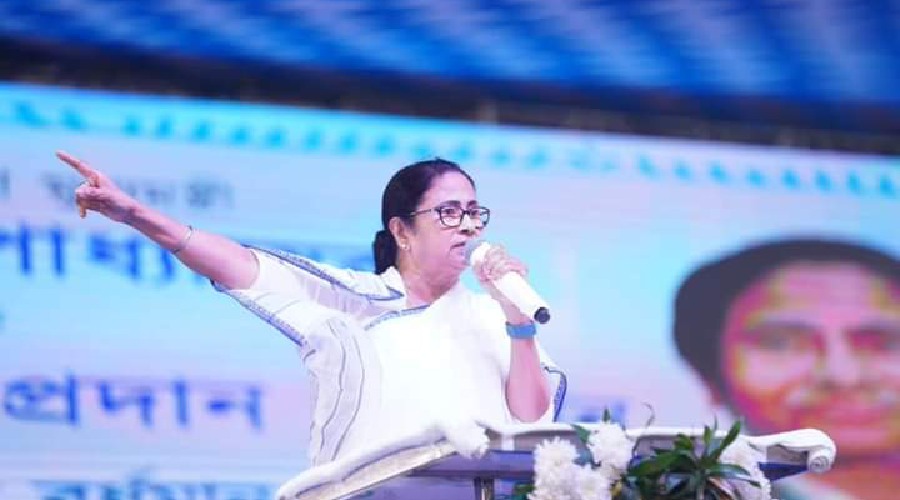 West Bengal CM Mamata Banerjee at a state government programme in Burdwan town on Thursday
Twitter/@SR_Tmc007
---
Calcutta
|
Published 02.02.23, 07:27 PM
|
---
In a significant allegation, Bengal chief minister Mamata Banerjee stated that the Centre sought financial help from individuals on Wednesday to prevent a total stock market crash and the subsequent collapse of the Union government.
Speaking at a state government programme in Burdwan town on Thursday, Banerjee sharply criticized the Centre for its Budget.  "The Central government, it seemed, was on the verge of collapse yesterday. Why? Because the share market witnessed a massive fall. The Centre had to ask 6-8 people to bail the companies out. Some were asked to give Rs 20,000 crore while others were asked to give Rs 30,000 crore. I won't reveal names because I don't want to make things difficult for them," Banerjee said, and added, "Can a government run like this? This government has no plans."
While the chief minister stopped short of revealing who her sources were for this very sensitive bit of information, she said: "If this government stays for long, it will shut down banks and bring down LIC. It is using the LIC and bank stocks to support the party and a few rich individuals close to the party. There's no guarantee that you would get your money back from the banks and the future of insurance savings are uncertain."
In the wake of Wednesday's market rout in Adani group stocks leading to Gautam Adani calling off the Rs 20,000 crore Follow-on Public Offer (FPO), the LIC has come out with a public announcement to allay apprehensions of its investors.
"The total Assets Under Management (AUM) by LIC are over Rs 41.66 lakh crore as at September 30, 2022. Therefore LIC's exposure in the Adani Group, as on date, is 0.975% of LIC's total AUM at book value," the company stated.
Interestingly, Banerjee never directly referred to the FPO cancellation of the Adani Group which has rocked the country's financial sector since Wednesday evening. The Group has taken up significant stakes in Bengal like securing a Rs 25,000 crore project to develop a deep sea port in Tajpur and developing multiple infrastructure projects including construction of a 68-km six-lane national highway from Panagarh to Palsit in Burdwan at an estimated cost of Rs 2021 crores.
Continuing her salvo against the Centre which claimed credit for protecting interests of the middle class in its Budget, Banerjee said, "The Raising tax rebate slab to Rs 7 lakh is a cunning hogwash. It's a jugglery of words and nothing more. The Centre has given you false hopes and has shrunk your real income even further than what it used to be under the old regime."
"They have enhanced the rebate by 2 lakhs but have, at the same time, cut your benefits by 2.5 lakhs. That includes the Rs 1.5 lakh insurance benefits from section 80C which is not available under the new regime plus the 50,000 mediclaim benefits under section 80 D which is also gone now and the 50,000 National Pension Scheme benefits under 80 CCD which is also wiped out. In all, Rs 2.5 lakhs have been taken away. So do you stand to gain or lose?" she said while attempting a quick mathematical explainer from the dais.
Targeting the Budget for drastically cutting down on MNREGA allocations, Banerjee said: "Why has this government reduced allocations for 100-days work? It hasn't even paid those who have worked. And now they have lowered allocation by Rs 60,000 crores in this budget so that people cannot get involved in 100-days work anymore."
"Send central teams with funds for 100-days work. Else get ready for massive protest movements from Bengal," she warned.