Who's out, who's in? Mamata to reshuffle cabinet today
Babul Supriyo, Snehasis Chakraborty, Udayan Guha among nine ministers sworn-in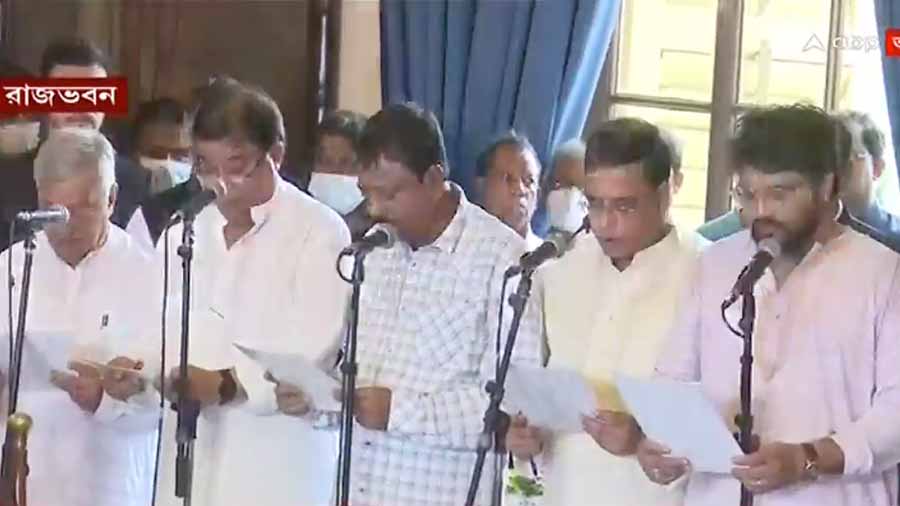 Ministers Babul Supriyo, Partha Bhowmik, Snehasis Chakraborty, Udayan guha, Pradip Majumdar take oath of office as ministers
File picture
---
Calcutta
|
Published 03.08.22, 02:33 PM
|
---
For Bengal chief minister Mamata Banerjee, who has announced a cabinet reshuffle on Wednesday, it is not the best of times for her party and the government she heads.
Partha Chatterjee, one of her senior ministers till last week when he was removed from the cabinet and suspended from the Trinamul Congress after being arrested by the Enforcement Directorate probing a school recruitment scam, used to handle several departments.
Earlier, the demise of senior leaders Subrata Mukherjee and Sadhan Pande also necessitated that departments they supervised be re-assigned.
Departments of panchayat, public health engineering, consumer affairs & self-help group are currently looked after by Mamata. Partha Chatterjee's portfolios, industries and parliamentary affairs, were also taken over by the TMC boss.
Initial speculation was that Wednesday's exercise would be a major overhaul of the ministry. But Mamata has ruled that out.
"Some (in the media) have become big busy bodies. Kamaraj Plan, total restructuring and what not (in speculation)…. Well, we have no such plans," Mamata said on Monday, dismissing speculation of an en masse resignation of the entire cabinet to make way for a new one.
"Therefore, on Wednesday, we will carry out a chhotto reshuffle at 4pm," she added. "From the cabinet's existing members, four-five of them, we will utilise them in party organisation instead. We will induct five-six new faces."
Trinamul insiders said Jangipara MLA Snehasis Chakraborty, Baranagar MLA Tapas Roy, Dinhata MLA Udayan Guha, Jangipur MLA Jakir Hossain, Gosaba MLA Subrata Mondal, Naihati MLA Partha Bhowmick and Ballygunge MLA Babul Supriyo were among those in consideration for induction. Of them, Roy and Hossain have been part of her cabinet in the past.
"Besides the vacant slots of Subrata da, Sadhan da, and Partha da, vacancies are likely to be created by the removal of (minister of state for school education) Paresh Adhikary, (minister of state with independent charge of environment) Ratna De Nag, (irrigation minister) Saumen Mahapatra, (minister of state for power) Akhruzzaman, and (forest minister) Jyotipriya Mallick," said a source in the ruling party.
Sources in her party admit that this was not a happy occasion for the chief minister and that she wanted to go about the reshuffle without a fuss.
"That she is taking it seriously was clear from her warning to her colleagues in the cabinet meeting that preceded the news conference on Monday. She said, rather grimly, 'Don't do anything that damages the party'," said a party leader.
The TMC underwent a major organisational overhaul on Monday as the leadership of 16 out of the 35 organisational districts were changed. The imprint of Abhishek Banerjee was evident in the reshuffle in which several "non-performers" were axed, and some were relieved of organisational duties, paving their way for ministerial berths.