Scope for defeat debate eludes Bengal BJP's state executive meet
Saffron party functionaries were left disappointed with the five-hour long meet mostly featuring speeches by its top honchos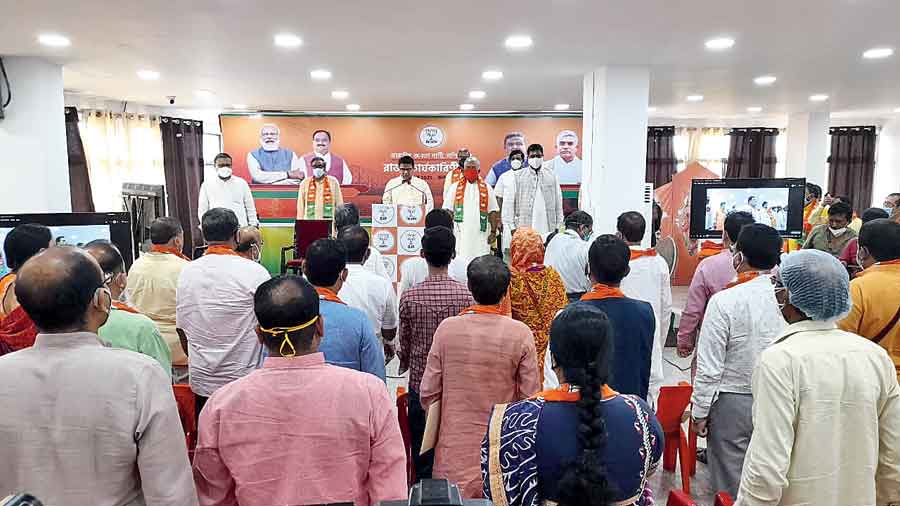 ---
Calcutta
|
Published 30.06.21, 01:17 AM
|
---
Several Bengal BJP functionaries who had been prepared to vent their ire against central leaders, especially Kailash Vijayvargiya, at a state executive committee meeting on Tuesday were left disappointed as the five-hour exercise lacked the scope for interactions and mostly featured speeches by the party's top honchos.
In the first such exercise since the BJP's debacle in the Assembly polls, 50-odd members of the state committee met at the party's office at Hastings in Calcutta, while around 250 others, including national president J.P. Nadda, joined the meeting virtually.
"Although there is no set format for these meetings, a certain degree of interaction is allowed conventionally as some members of the committee are invited to voice their opinion... That is why we had hoped we would be able to speak our minds. But we remained silent listeners while our leaders kept delivering long speeches," a state secretary said.
This person added that district BJP presidents generally read out their reports — treated in the party as feedback from the ground — in front of state and the central leaders. But all the district presidents had been asked to share their written reports ahead of Tuesday's meeting and hence, there was no scope for them to speak either.
"We were asked to send the reports beforehand. Since we had joined virtually, our mics were muted and we couldn't utter a word," a district president said.
Vijayvargiya, the central minder of the BJP for Bengal, has been the biggest target of several state leaders after the debacle. Some of the attendees who were forced to remain silent on Tuesday got livid after seeing Vijayvargiya sitting next to Nadda in the Delhi office.
"He (Vijayvargiya ) had been invited to the meeting but didn't turn up until Nadda-ji joined virtually. We had thought the party was finally doing away with Vijayvargiya. But it was disheartening to see that the man responsible for the election loss was actually being sheltered by the party president," a state BJP secretary said.
A source in the state committee said leaders at the national and Bengal levels were deliberately trying to divert attention from the most important task — an analysis of what went wrong with the party in the Assembly polls.
Even on Tuesday, the primary focus of the state executive committee was on the alleged post-poll violence after a meek political resolution that described the performance in the polls "disappointing".
The meeting started with a speech by state BJP president Dilip Ghosh. Opposition leader Suvendu Adhikari also spoke at the session that concluded with an address by Nadda.