Bengal polls 2021: RSS engages ABVP to drum up support for BJP candidates in Malda
' It seems the students' organisation wants to draw support from the young generation through its nationalist narrative,' said a political observer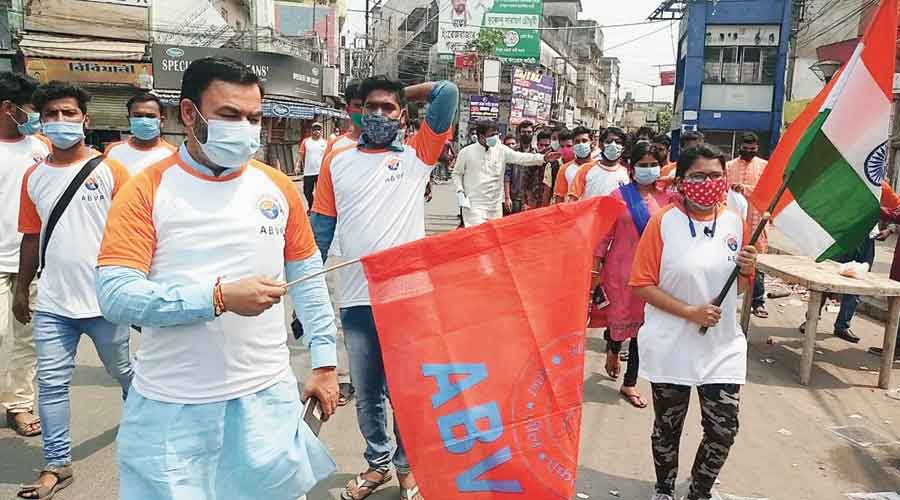 The run hosted by the ABVP in Malda on Sunday
Soumya De Sarkar
---
Malda
|
Published 20.04.21, 02:39 AM
|
---
The Rashtriya Swayamsevak Sangh has engaged its student front Akhil Bharatiya Vidyarthi Parishad to drum up support for BJP candidates in Malda, which is the largest district in north Bengal with the highest number of Assembly seats and has over 50 per cent minority population.
Although the ABVP has a presence in north Bengal, its activities are hardly visible during the Assembly elections. But the scene is different in Malda this time.
"Unlike most other districts in the region, the ABVP is actively working in Malda ahead of the Assembly elections. Its leaders and workers are roaming around, handing over leaflets to people, interacting with youths and organising different events. It seems the students' organisation wants to draw support from the young generation through its nationalist narrative," said a political observer.
ABVP deputy organisational head Srinivas led a run in Malda on Sunday. The event that was flagged off from the pedestal of Shyamaprasad Mookerjee drew over 100 participants carrying ABVP flags.
"I have been travelling across Bengal for the past six months and urging youths to take initiatives for the formation of a government that will have a development vision. Bengal has been ruled by different parties for the past 70 years and the agenda of development has taken a backseat. What is prevalent nowadays is blatant appeasement," said the ABVP leader.
Along with the ABVP, another RSS-backed outfit Vishwa Hindu Parishad is also working in the district, especially in tribal belts.
"We are urging people to vote for a party that can form a transparent state government and will work on principles of nationalism," said Bidrohi Sarkar, a VHP leader.
The Trinamul Congress said the saffron brigade's such initiatives wouldn't yield electoral dividends.
"People are well aware that these organisations work to divide them on religious lines. Malda residents will never back them. They have also seen the miserable performance of Malda North BJP MP who could not do anything for the district in the first two years of his tenure," said Krishnendu Narayan Choudhury, a senior Trinamul leader in Malda.