Rabindranath's surname was Tagore and not Thakur: Gaurav Bhatia
Comment adds to the list of BJP leaders' gaffes about things Bengal and Bengali in the run-up to the Assembly polls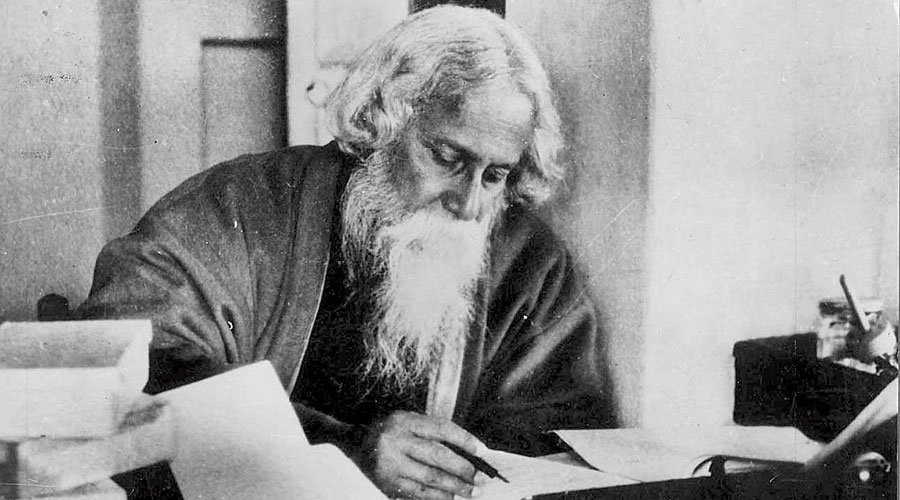 RabindranathTagore
File picture
---
Calcutta
|
Published 04.01.21, 04:02 AM
|
---
The BJP's attempts to establish its Bengal connect suffered another jolt when party national spokesperson Gaurav Bhatia rebuked a co-panellist during a TV debate, telling him Rabindranath's surname was Tagore and not Thakur.
The comment adds to the list of BJP leaders' gaffes about things Bengal and Bengali in the run-up to the Assembly polls, from mentioning Visva-Bharati as Tagore's birthplace to mistaking a statue to an unknown tribal hunter for a sculpture of freedom fighter Birsa Munda.
An 11-second video clip shows Bhatia, a Supreme Court advocate who has joined the BJP from the Samajwadi Party, saying: "They can't even pronounce the name of Rabindranath Tagore properly.... He (a co-panellist) was saying 'Rabindranath Thakur' in your channel. Please rewind and show...."
The BJP seemed to realise the seriousness of the blooper this time, with state unit president Dilip Ghosh, known to brazenly defend his party colleagues' blunders, acknowledging Bhatia's mistake.
"There is some confusion regarding the pronunciation of 'Thakur' and 'Tagore' among the leaders in Delhi. But, he (Bhatia) should have come informed," Ghosh told The Telegraph. "Our leaders from Delhi have learnt about Rabindranath by reading English translations and hence this confusion persists. I'm sure this will be rectified soon."
Descendants of the poet confirmed that Tagore family members use two surnames in two languages — Thakur in Bengali and Tagore in English. They expressed surprise at the BJP spokesperson's ignorance of what is common knowledge in Bengal.
"One grows up with a given identity, a name and a surname. These are part of one's identity," said Sudripta Tagore, a Tagore family member who lives in Santiniketan and is a teacher by profession.
"My forefathers were (known by the surname) 'Kushari'. I have come to learn that in the 18th century we became Thakur in Bengali and Tagore in English. That's how it has been since then. So I write Thakur in Bengali and Tagore in English -- this is my identity."
Author and Tagore researcher Amitra Sudan Bhattacharya said that Rabindranath's ancestors originally used the surnames Bandyopadhyay or Kushari depending on the branch of the family.
"When they came to Calcutta from what is now Bangladesh in the eighteenth century, commoners began addressing them as Thakur out of respect and courtesy," Bhattacharya said.
"So, Thakur is the actual surname and Tagore is nothing but the British pronunciation, which the Tagore family members adopted when they wrote their names in English."
The BJP's desperation to prove its Bengali credentials ahead of next summer's election has repeatedly led to howlers in the absence of proper homework, allowing a gleeful Trinamul to beat the party with the "bahiragawto" (outsider) stick.
Trinamul spokesperson and minister Bratya Basu iterated the point, saying the Tagore-Thakur confusion was proof of the BJP's disconnect from Bengali culture.
"This is why we call them outsiders. They don't even understand Bengal," Basu said.
Calls and messages to Bhatia's phone remained unanswered.
The BJP has been hungry to appropriate Tagore, with Union home minister Amit Shah visiting Santiniketan and party president J.P. Nadda scheduled to visit Birbhum soon. However, the mission has been blighted by errors.
In November, the state unit's social media cell tweeted that Tagore was born in Visva-Bharati and attributed it to Nadda, who was touring Bengal at the time.
A month on, during Shah's trip to Bolpur and Santiniketan, posters and banners with images of the home minister above Tagore's were erected in and around the Visva-Bharati campus.