Mamata seeks 'bias-free' Election Commission
She demanded for immediate electoral reforms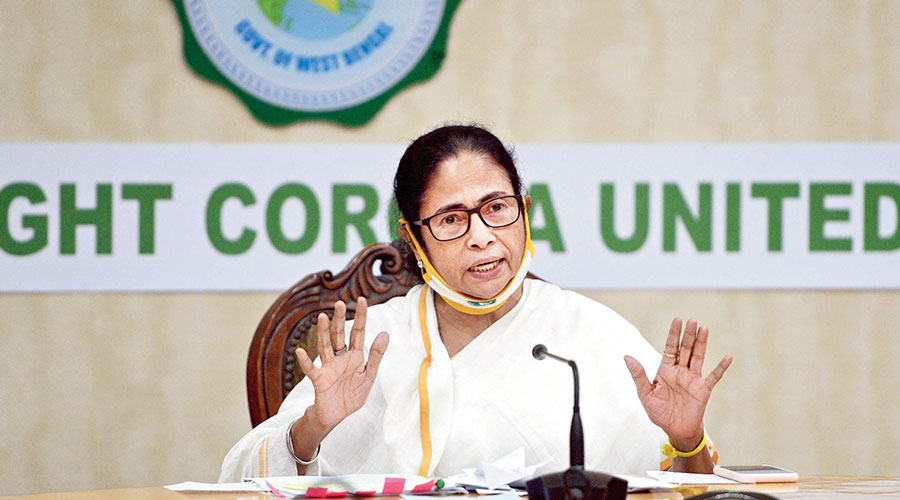 ---
Calcutta
|
Published 09.05.21, 01:21 AM
|
---
Mamata Banerjee on Saturday directly accused the Election Commission of India of having colluded with the BJP to enable electoral malpractices against her party, Trinamul, repeating her demand for immediate electoral reforms to ensure the poll panel does not work with bias towards a particular party.
The chief minister began her address in the Assembly after Biman Banerjee was elected Speaker for the third consecutive term, by hailing the Trinamul sweep in the election as "historic, incredible, miraculous", and lauding Bengal's people, especially its women and youth, for taking a united stand against the BJP.
Almost immediately, she broached the subject of the EC and its alleged role in the polls.
"There were many conspiracies. I used to know that the Election Commission of India stops rigging, prevents it. That's the role of the commission we had been seeing since the time of T.N. Seshan. Now, it is the complete opposite," said Mamata to thunderous table-thumping applause from the treasury benches. The BJP's 77 MLAs, in the 292-seat House for now (two other seats have pending polls) had boycotted the proceedings.
"With direct help from the Election Commission, in various places, rigging was carried out," she added. "I can challenge that if the Election Commission had not helped them (the BJP) directly, they (the BJP) would not have managed to win even 30 seats."
Through the eight-phase election process, Mamata had repeatedly questioned the EC's motives, directly accusing it of collusion with the BJP and of being controlled by Union home minister Amit Shah, placing the blame squarely on the EC, Shah and Prime Minister Narendra Modi of letting the second wave get to devastating proportions in India out of the saffron camp's desperation to win the Bengal election.
"Three nominated people (the EC's full bench), with a handful of retired officers… transferring officials by passing chits around…. This cannot go on. Then democracy in India will not be protected," she said on Saturday.
"This is a matter of great sadness, great shame," she said in the Assembly on Saturday. "I firmly believe – we are raising our voice from here today...electoral reforms… must take place immediately," added the chief minister.
After the results on May 2, Mamata had vowed to move a constitutional bench of the Supreme Court against the EC, to ensure what the poll panel allegedly did in Bengal does not happen elsewhere in India.