Sources say Didi smells a conspiracy in Nandigram
Bengal polls 2021: Mamata leads Trinamul towards electoral victory
TMC on course to clock a 48 per cent share of the votes polled, a clear 10 percentage points ahead of the BJP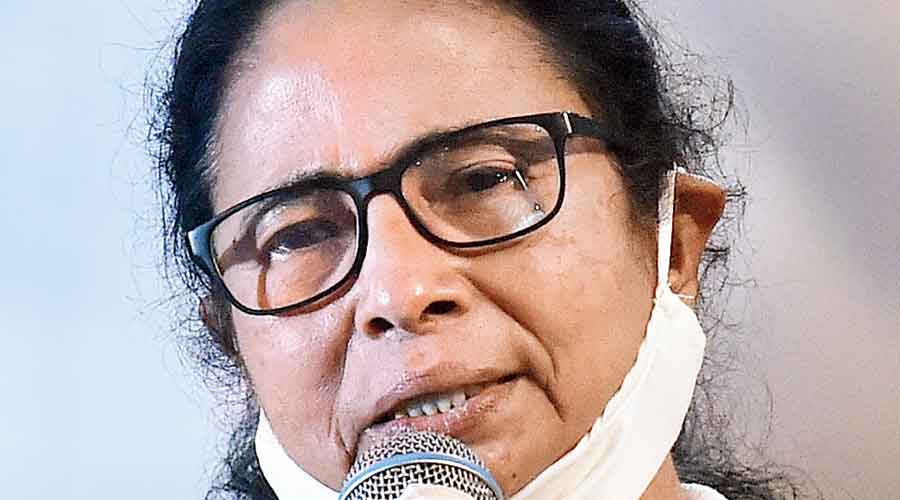 ---
|
Calcutta
|
Published 03.05.21, 02:36 AM
---
Mamata Banerjee plus the rest of Bengal have vanquished Narendra Modi plus Amit Shah plus the Election Commission plus communalism.
At 11.30pm on Sunday, the Trinamul Congress was ahead in 213 seats and the BJP in 77. One Independent won and a party with influence among minorities was leading, accounting for the 292 seats in which polling was held.
Trinamul looked on course to clock a 48 per cent share of the votes polled, a clear 10 percentage points ahead of the BJP.
The sole stumble in the Trinamul dream run was Mamata's loss to Suvendu Adhikari in Nandigram by 1,956 votes. A formal announcement on the outcome was delayed after Trinamul made a request for a recount. The Election Commission eventually announced the result in favour of Adhikari late on Sunday night.
The loss need not stand in the way of Mamata being sworn in as chief minister for the third time. However, she will have to win from an Assembly seat in six months.
"Victory of Bengal people, victory of the country, victory of democracy," Mamata said, flashing a victory sign, in her first reaction after emerging from her room at 30B Harish Chatterjee Street on one of the most astonishing days in the tumultuous history of Bengal, if not national, politics.
"I salute the people of Nandigram for their verdict," Mamata said during the 10-minute media interaction in the evening. "I bow my head in front of the people of Bengal for giving us this landslide victory," she added, before setting out for the Kalighat temple, where she offered puja, having led her party to a spectacular victory after one of the most daunting electoral battles in the country.
"Bengal saved India today," Mamata had said at the interaction, underscoring the significance of the Trinamul victory for Opposition parties elsewhere in the country that are grappling with the question of how to halt what till the other day looked like an unstoppable juggernaut powered by Narendra Modi and Amit Shah.
Game-changers
Several factors appeared to have made a decisive difference this time.
⚫Mamata held her nerve against a vicious campaign, aided and abetted by sections of the visual media, that she was appeasing Muslims. She discharged her constitutional responsibility by pledging to protect everyone. The upshot: Muslims in most parts of Bengal appeared to have rallied behind Trinamul and refused to be swayed by other organisations eager to represent the community.
The BJP's Hindu-Muslim game backfired, with Trinamul bagging 37 of the 47 seats in Murshidabad, Malda, North and South Dinajpur, all with 40 per cent Muslim voters (polling will take place in two Murshidabad seats later). Traditional fiefs of the Congress and the Left, these four districts had never before rewarded Trinamul in elections.
⚫ But the scale of Trinamul's triumph means that no single community could have helped the party pull it off. The Trinamul performance shredded the claim that minority consolidation was solely responsible for the party achieving critical mass. Trinamul did well in several Hindu-majority areas in Bankura, Jhargram, Calcutta, Howrah, Hooghly and the urban areas of North and South 24-Parganas.
⚫ The X-factor this time were the state's women, who appeared to have dumped the BJP. While the Bengal government's schemes for women — such as Swasthya Sathi – yielded dividends, many women were outraged each time Modi dipped his tongue in acid and rolled off the "Didi O Didi" taunt at rallies.
In Siliguri, two homemakers who were stuck in a market because of a road show by Shah last month, had told this correspondent that they could not digest BJP leaders' jeering of Mamata. "We are Bengali women and we have dignity…. These people don't know our culture; they come from outside and insult us," was the gist of what the two women said after refusing for over 15 minutes to comment on anything related to politics.
The women said they were not supporters of any political party and their poll preferences varied each year. But their answer suggested that they would vote for Mamata as they believed in her narrative that the "outsider BJP leaders" were bringing an alien culture into the state.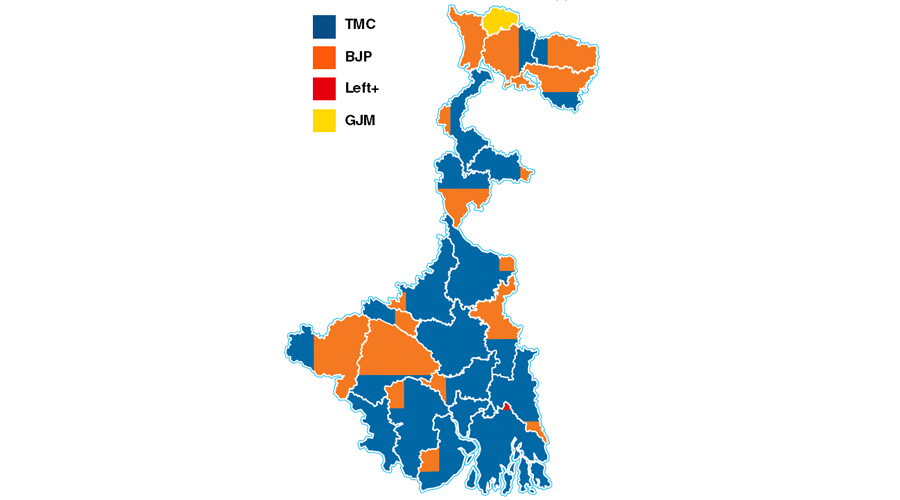 Outsider debate
The BJP guest speakers' insistence on speaking in Hindi without a translator amplified the outsider image.
The BJP tried its best to contest Mamata's Bengali-versus-outsider stand and accused her of catering to provincialism to win votes. Mamata made a quick course correction, telling her rallies that the state was for everyone — irrespective of their religious or linguistic identities — and clarified that her problem was primarily with outsiders coming to the state in the poll season to foment trouble.
The poll results indicate that a significant portion of the state's non-Bengali-speaking population — around 75 lakh — understood Mamata's logic and felt they were safe under a regional party.
Riddhima Pareek, a young company secretary and resident of Howrah, said she had voted for Trinamul because she felt safe in Mamata's Bengal.
"I go around freely using public transport in Calcutta…. I have returned home from my central Calcutta office after midnight without any hassles. I feel women are safe in Didi's Bengal and so I voted for her party," Pareek, whose family hails from Rajasthan, said.
"I'm happy that Didi is back," she added.
I congratulate @MamataOfficial on her re-election as Chief Minister of West Bengal.

At a time of COVID-19 wave, I have no doubt that Didi will ensure safety of citizens and lead her state to growth and prosperity.

On behalf of DMK, I wish Didi another successful tenure.

— M.K.Stalin (@mkstalin) May 2, 2021
The Covid effect
Modi's mismanagement of the second wave of Covid also took a heavy toll. Trinamul won over 90 of the 114 seats that went to the polls in the last three phases when the pandemic's traumatic impact had become all too apparent.
The odds had been stacked heavily against Mamata, who faced an onslaught from multiple flanks.
First, the Election Commission of India announced an eight-phase election, which was seen as an attempt to allow a prolonged period of high-pitched, chest-thumping campaign by Modi and his cabinet colleagues across Bengal.
As the BJP vowed to make its Mission Bengal a success, it deployed unprecedented resources in the run-up to the election to engineer defections from the Trinamul leaders.
During the election process, scores of Trinamul leaders were summoned by multiple central agencies in various corruption cases, some up to a decade old.
Senior BJP leaders made all-out attempts to polarise Bengal voters along religious lines by accusing Mamata of appeasing Muslims.
Finally, sections of the media helped generate an impression that the ruling party was collapsing like a pack of cards and facing a rout.
I'm happy to congratulate Mamata ji and the people of West Bengal for soundly defeating the BJP.

— Rahul Gandhi (@RahulGandhi) May 2, 2021
Nandigram gamble
The multi-pronged assault began in December with commentators writing Mamata off in the face of a slew of defections -- led by Adhikari - but she took the challenge head on by deciding to contest from his backyard in Nandigram.
Sources close to Mamata said she smelt a conspiracy by the BJP in the Nandigram outcome.
"The BJP hatched a huge conspiracy to defeat her in Nandigram on the expectation that the Trinamul tally won't cross 160.… Their plan was to engineer defections in Trinamul after the uncertainty following Didi's loss," a source said.
Mamata, the source claimed, got wind of the game plan a few days ago and deputed four of her trusted lieutenants to four districts to ensure that the BJP did not succeed in any defection drive.
"All the conspiracies would be out shortly and we would move court," the source said.
Although the battle for Nandigram went against her, that one decision to place herself at the forefront of the battleground in East Midnapore gave the Trinamul ranks the adrenaline rush they needed to take on the BJP in 35 seats in the two Midnapores and Jhargram.
The election results have proved that Adhikari, who had referred to Mamata as "Begum" and an aunt of the Rohingya, is nothing but a paper tiger in the region, with Trinamul bagging 28 seats in what was once undivided Midnapore.
"I had taken the decision all of a sudden while addressing a rally at Nandigram on January 19…. Abhishek (Banerjee) had reacted to my decision saying I was too impulsive, but I thought that it was the best decision for the party," Mamata had told this correspondent during an informal interaction a few days after the announcement.
The audacious decision not only helped Mamata pitchfork Trinamul back into the battle in the three districts but also galvanised the party across Bengal, especially in Bankura, Purulia and central Bengal districts like Hooghly, East Burdwan, West Burdwan and Birbhum.
Of the 75 seats in these districts, Trinamul won 52, surprising even party insiders.
In her brief public appearance after the victory, Mamata thanked all sections of society, especially women and people from the minority communities, and pledged to continue working for the people.
As the next big election is still three years away, Mamata has time on her hand to deliver on the promises she has made in her manifesto. In her close circles, she had indicated she would form a new team – in both party and government – for the future.
Mamata' new term will have to be markedly different -- in terms of delivering on governance and dealing with corruption at high places --- from the last two terms if she wants to respect the mandate and keep the BJP at bay.