Bengal Polls 2021: Is the Prime Minister an "aggravator of the culture of eve-teasing"?
Sushil Chandra, who takes over as the new Chief Election Commissioner, will have to deal with this question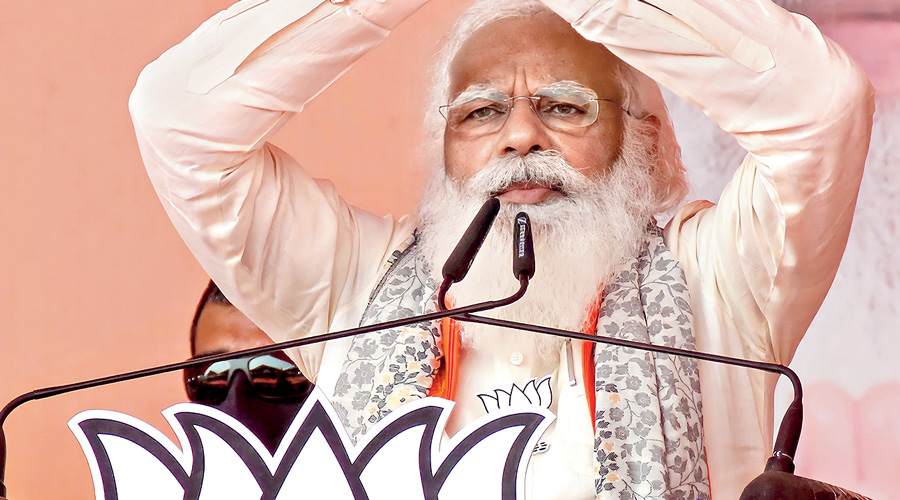 ---
|
Calcutta
|
Published 13.04.21, 03:06 AM
---
When Sushil Chandra takes over as the new Chief Election Commissioner of India on Tuesday, he will have to deal with an unparalleled question: Is the Prime Minister of India an "aggravator of the culture of eve-teasing"?
A complaint levelling such an allegation has been filed with Amherst Street police station of Calcutta police, which has forwarded it to the Election Commission.
The complaint in the form of a letter has pointed out that Prime Minister Narendra Modi has been referring to chief minister Mamata Banerjee as "Didiiiii" or "O Didiiiii".
Modi has mentioned the words in "almost all the public meetings and /or the public places with an intent… to cause teasing and mockery to common women in society," according to the letter submitted by members of the Bangla Citizens Forum.
It is  "unfortunate to use the said word which aggravated the culture of eve teasing which is a serious penal offence as laid down under the provision of Section 294 of Indian Penal Code", adds the letter.
Section 294 deals with "obscene acts and songs" and says "whoever, to the annoyance of others does any obscene act in any public place, or sings, recites or utters any obscene song, ballad or words, in or near any public place, shall be punished with imprisonment of either description for a term which may extend to three months, or with fine, or with both".
The forum, which describes itself as an organisation that "fights for the protection of the rights of Bengalis" regardless of their political preferences, has also mailed a copy of the complaint to the Election Commission in Delhi.
A formal complaint from the Trinamul Congress is already pending with the commission. But this is the first time a complaint has been filed with the police, too.
On Monday, Mamata referred to the misogynistic manner in which the Prime Minister addresses her.
"The country had never seen such a Prime Minister.  A Prime Minister should speak in dignified language. He should behave properly, respect women and respect the Constitution. But the way he has been behaving and talking, the way he has been taunting and mocking me is a matter of shame," the chief minister said at Basirhat.
The phrase, delivered in a mocking tone, has been widely condemned but Modi keeps springing it on his audience to loud cheers. Allegations have been levelled that the applause is "manufactured" at the sound-system console near the dais.
 "His language brings shame even to youths chatting informally in a neighbourhood. Even they do not use such foul language. He is far below standards," Mamata added.
Later, speaking in Dum Dum, Mamata said Modi's references to her indicated his lack of respect for women.
"As a chief minister and a woman, the only woman chief minister in the country… I deserve respect. You should extend basic courtesies to a woman," she said.
"I would not have brought this up but it's relevant in this context…. How can you be expected to respect women? You did not look after your own wife…. I feel compelled to say this here today. You sometimes visit your mother but only for photo-ops," Mamata added.
 "The language one uses becomes their identity. What is your identity, Modiji? You, in all of your meetings, mock me…. I cannot understand what language you have imported (to Bengal)… the type that rots," she said.