Bengal Polls 2021: Erosion victims find shelter in toilet
Home and land swept away by Ganga, youth sees vote as duty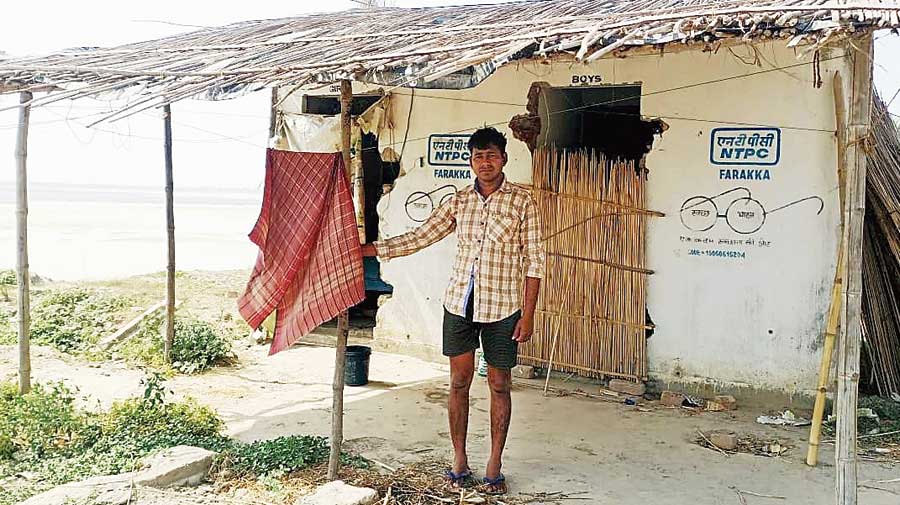 Jaydeb Mandal in front of the toilet that has been his home for two years at Baishnabnagar in Malda.
Soumya De Sarkar
---
Malda
|
Published 29.04.21, 01:48 AM
|
---
For Jaydeb Mandal of Golap Mandal Para village under Baishnabnagar Assembly constituency of Malda, the toilet is a place to stay.
In his early thirties, Jaydeb, who will vote on Thursday, has been living for the past two years with his wife and 60-year-old father in a community toilet built by the Farakka Barrage Authority (FBA) that controls the flow of the Ganga.
A classic victim of the Ganga's erosion, Jaydeb used to own a piece of land and had a modest house in the same village even a few years back, and could eke out a livelihood on the proceeds of the sale of their agricultural produce.
"But because of Ganga's erosion, we started losing our agricultural land, but by bit. Gradually, the entire land of around 2 bighas was swallowed by the mighty waters. I and my father started working as a daily labourer in other people's fields," said Jaydeb, sitting a cot inside the toilet. 
But the worst blow, he said, came two years back when the river gobbled up their house. 
Like hundreds of others, they moved to a safer place with whatever belongings they could save when their house collapsed.
Initially, Jaydeb could not find any accommodation to move in with his family. After some days, he spotted the toilet built next to a Sishu Siksha Kendra.
"The Ganga hadn't spared the Kendra building but somehow its toilet remained intact. As it wasn't in use anymore, I shifted my family to it," said the youth, who also changed his occupation from farmer to fisherman.
The toilet, with around 50 square feet of floor area, has two booths where he started living with his family.
"A few months back, my father managed to convince a neighbour to let him stay in the verandah of his house at night. So every night, my father goes there to sleep," said Jaydeb.
Residents of the village, under the Pardeonapur-Shobhapur panchayat in Baishnabnagar Assembly constituency, said that over a hundred families had faced similar consequences because of erosion.
"Forget us common folk, even Swadhin Sarkar, the sitting MLA (of the BJP) had lost his ancestral house because of the erosion. Every year, the Ganga gobbles up several acres of land, and people become both landless and homeless. Elections keep on coming but the fate of people like us hardly changes over the years," said Bishu Mandal, another resident of the village and also an erosion victim.
Jaydeb, these days, only prays that the Ganga does not erode their area any more. The river flows only a few metres away from the toilet.
"I do not want to lose my shelter. If the toilet is eroded by the river, we will be homeless again," he said.
On whether local panchayat representatives had approached him so that he gets a house from the government, the youth answered in the negative "No one has turned up in my place so far even though they know I live in a toilet. We badly need a house," he said.
But he and his family will definitely vote this time, he said. 
"Casting our franchise is our duty. But I don't anticipate that things will change for me (if I vote). We will have to struggle to earn our living like always," he said.
Sarkar, the local BJP MLA, when asked about erosion victims such as Jaydeb, was quick to pass the buck to the state government.
"The responsibility lies with the state government and the zilla parishad. There is no reason why an erosion victim will not get a house. Earlier, a number of such families have been rehabilitated. It is a pity that a couple has to stay in a toilet. Once the elections are over, I would surely look into it," Sarkar said.
Hemanta Sharma, the Malda district coordinator of Trinamul, said that several erosion victims had been rehabilitated by the state schemes. "Once the elections are over, I will see to it that the local panchayat looks into why a genuine victim has been overlooked," Sharma said.