Bengal Assembly Elections 2021: Electoral loyalties change contours in hills
Gorkha Janmukti Morcha leader Bimal Gurung names trio, calls to save regionalism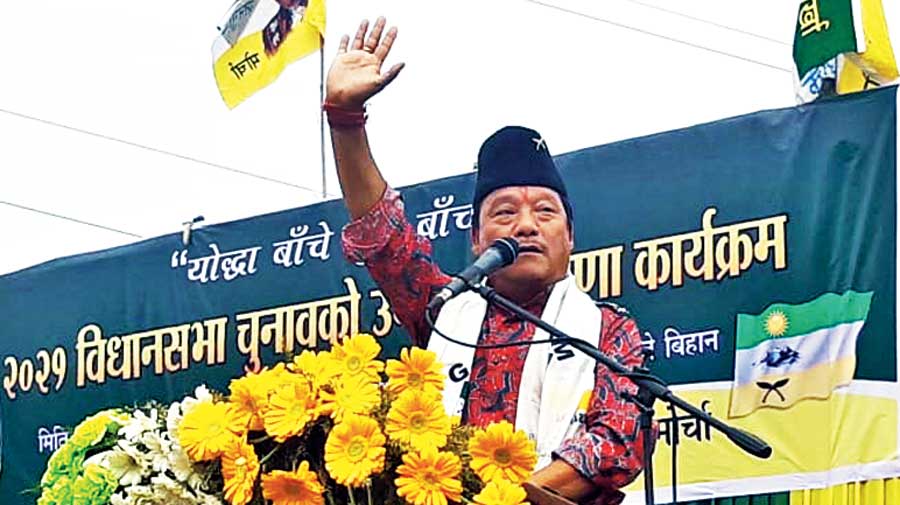 Gorkha Janmukti Morcha leader Bimal Gurung speaks at Patlebas, on the outskirts of Darjeeling, on Tuesday
Telegraph picture
---
Darjeeling
|
Published 24.03.21, 12:59 AM
|
---
Gorkha Janmukti Morcha leader Bimal Gurung announced his candidates from the three hill Assembly seats on Tuesday, and underlined the need to "safeguard regionalism" from the BJP's party alleged expansionist plans.
Gurung announced P.T. Ola, a lawyer, former Darjeeling civic chief and a former GTA Sabha member, as the party's candidate from Darjeeling. R.B. Bhujel, an educationist, was fielded from Kalimpong. Narbu G. Lama, a former GTA Sabha member from Teesta-Takdha constituency, was named from Kurseong.
Way back in 2009, Gurung had brought the BJP to the Darjeeling hills with the hope that the saffron party would play a pivotal role in helping them create the separate state of Gorkhaland.
Thirteen years later, Gurung has been forced to confine Gorkhaland to a manifesto mention and spend most part of his speech on the threats to regionalism. The hill leader on Tuesday also did not talk about Gorkhaland though the first issue in his faction's manifesto stated they would work towards the formation of statehood.
"Regionalism is under threat (from the BJP). I appeal to the GNLF, the CPRM, the ABGL and all other hill parties to come together, let us work together. Without regional parties, regional issues cannot be raised," said Gurung, who till a few months back was backing BJP to the hilt.
Gurung had largely been responsible for ensuring three back-to-back victories for the BJP in the Darjeeling Lok Sabha seat but on Tuesday he alleged that his one-time ally was now more focused in poaching his leaders than solving hill issues.
"They poached our leaders and gave them tickets. They cannot even field their own candidates from the hills," said Gurung. The Gorkha Janmukti Morcha leader was speaking about Subha Pradhan, BJP candidate from Kalimpong, who had recently joined BJP after deserting Gurung's camp. The saffron party's candidate from Kurseong, B.P. Bajgain, is also a former spokesman of Gurung's party.
The BJP on Tuesday also decided to field sitting Darjeeling MLA Neeraj Zimba from the Darjeeling seat. Zimba is a GNLF leader who had contested the 2019 Darjeeling Assembly by-elections on a BJP symbol and the same formula will be replicated this time.
The GNLF, however, voiced their opposition against the BJP's candidates from Kurseong and Kalimpong. The CPRM, also an ally of the BJP, has decided to field their own candidate from three hill seats, presumably annoyed by the BJP's decision to go all alone in announcing hill candidates.
Throughout Gurung's speech it seems clear that the hill leader was worried about the regional party losing its relevance because of the BJP's recent moves.
"Until recently (after having joined Trinamul) I was still being asked to join them (the BJP). I had told them clearly that I will not put two feet in two boats. I took this decision (to leave BJP for the Trinamul) after pondering for nearly a month," said Gurung, adding that it was according to his wishes that Trinamul had left the three hill seats to regional parties.