Bengal Polls 2021: EC removes PM's doubt, sends notice to Mamata
CM gets showcause on the charge of violating the model code of conduct by asking voters not to divide minority votes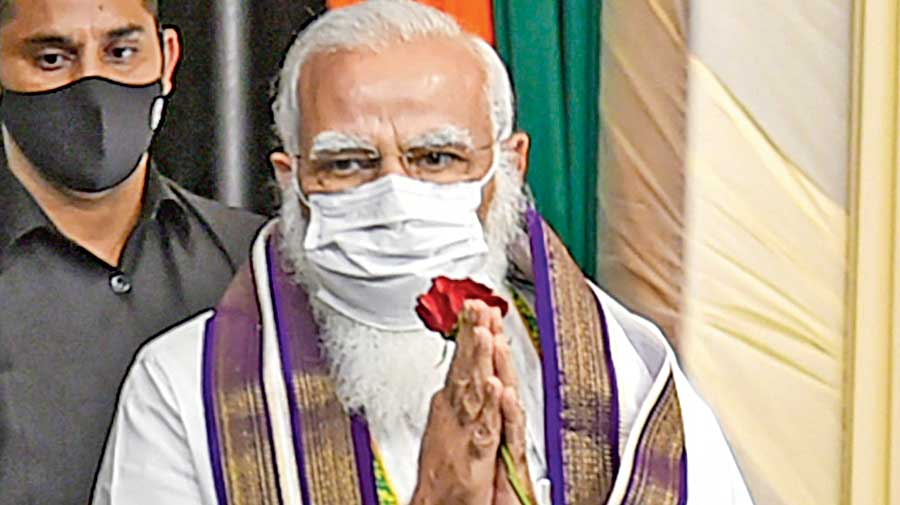 ---
Calcutta, New Delhi
|
Published 08.04.21, 02:25 AM
|
---
On Tuesday, Prime Minister Narendra Modi had wondered aloud in Cooch Behar whether Mamata Banerjee had received a notice from the Election Commission for appealing to Muslims not to divide their votes.
A day later on Wednesday, the Election Commission sent a showcause to the chief minister on the charge of violating norms by asking voters not to divide minority votes. The notice was issued on a complaint filed by the BJP on Monday when Mamata had delivered the speech.
Such alacrity from the commission was missing when Trinamul turncoat and BJP candidate Suvendu Adhikari had called Mamata "begum" and fomented fears of a "mini-Pakistan" in Nandigram on March 29. The EC has also been silent on remarks by Bengal BJP chief Dilip Ghosh on March 23 on Mamata's clothing after her left leg was injured.
The transcript of the speech by Mamata in Tarakeshwar on April 3 that the EC cited quotes the Trinamul Congress chief as saying: "I am requesting my minority brothers and sisters with folded hands — don't divide the minority votes after listening to the devil (shaitaan) person who had taken money from the BJP. He passes many communal statements and initiates clashes between Hindus and Muslims…. The comrades of the CPM and the BJP are roaming around with money given by the BJP to divide the minority votes."
The BJP had said in its complaint that Mamata could have been referring to the ISF's Abbas Siddiqui or the AIMIM's Asaduddin Owaisi. 
The next day, Modi had said in Cooch Behar: "If we had appealed to all Hindus (of Bengal) to join hands and vote for the BJP, we would have been served with notices by the Election Commission. Even the Prime Minister, the President of our party and the candidate (of the Assembly constituency concerned) would have received notices. We don't know whether Didi has received a notice."
EC secretary Rakesh Kumar said Mamata's remarks had been found to be in violation of Sections 123(3) and 3(A) of the Representation of the People Act, 1951, and Clauses 2, 3 and 4 of Part I of the Model Code of Conduct, which prohibit unverified allegations, appeal to caste or communal feelings for votes and intimidation of voters. 
Mamata has been given 48 hours to reply. 
Earlier this week, the EC had barred DMK parliamentarian A. Raja from campaigning for two days for distasteful comments against Tamil Nadu chief minister E.K. Palaniswami. Assam BJP minister Himanta Biswa Sarma had faced a similar ban for unverified allegations and intimidation of an Opposition leader. Sarma's punishment was reduced by a day after he apologised.
On Wednesday, Trinamul MP Mahua Moitra tweeted: "Mamatadi issued notice by @ECISVEEP on @BJP's complaint What about TMC complaints of 1. Video evidence of BJP candidate distributing cash 2. Cash coupons distributed to attend BJP mtng & vote. Gentlemen — at least keep up the farce of impartiality!"