Bengal Polls 2021: Did you go to Bangladesh to seek votes? Didi asks Narendra Modi
Mamata Banerjee on Friday referred to her cordial relations with Sheikh Hasina and claimed credit for the signing of the Land Boundary Agreement in 2015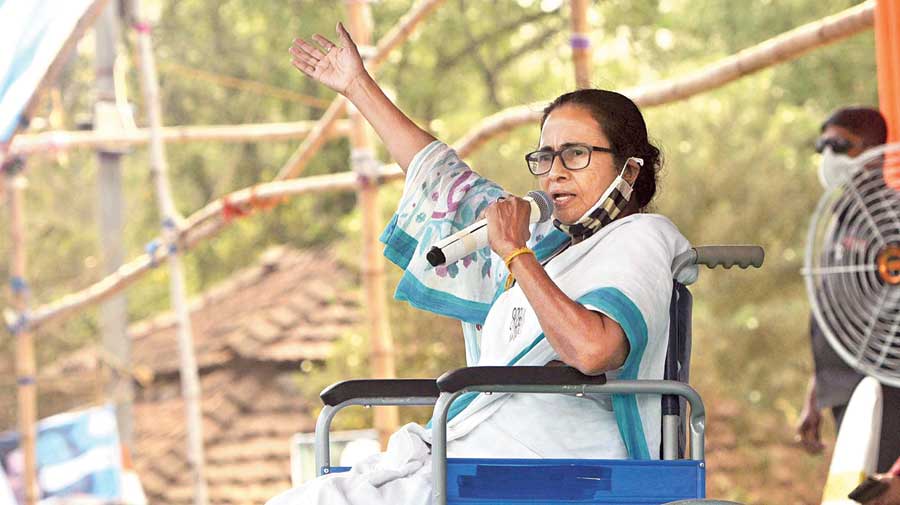 ---
---
Mamata Banerjee on Friday referred to her cordial relations with Sheikh Hasina, the Prime Minister of Bangladesh, and claimed credit for the signing of the Land Boundary Agreement in 2015, which paved the way for exchange of enclaves between the two neighbouring countries after deliberations for over 68 years.
"I have excellent relations with Sheikh Hasina…. She had asked me to take necessary initiatives so that the enclave issue can be resolved. I had told her that yes, we would do it and we did it," Mamata told a public meeting in Dinhata.
On July 31, 2015, the enclaves — 111 Indian enclaves in Bangladesh and 51 Bangladeshi enclaves in India — had merged with the mainland of both the countries. Those living in these enclaves were granted citizenship by the respective countries.
"It was a longstanding demand of the people... Where was the BJP then? Now, they are coming here ahead of the elections and trying to take the credit," said the Trinamul Congress chief. "Those residing in the enclaves are being provided with all facilities like any other resident of Bengal... We did it?" she asked.
Mamata's attempt to highlight her personal relation with Hasina and take credit for the signing of the land boundary agreement and resolving the impasse over exchange of enclaves is part of a strategy to woo voters along the India-Bangladesh border, a majority of whom being immigrants from the neighbouring country.
The Trinamul chief also broached another immigrant-related issue as she raised questions over Prime Minister Narendra Modi's recent visit to Bangladesh during which he visited Orakandi, the birthplace of Harichand Thakur, the founder of the Matua sect.
"Why did you go to Bangladesh? To seek votes? asked Mamata.
Modi visited Bangladesh to take part in the country's 50th year celebration of independence and 100th birth anniversary of Mujibur Rahaman, the father of the nation. The visit was seen as an attempt to woo Matuas in Bengal because of his visit to Orakandi.
The lower-caste Hindu immigrants from Bangladesh can become a deciding factor in 25 to 30 Assembly segments in North 24-Parganas and Nadia.
"Bangladesh is also the birthplace of Loknath Baba, Anukul Thakur... Did you go there? Why didn't you?" asked Mamata, suggesting that Modi had visited the Matua pilgrimage hub to placate the community ahead of the election.
"Isn't it a violation of the mode code of conduct?"
The chief minister also referred to an incident in which Ferdous Ahmed, a Bangladeshi actor, whose visa had been cancelled for his presence at a Trinamul programme in North Dinajpur ahead of the 2019 Lok Sabha polls.
"They (the BJP) were very vocal then… and now the Prime Minister is visiting Bangladesh and going to specific religious places. But this will jot yield any result. We have carried out a series of development projects for Matuas and for decades, I had been with Boroma (the erstwhile matriarch of the community) till her demise," she said.