Bengal polls 2021: Candidates who defected to BJP prove to be giant-slayers
Veteran CPM leader Asok Bhattacharya, a six-time MLA and a former state minister from Siliguri, faced defeat from Shankar Ghosh, his former protégé who joined the saffron camp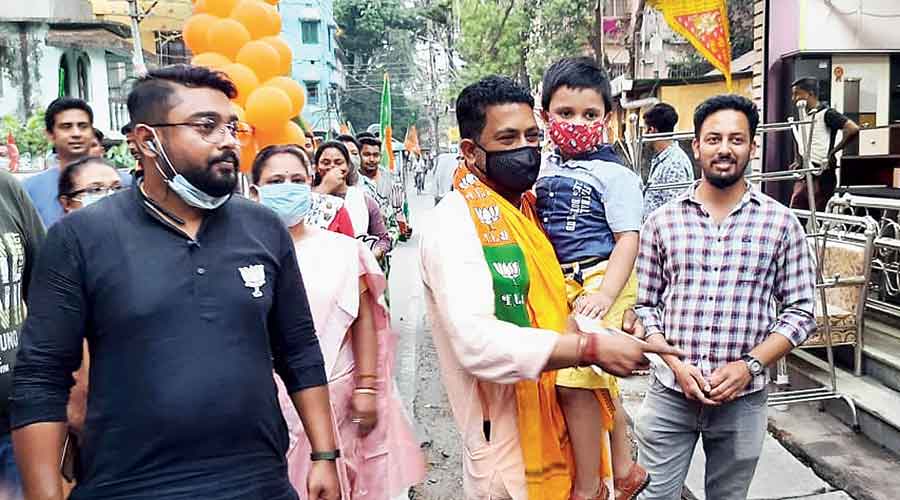 Shankar Ghosh
File picture
---
Siliguri
|
Published 03.05.21, 02:01 AM
|
---
At a time turncoats lost in most parts of Bengal, north Bengal saw a sharp contrast with many candidates who defected to the BJP proving to be giant-slayers.
Veteran CPM leader Asok Bhattacharya, a six-time MLA and a former state minister from Siliguri, faced defeat from Shankar Ghosh, his former protégé who joined the BJP a few weeks before the polls.
Trinamul leaders who were ministers in Mamata Banerjee's outgoing cabinet, Gautam Deb and Rabindranath Ghosh, also lost from Dabgram-Fulbari and Natabari, respectively. Deb lost to Shikha Chatterjee, a BJP leader who deserted Trinamul in 2018. Ghosh conceded defeat to his former party colleague Mihir Goswami who joined the BJP last year. Krishna Kalyani, the BJP candidate of Raiganj who left Trinamul a few weeks back, defeated Mohit Sengupta, the most prominent Congress leader of North Dinajpur.
Over 140 turncoats, including Mamata's erstwhile cabinet ministers Suvendu Adhikari and Rajib Banerjee, were fielded by the BJP across the state this time, sources said.
"In south Bengal, most turncoats lost. In north Bengal, it was interesting that many turncoats defeated heavyweights. But each prominent face lost for a different reason," said a political observer.
In Siliguri and Raiganj, he said, anti-incumbency worked against Bhattacharya and Sengupta.
"Deb because many voters swung to the BJP over the lack of Trinamul's micro-level political activities. He tried his best to reach out to people during his campaign, but it did not work. Ghosh lost over organisational weakness and party feuds," admitted a Trinamul insider.
Chatterjee, who defeated Deb, said people were angry with Trinamul over land irregularities in Dabgram-Fulbari.
Ghosh, who defeated Bhattacharya, said: "During my campaign, I could clearly perceive that people of Siliguri wanted a change."
Bhattacharya, who finished third after Trinamul's Omprakash Mishra, said he was quitting elections. "We have to accept the verdict. I have decided to stay away from electoral politics and work as a common party worker," he said.
Sengupta, widely considered the last man standing in the Congress in North Dinajpur, appeared baffled: "Voters got polarised but truly I am yet to know why I came third."