Bengal Polls 2021: Blast kills 6-year-old boy, Election Commission seeks report
After primary investigation, police sources said the bomb had been kept in an earthen pot that was hidden at a small hell strip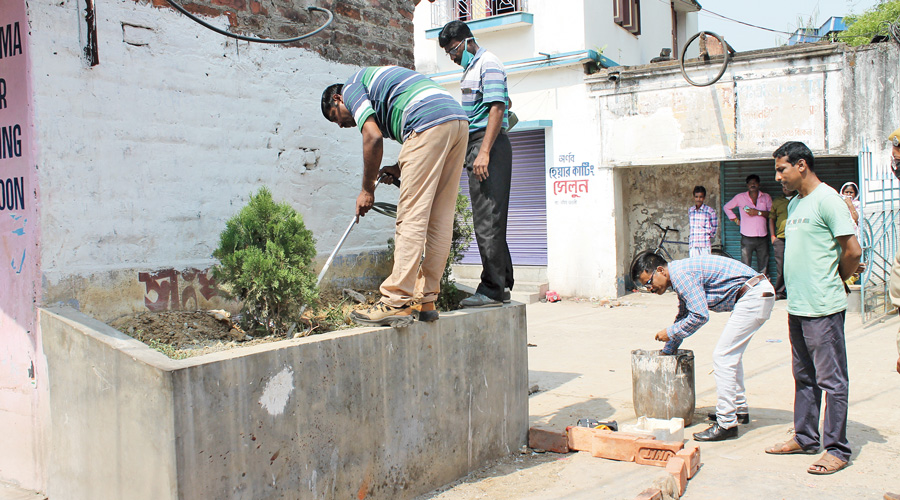 Investigators on the site of the blast at Rasikpur in Burdwan on Monday.
Munshi Muklesur Rahaman
---
Burdwan
|
Published 23.03.21, 12:53 AM
|
---
A six-year-old boy was killed and his eight-year-old cousin seriously injured when a crude bomb they appa­rently mistook as a ball expl­oded at Rasikpur in Burdwan town on Monday afternoon.
Sources said the Election Commission had sought a detailed report from both district and state administration within 48 hours with a note of action taken against those who had kept the bomb openly.
Police sources said Sheikh Afroz was killed and Sheikh Ibrahim seriously injured after they picked up a bomb reportedly kept near the office of a welfare society in Rasikpur.
Afroz, son of car driver Sh­eikh Bablu, lived in Rasikpur, while his cousin Ibrahim had come from Memari, 28km aw­ay, to spend a few days at his maternal uncle's home. Ibra­him has been admitted to Burdwan Medical College and Hospital with multiple splinter injuries to the leg, chest and other parts of his body.
After primary investigation, police sources said the bo­mb had been kept in an earthen pot that was hidden at a small hell strip. The boys took out the bomb and threw it on the road and it exploded with a bang.
"I don't know how the bo­mb came there. I don't know who had kept the bomb that claimed my son's life. I want punishment for them," said Sheikh Bablu.
"It was very pathetic that a boy got killed and another has been injured. We have already asked the forensic department and squads that handle bombs and explosives to inquire into the matter. The area has been cordoned off and I have visited the spot with senior officers. We have started questioning local residents to know how the bomb came there," said Bh­askar Mukherjee, East Bu­r­­dwan police chief.
At her rally in Bankura's Indus, chief minister Mamata Banerjee said: "I always help those in trouble and in accidents. If the house of anybody is burnt, I am the first to take care of this. Today I heard about the bomb explosion in Burdwan in which a child became the victim. Despite my campaign he­re, I asked to take care of the family and the matter."
BJP leaders have accused the state government of maki­ng different clubs and local societies storerooms to stockpile bombs and arms. "It is pat­h­e­t­ic that a child has to lose his li­fe because of negligence of ad­­­m­i­nistration and governm­e­nt. It is not new but an example of how the ruling party is stockpiling explosives, bombs and arms to attack on rivals in co­m­ing polls. We want a stern ac­t­­ion from the election com­m­­i­s­s­ion," said Abhijit Tah, BJP pr­esident of East Burdwan.
Trinamul leaders, however, said it was the Election Commission that was looking after the state's law and order and raised questions about activities of a large number of central forces.
"We are really sorry for the death of a child but the Election Commission can't deny its responsibility. I have a question about the role of the central forces. Let the commission find the culprits and take action against them," said Debu Tudu, a Trinamul spokesperson in Burdwan said.
CPM leaders said the incident proved that the state was standing on the heap of explosives and established the negligence to seize arms and bombs across the state.
"It is not only Burdwan but the death of a child proved that Bengal is standing on a heap of explosives. The large number of central forces which have been brought for free and fair election should conduct sear­ches for such explosives with help of police," said Amal Haldar, CPM leader and the state secretary of All India Kisan Sabha.