Mamata tears into Modi and BJP over 'lies' propagated to win polls
The Bengal debacle for the saffron party would mark the beginning of its end around the country: CM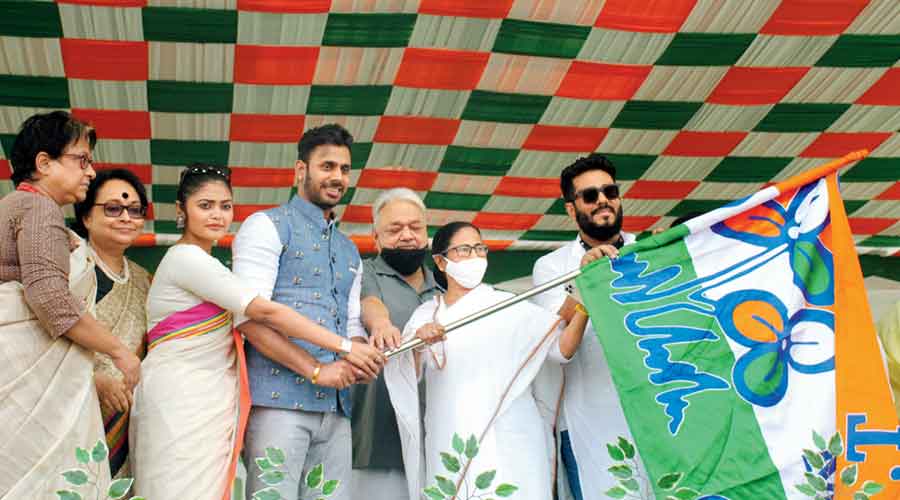 ---
|
Calcutta
|
Published 25.02.21, 02:08 AM
---
Mamata Banerjee on Wednesday tore into Narendra Modi and his party over "lies" they had been propagating to win the Bengal Assembly polls before daring the BJP to defeat her.
The chief minister, who held a political rally at the venue of the Prime Minister's public meeting on Monday, said the Bengal debacle for the BJP would be the beginning of its end around the country, telling people that a "fate… much worse" than that of Donald Trump awaited him.
"A party of a danob (monster) and a doityo (demon), a Rabon (mythical monarch and principal antagonist in Ramayan) and a danob. Just the two of them running this country," said Mamata at Sahaganj in Hooghly, apparently referring to Modi and Union home minister Amit Shah, without specifying who was which.
"Lies, lies and more lies. To win, somehow…. They will break your backbone and destroy with outsiders everything you hold dear in and about Bengal, should you make the mistake of trusting them with your votes," she warned, vowing against letting "Gujarat" rule Bengal.
The Trinamul Congress chief mocked Modi for his endorsement of former US President Donald Trump who was later voted out of power by Joe Biden.
"You saw Trump. He (Modi) went there to get him elected. He can't even do enough here, but he went there to get Trump elected. The fate that Trump has suffered, much worse awaits him (Modi)…. Violence is eternally incapable of delivering good for mankind," said Mamata to thunderous applause from an audience of tens of thousands.
The chief minister called the BJP the "ugliest, the most corrupt" political party globally and asserted that none other than she was able to speak against them.
"All you do is for two industrialists… I have nothing against them. But what about the rest of the country?" the chief minister asked, before accusing Modi of being a "compulsive ribbon-cutter", inaugurating — and thereby taking credit — for things done by others, such as her during her stint as the railways minister.
Mamata also explained how the Prime Minister had been able to — rather arduously — pepper his recent speeches with Bengali.
"He does chalaki (resorts to artifice). Understand it well. He uses a teleprompter, with transparent glass, on either side of him… all of it is pre-scripted. He simply reads that out, making it sound like he knows Bengali," she said, mocking Modi and other senior BJP leaders over the laboured — sometimes incorrect — Bengali in their addresses.
Although vehemently critical of Mamata's alleged attempts to polarise voters on the basis of a regional sub-nationalism, the saffron ecosystem has appeared unsure of how the outsider label is going to impact the BJP electorally. The likes of Modi, Shah and BJP chief J.P. Nadda have been falling over themselves to try and convince the people of the state that their party does not lack a Bengal connect and does not exclusively represent the Sangh parivar's Hindi-Hindu-Hindustan vision now.
"A few lines of Bengali here and there… one cannot win Bengal's heart with that. Bengal only cares for genuine love from the heart," she said.
"You sold off the entire nation. You come here, speak lies and go back…. You dare call us tolabaj (extortionist)? You are the biggest dangabaj (rioter), dhandabaj (opportunist)…. A party of rodents," she added.
The chief minister then dared the BJP to arrest her and others in her party in order to win the election.
"We have 20 lakh workers. Arrest everybody, because you cannot fight politically… all you have is vendetta. Arrest all of us, including me, fill your jails…. Plant us here, we will grow out in Delhi. An injured tigress is a lot more dangerous than a fit one," she said.
"The khyala (game) that will happen here, if you are able to defeat them here, they will lose the rest of the country. It will be the beginning of their end. They will be thrown out of the entire nation," she added. "I respect that chair (that of the Prime Minister). He (Modi) is occupying it today. Tomorrow he won't."
Inductions
Several civil society members, including former Team India batsman and Bengal captain Manoj Tiwari, footballer Syed Rahim Nabi, actors Saayoni Ghosh, June Malia and Kanchan Mullick, besides filmmakers Raj Chakraborty and Sudeshna Roy, joined Trinamul at the rally.
Former Indian cricketer Ashok Dinda joined the BJP in presence of MP Babul Supriyo, state leaders Suvendu Adhikari and Sabyasachi Dutta at a rally in north Calcutta.