Bengal polls 2021: BJP rejigs campaign plan with virtual focus
PM Modi's itinerary for the state redrawn; small crowds and telecast/ livestreaming of speeches for public meetings of Amit Shah and J.P. Nadda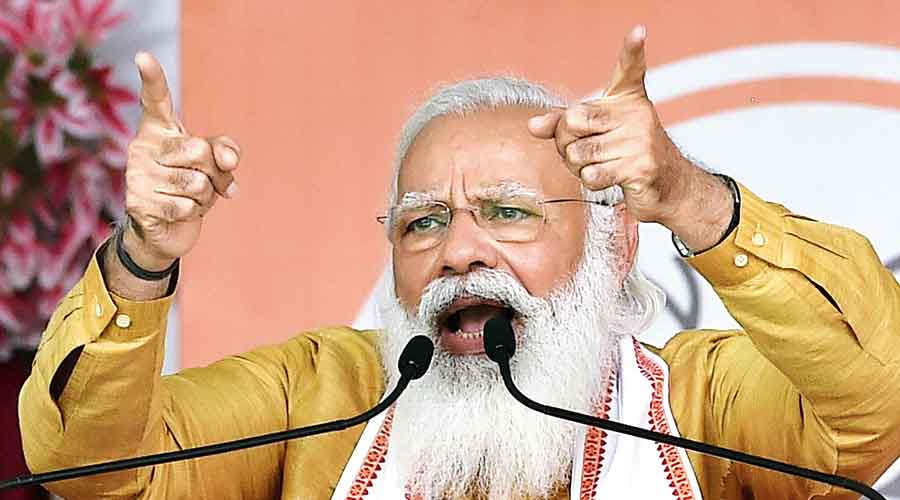 ---
---
Senior BJP leaders on Tuesday revised the party's campaign plan for the last two phases of Assembly polls in Bengal and said they would try to reach out to the maximum number of voters virtually and refrain from bringing in large crowds at their public meetings in the next few days.
Amit Malviya, the IT cell head of BJP, said that the itinerary of Prime Minister Narendra Modi had been redrawn.
"It has been decided that he (Modi) will visit the state only on April 23, and speak in four public meetings. In each of these venues, there will be 500-odd persons in the audience. The meetings will be telecast (and livestreamed on various platforms) at smaller grounds or at the booth level," Malviya said.
Modi, sources said, will speak in Malda, Murshidabad and Birbhum districts. He will also address a meeting in Calcutta. Virtually, his speeches are scheduled to reach 56 Assembly segments.
Similar arrangements — small crowds and telecast/ livestreaming of speeches — will be made for public meetings of home minister Amit Shah and BJP president J.P. Nadda.
Bengal elections of the last two phases – seven and eighth — will be held on April 26 and April 29 in 36 and 35 seats, respectively, for which campaigning is on.
Over the past few days, mega public meetings organised by the BJP across the state drew flak, with people commenting on the dangers of crowding amid the pandemic.
Trinamul has time and again approached the Election Commission with requests to club the final three or two phases of polls in the wake of the surge in the number of Covid cases. Trinamul chief Mamata Banerjee said on Monday that she would not speak at multiple public meetings in Calcutta and deliver shorter speeches in districts.
These developments, observers said, made the BJP redraw its campaign plans.
On Tuesday, the party's national chief Nadda cancelled four public meetings which he was supposed to attend in the state. Instead, he held meetings with party leaders and workers. This change transpired a day after he was in Raiganj of North Dinajpur for a road show.
In Murshidabad district, which has 22 Assembly seats, Modi's main meeting will be held at the Behrampore stadium. "Around 500 people will be present there. Simultaneously, we will set up giant screens at least in one place in each of these constituencies. People will be encouraged to listen to the speeches virtually instead of being at the venue," said a party leader.
A senior Trinamul leader in Malda said: "In Malda, Covid infections are rising…we are perplexed. On the one hand, we can't sit idle and let others (rivals) campaign, but there is always a risk of infection if people crowd."