Historians and political scientists say BJP's label laughable
Bengal polls 2021: Dilip Ghosh wishes all a 'Hindu Nava Varsha'
This is the first time that the Bengali New Year is being yoked to a religion and categorised as the Hindu New Year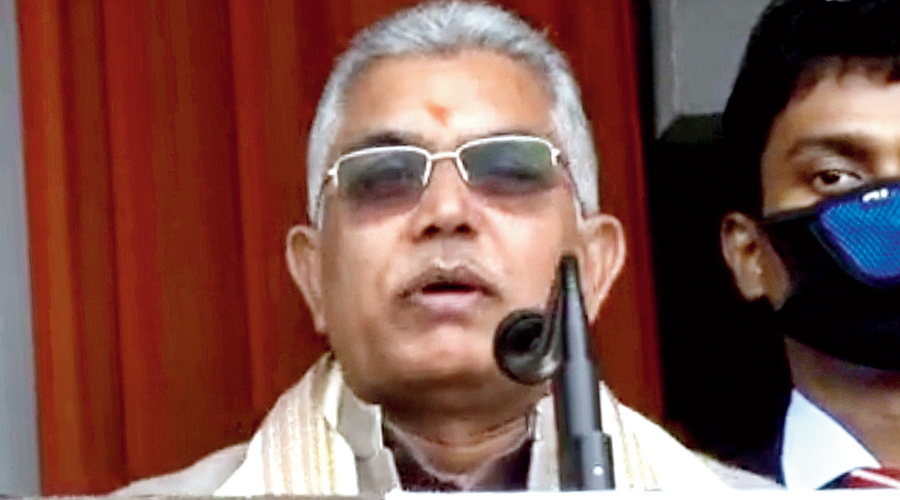 ---
Calcutta
|
Published 15.04.21, 02:31 AM
|
---
A sneak preview of "asol poribartan", Prime Minister Narendra Modi's clarion call for real change in Bengal, was available before Bengali New Year's Day.
"Sakalke Hindu Nava Varsher Subhechha (Greetings to everyone on the Hindu New Year)," Bengal BJP chief Dilip Ghosh posted on Facebook ahead of Poila Baisakh.
This is the first time that the Bengali New Year is being yoked to a religion and categorised as the Hindu New Year. For half a millennium, Poila Baisakh has been celebrated as a religion-neutral occasion by Bengalis, including those living in Bangladesh.
"It's one of those IT cell templates…. This is a first even for us, calling Poila Baisakh a Hindu occasion," conceded a BJP state unit functionary on the condition of anonymity.
The "Hindu" greetings had started circulating on Tuesday itself. "When I first received such a wish late on Tuesday night from a senior party colleague, I did a double take. It might be counter-productive as the Trinamul Congress will accuse us of not understanding Bengal's ethos," the BJP functionary added.
Trinamul vice-president Saugata Roy lambasted the apparent attempt at polarisation even over such an occasion. "It is a festival for all Bengalis. They are not only trying to polarise the electorate through such statements, fascists like them will go to any extent in order to ruin our culture," said Roy, the Dum Dum MP.
Poila Baisakh, or the Bengali New Year's Day, is the first day of the Bengali calendar, usually celebrated on April 14 or 15 by Bengalis wherever they live.
The celebrations, according to most historians, are rooted in the Mughal era and linked to the proclamation of tax collection reforms by Akbar in the 16th century. The festival date is set according to the luni-solar Bengali calendar.
BJP state unit chief Ghosh, in a video message shared on his Facebook page on Tuesday evening, tried linking various elements of mythological legends and folklore to claim it was the first day of creation according to the Vikram Samvat, a calendar initiated in 57 BC.
"The most ancient calendar of the world, Vikram Samvat's first day is about to start. It is a proof of India's pride, heritage and culture. We were the first in the world to start calculating a year," said Ghosh, although historically recorded formal calendar traditions were found in Sumer, Babylonia and Persia since, at least, the second millennium BC.
Several historians pointed out that the Vikram Samvat starts in 57 BC, while the Bengali calendar starts from 593 AD, which is why Thursday will be the beginning of year 1428 in the Bengali calendar, and not 2078.
Ghosh added: "This is considered to be the first day of creation. Starting from Bhagwan Ram to several other great men… this is why it is a day of pride for us. I convey the best wishes of the Hindu New Year to all Indians and citizens of the world, as a proud Indian…."
Historians and political scientists said the BJP's label was laughable, but the political motive was understandable, given the saffron camp's craving to wrest Bengal from Mamata Banerjee ahead of the RSS's centenary in 2025.
Political analyst Subhamoy Maitra said it was evidently an election-driven statement.
"A political leadership, given the narrative that's a principal basis of this election, has tried connecting this occasion to that narrative, which they hadn't done in the past…. The common people will interpret it in their own way," he said.
"How seriously this statement ought to be taken, academically or historically, is for historians to decide," added Maitra, professor at the Indian Statistical Institute, Calcutta.
Historian Sugata Bose said this had been a Bengali New Year for centuries, which came about through a confluence of many different traditions, as Nobel laureate Amartya Sen has shown in the chapter on the Indian calendar in The Argumentative Indian.
"In fact, when it happened in Akbar's time, it was hardly possible to label them Hindu and Muslim. But retrospectively, we might call them both Hindu and Muslim traditions, a combination of the solar and the lunar calendars came about," said Bose, a grandnephew of Netaji Subhas Chandra Bose.
Incidentally, this year's Poila Baisakh and the beginning of the Ramazan have more or less coincided. The occasion is being celebrated widely in Bangladesh, where the Mangal Shobhajatra for the Bengali New Year's Day, organised by the Faculty of Fine Arts of the University of Dhaka, was recognised by the Unesco as "a cultural heritage of humanity".
Bose, the Gardiner Professor of Oceanic History and Affairs at Harvard University, said the Bengali New Year's Day had always transcended the division between religious communities in Bengal.
"It's a great pity that just for the sake of an election where divisiveness is the chosen strategy, a day that sees great solidarity and intermingling of people of all religious communities, Hindus, Muslims, Buddhists, Christians… the whole of Bengal belongs to them," said the historian.
"Let us rise above them. Let us, if at all possible, ignore this kind of divisiveness, and let us all get together and observe the occasion, regarding everyone as equal," he added.
Senior historian Rajat Kanta Ray saw a two-fold factor at play.
"Modi wants to establish himself as the all-time leader of India… and he wants his party, the BJP, to be the permanent ruler of India," he said.
"It is easily understood that they are trying to bring about a cultural transformation to suit their political end. But, to Bengal, growing a beard like Rabindranath Tagore and cleaning public spaces like Mahatma Gandhi are not enough," added Ray, professor emeritus of history at Presidency University and former vice-chancellor of Visva-Bharati.