Bengal polls 2021: BJP's 6,300-rally plan draws Trinamul ridicule
While party leaders claimed that it was Shah's strategy to 'carpet bomb' these constituencies with campaigns, TMC mocked this decision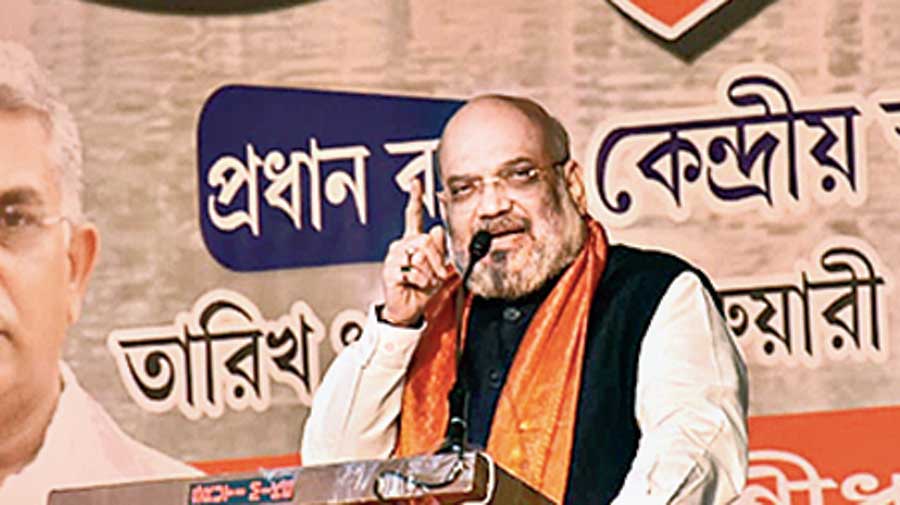 ---
|
Calcutta
|
Published 15.04.21, 01:39 AM
---
At a town hall meeting in the Rajarhat-Gopalpur constituency on Sunday, Union home minister Amit Shah had declared that his party would hold 6,300 small meetings for the remaining 159 constituencies that go to the polls in the last four of eighth phases.
While BJP leaders claimed that it was Shah's strategy to "carpet bomb" these constituencies with campaigns, the Trinamul Congress mocked this decision and said the saffron camp was taking refuge in small meetings since they were experiencing thin crowds at big rallies.
According to Shah, the idea behind the smaller rallies was to establish a stronger connection with the electorate. At bigger meetings, Shah had said, the leader would speak and leave, but with smaller audiences, there was a better opportunity to connect directly with the people.
"The idea is to carpet bomb these seats with our campaigns. There will be town hall meetings, street corners, nukkads and even meetings at one's uthon (backyard). We will hold more than 50 to 60 such meetings in each constituency," said state BJP vice-president and spokesperson Jay Prakash Majumdar.
Since Sunday, Shah himself has addressed three town hall meetings, including the one at Rajarhat-Gopalpur. The same day, he addressed another town hall meeting at Kamarhati. On Tuesday, he addressed a group of entrepreneurs in Bidhannagar constituency.
BJP's national chief J.P. Nadda addressed two town hall meetings in the Asansol South and Asansol North constituencies on Wednesday.
Mocking the saffron camp leaders for their alleged inability to draw crowds, Trinamul MP and spokesperson Saugata Roy said: "Where are people in their rallies? This is why they are being forced to cut the size of their meetings short."
"Shah has claimed an absurd figure. Who is going to count if they are actually holding 6,300 rallies? They don't have cadres at the grassroots, they don't have people to conduct small meetings," Roy added.
At many of BJP rallies, including those meant to be addressed by Shah, Nadda or Uttar Pradesh chief minister Yogi Adityanath, the turnout has been much lower than what the organisers expected. Both Shah and Nadda had to cancel some of their meetings because of thin turnout. However, it is also true that in some other constituencies, the huge audience has surprised Shah himself.
BJP's Majumdar, however, negated Roy's claims. He clarified that the smaller rallies would be in addition to the large public meetings and road shows that his party had been conducting.
"Trinamul has already complained to the Election Commission, asking why we are conducting so many big rallies with all of our top rung leaders. They can rest assured that such meetings will continue along with the smaller ones," he said.
However, a section of BJP leaders has found this strategy a bit "uncomfortable". According to them, it is uncalled for a Union home minister to address small gatherings such as town hall meetings. This is at best the work of local councillors, the leaders feel. They also raised the question of "too much intervention" from the central leadership in local affairs.
"Why are we here for? Town halls, street corners, nukkads should be left to us. Amitji or Naddaji are leaders of great stature. Amitji is a home minister. They shouldn't get involved in all these," a state BJP leader said.
Trinamul's Roy took a step ahead and said Shah was "not even a proper politician". "It is India's misfortune that he is our home minister. Now, he will hold nukkads like councillors," he said.
Majumdar, however, said every BJP member was first an ordinary worker and hence, would address meetings irrespective of its size if the party wanted him to.