Indian Secular Front ups ante on seats
Chairman Naushad Siddiqui told during the meeting that his party wouldn't settle for anything less than at least 50 seats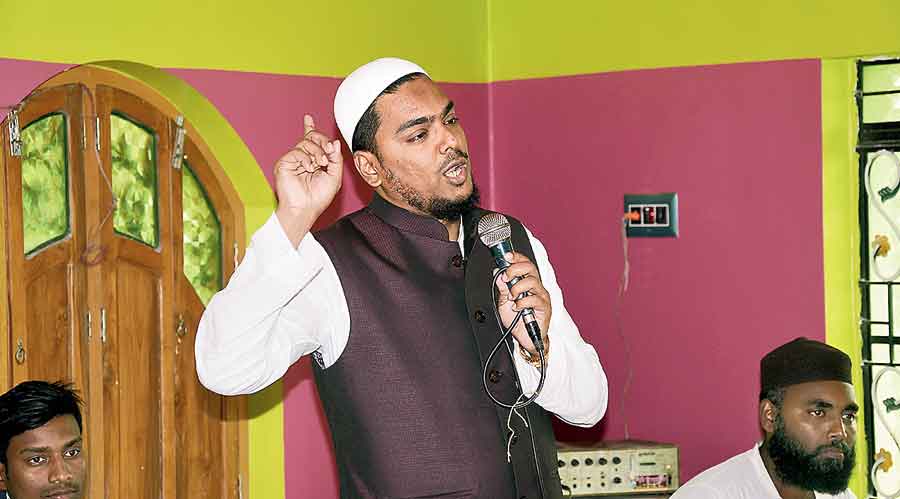 ---
Calcutta, Nadia
|
Published 18.02.21, 01:48 AM
|
---
Talks between the Abbas Siddique-led Indian Secular Front and the Left-Congress leadership hit a stalemate on Wednesday as no consensus could be reached on the number of Assembly seats the ISF would be allotted.
ISF chairman Naushad Siddiqui told the meeting that the party wouldn't settle for anything less than at least 50 seats. But the Congress insisted, sources said, it would not compromise on the number of seats it planned to contest in alliance with the Left Front.
Although Congress leaders left the meeting midway, Naushad continued to hold deliberations with CPM leaders till late on Wednesday.  
The sources said Congress MLA Abdul Mannan and Rajya Sabha member Pradip Bhattacharya would speak to state party chief Adhir Ranjan Chowdhury on the issue on Thursday before holding another round of talks with the ISF.
The talks were held on a day Furfura-Sharif cleric Abbas Siddiqui announced that his party would field candidates in all 294 Assembly constituencies in Bengal unless his demand for at least 80 seats to contest was accepted by the Left Front and the Congress.
"I have sent a list of about 80 seats spread across North 24-Parganas, South 24-Parganas, Nadia, Murshidabad, Malda and some other areas. I can agree to some minor adjustments in numbers. But if the demand of seats is not largely agreed upon, I will not go for any negotiations and nominate candidates to all the seats," Siddiqui said at Chapra in Nadia district. "Nijerder sansar ghuchiye newar khamata amader achey (We have the power to organise ourselves)."
Multiple sources in the Left and the Congress said that such a public assertion by Siddiqui was nothing short of blackmailing as discussions were underway to strike a deal with his party.
"Time is very limited and I will not remain at the mercy of the Left or the Congress. It is a matter of rights," Siddiqui told journalists at Chapra.
He was at Chapra for holding meetings with Muslim leaders.
In recent months, the ISF has emerged as a force to be reckoned with in some parts of Bengal with its claim that a significant section of minority and Dalit voters would vote for it.
With his fiery speeches in Muslim-dominated areas, Siddiqui has projected himself as a champion of minority rights.
Although a section in the Left considers him as a fundamentalist, Siddiqui has pitched himself as a leader of the minority community and Dalits.
"Our objective is to ensure democratic and constitutional rights for the minorities and the downtrodden people….We have demanded some seats and assured our support to the Congress and Left Front in the remaining seats. We will also campaign for them. Our intention is to build a strong partnership. But they are dillydallying. It appears leaders like Adhir Babu has not understood my words," Siddiqui said.
The Congress and the Left Front announced finalisation of seat sharing in Calcutta on Tuesday after a meeting at CPM office on Alimuddin Street, but refrained from naming the constituencies allotted for each party. This angered Siddique as he alleged that the two big partners had not bothered to leave seats for the ISF.
"I am not begging… Who are the Congress or the Left Front to give me seats? They are also political parties like ours. We have begged for past 74 years. Now we want our right," a visibly angry Siddiqui said in Chapra.
"They announced finalisation of seat sharing… but deliberately avoided to announce the number of seats. It appears they have not left seats for us…So, we have to take our decision fast as time is very limited," Siddiqui said.
Abbas Siddiqui said he had directed Naushad to reiterate his demands categorically at the meeting. "We also have like-minded organisations in our fold, whom we need to accommodate as well," Siddiqui said.
The sources said the Congress and the Left Front apparently found the ISF's demand "illogical".
The ISF has demanded almost all seats in North 24-Parganas's Basirhat subdivision as well as a large number of seats in Baruipur and Diamond Harbour subdivisions. It also wanted to contest from a chunk of seats in Nadia's Krishnagar and Tehatta subdivision as well as in Murshidabad and Malda districts, which put both the Congress and the Left in a difficult situation.