We are with every protest everywhere
'From the famous Shaheen Bagh to a miniscule gathering in a non-descript town'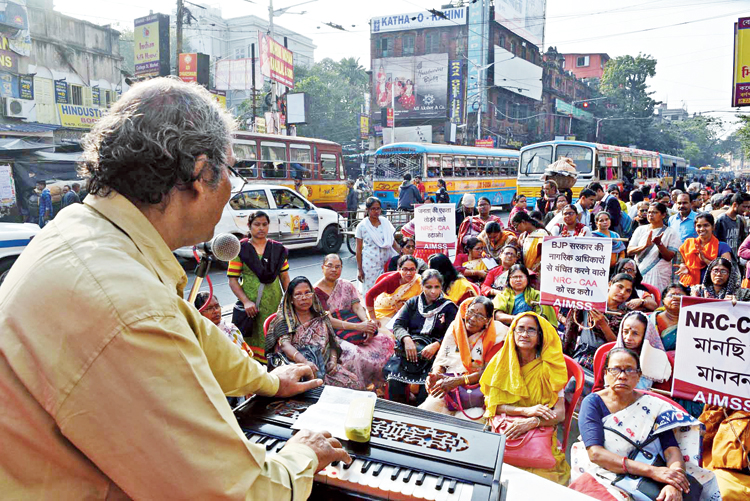 Amarsingh Roy at the College Street demonstration on Tuesday.
Picture by Pradip Sanyal
---
Calcutta
|
Published 04.02.20, 08:40 PM
|
---
A woman called for talk on unemployment, not religion; a man sang a song of freedom from the 18th Century.
A group of around 20 women listened and a handful of passersby stopped every now and then for a few minutes on Tuesday afternoon.
The gathering near the College Street-MG Road crossing — an area dotted with shops selling books, saris and wedding cards and with heavy traffic on the road — was an expression of solidarity with every demonstration in the country against the citizenship drive, "from the famous Shaheen Bagh to a minuscule gathering in a non-descript town".
"I have voted parties to power. If I was valid as a voter then, I am valid as a citizen now," said Swapna Das, a member of the All India Mahila Sanskritik Sangathan, affiliated to the SUCI.
Das's voice was sometimes lost in the din of honking cars and buses. A Salt Lake-bound state bus almost ran over the last row of chairs after taking a right turn from College Street. Taxis, app cabs, private cars and rickshaws zoomed and crawled past the gathering.
A 62-year-old man sang a song of Mukunda Das, the late 19th century poet and ballad singer who wrote songs of freedom. "Baan esechhe mora gange, khulte hobe nao. Tomra ekhono ghumao (The dry river has been hit by a high tide and we need to unfasten our boats. But you still sleep)," sang Amarsingh Roy.
Roy, who owns a book stall on College Street, came to the demonstration because he "believed in the movement against the CAA-NRC-NPR".
"I worked in a shop for 27 years before I could open my own. My employer was a Muslim man. While handing over the reins of the shop to his sons, he asked them to take good care of their 'uncle'. I still call his sons bhaipo (nephew)," said Roy, named after a freedom fighter lodged in a jail in Myanmar (then Burma) with his father.
The members of the organisation are regulars at Park Circus, Zakaria Street and other demonstrations against the CAA-NPR-NRC, where they give speeches and sing songs of equality and communal harmony.
"As a political organisation, we want to do as much as we can. We are only a handful but this is a busy road. With so many people, some will listen to our message," said another member of the organisation.
For close to an hour Metro spent there, around 10 passers-by stopped at the demonstration. Most left after a few minutes.
Passengers of buses that stopped at the signal also lent an occasional ear. One of the keen listeners was a guard outside a sari shop near the gathering.
"I don't know the details of the CAA and NRC. But it is true that there are many other serious problems like unemployment and rising prices," he told Metro.