Wary of Owaisi, Trinamul finds an ally to consolidate votes
There are indications that the AIMIM will field candidates in some districts of Bengal such as Malda, Murshidabad, North Dinajpur and North 24-Parganas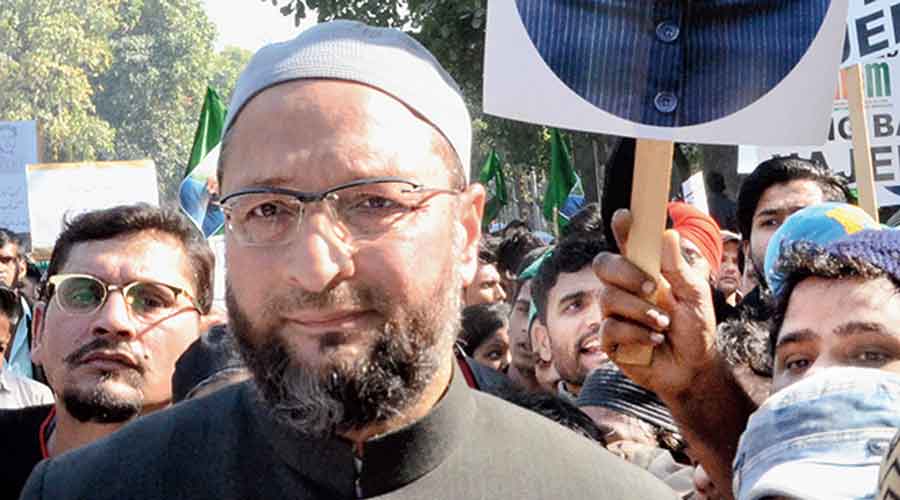 Asaduddin Owaisi
File picture
---
Jalpaiguri
|
Published 13.11.20, 12:58 AM
|
---
The minority cell of Trinamul has joined hands with the All India Minority Organisation (AIMO), an umbrella outfit for the cause of minorities, to intensify their activities across Bengal, particularly in districts with a significant minority population.
Nasir Ahmed, the state working president of Trinamul's minority cell, and all-India president of the AIMO, who was here on Thursday, said the primary aim of the minority cell would be to consolidate minority votes in favour of Trinamul.
His comment is significant in the backdrop of the just-concluded Bihar elections, where Asaduddin Owaisi's AIMIM drew support of the Muslims, which cost the anti-BJP Mahagathbandhan dear.
"We will launch a comprehensive campaign among minorities, keeping in mind the upcoming Assembly elections. Our leaders in all districts have been instructed to reach to the grassroots and apprise people as to how they have benefited through social welfare schemes and the decisions formulated by the state government since 2011," Ahmed said.
In Bihar, the AIMIM bagged five Assembly seats among which include Baisi and Amour in Purnea district and Kochadhaman and Bahadurganj in Kishanganj district.
Both these districts are at the interstate border.
"There are indications that the AIMIM will field candidates in some districts of Bengal such as Malda, Murshidabad, North Dinajpur and North 24-Parganas, where there is a high concentration of minorities. It is evident that the AIMIM has acted as a spoiler for the Mahagathbandhan in Bihar. That is why Trinamul is on the alert and intends to engage its minority cell to retain its support," said a political analyst.
That the cell has taken up political activities in minority belts is evident in Malda, a district where Trinamul's performance has not been up to the mark compared to most other districts of Bengal, both in past Assembly and Parliament elections.
In Malda, representatives of the cell have started a campaign in villages, asking voters to choose Trinamul over the AIMIM and are proactively trying to help the minority populace.
"We are making it clear to the minorities that it is not the AIMIM but Trinamul that can help in their development. Our leaders are moving into every village with this message. They are also listening to people's problems, particularly from the economically weaker sections, and trying to solve them with the help of our party and the administration," said Mosharraf Hossain, Malda district president of the minority cell.
Additional reporting by Avijit Sinha in Siliguri and Soumya De Sarkar in Malda