Warning to gardens on Darjeeling Tea dilution
The Tea Board said it received complaints at regular intervals that green leaves were sourced from outside the GI area and processed and passed off as the world famous variant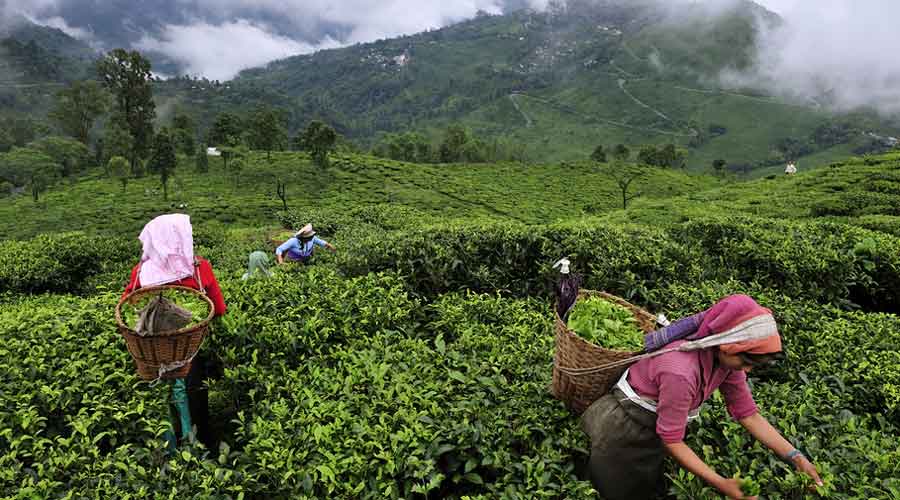 ---
|
Siliguri
|
Published 12.09.20, 01:14 AM
---
The Tea Board of India has warned that it will start civil and criminal action against those gardens in the Darjeeling hills which process and sell tea leaves from outside and sell them as the world famous Darjeeling Tea.
Around 10 million kilos of orthodox tea are produced by 87 tea estates in the Darjeeling hills. Most of the produce is exported and fetches excellent prices.
Darjeeling Tea is the first product in India to get a GI (Geographical Indication) tag in 2004. Tea that is plucked and processed only in the 87 gardens can be called Darjeeling Tea.
In a letter sent to the Darjeeling Tea Association (DTA) On September 10, the board said it will "initiate civil and criminal action against the errant gardens under the Trade Mark Act, 1999, Geographical Indication of Goods (Registration & Protection) Act, 1999, the Copy Right Act, 1957 and Indian Penal Code".
The DTA represents the hill estates which produce the organic orthodox tea.
The letter by Rishikesh Rai, the secretary of the Tea Board, said it received complaints at regular intervals that green leaves were sourced from outside the GI area and processed and passed off as Darjeeling Tea.
"It is also expected that The Darjeeling Tea Association being the equal partner in the protection of Darjeeling GI should act in a proactive manner and persuade your member gardens to refrain from such activities failing which the Board may also be informed so that visible action can be taken against such manufacturers (sic)," reads the letter.
In the letter, Saria said: "The board has also obtained undertaking from each of the 87 gardens certifying that none of the garden shall purchase any green leaf from any garden located beyond the demarcated geographical area of Darjeeling GI."
DTA chairman B.K. Saria said: " We urge all members to refrain from such activities for the well-being of all members. We will will inform the Tea Board of any such acts."
"The DTA requests all the estates whether they are our members or otherwise, to respect the law."
A planter has said any attempt to mix green leaves of other estates with Darjeeling Tea should be strictly stopped to maintain the reputation the product enjoys across the globe.
Veterans in the north Bengal tea industry said the board was playing a proactive role to ensure the authenticity of Indian tea.
Earlier, the board had made moves to check illegal sale of imported tea in the domestic market and abroad as Indian tea. The board also directed producers not to mix artificial colours with the brew.